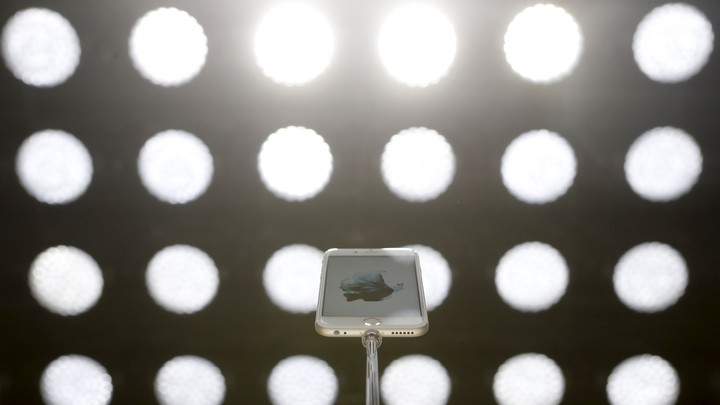 As it has gone every year since 2007, when the first iPhone was announced, last week's Apple event generated a lot of chatter. This year, though, some of that chatter took on a different tone. Some critics hissed at what they saw as paltry changes to their beloved device. Reactions to the iPhone 6S included: It's boring. It looks pretty much the same as before. The changes are incremental at best. There's no "killer new feature." There's a fancy new camera, but so what? (As my colleague Rob Meyer has noted, this is totally acceptable.)
While the headlines might be more indicative of Apple-media-hype fatigue than of anything else, this morning Apple seemed to have news for all of those disappointed journalists: The company announced that its iPhone 6S and iPhone 6S Plus were showing strong pre-order sales, and predicted that it will beat last year's 10 million phones sold on release weekend. Apple's spokesperson, Trudy Muller, said that preorders around the world have been going strong and that their customer response is"extremely positive." Apple says that the online demand is currently beating the company's own sales forecasts. (Some have suggested that Apple's reluctance to give specific sales numbers is hiding something—last year, the company provided them after the launch of the iPhone 6.)
This year, what seems to be more important than any perceived slowdown in innovation is a burgeoning group of loyal Apple customers: China's middle class. Online reports show that sales are especially strong in China, and Re/Code's Dawn Chmielewski also notes that beating the 10 million units sales might be made easier as—unlike the iPhone 6—the iPhone 6S will get a big boost from consumers in China. The iPhone 6 launch in China was delayed last year, as Apple waited for Chinese regulators to approve its use on Chinese wireless networks.
The lack of a "killer new feature" is probably irrelevant in light of consumers' daily needs, which the iPhone continues to fulfill. The life expectancy of a smartphone depends on the user, but some experts say that mobile phones aren't engineered to last more than a couple years. A Gallup survey found that the reason 47 percent of Americans upgrade their iPhones is because it stops working, compared to the 2 percent who upgrade whenever a new iPhone is released. In the same study, 51 percent reported upgrading whenever their provider allowed—so the iPhone Upgrade Program (which gives customers a new unlocked iPhone every year) might prove another boon to Apple.
The iPhone 6 gave Apple its best quarter in corporate history for the last quarter of 2014; the company posted nearly $75 billion in sales with $18 billion in profit. The iPhone 6S announcement may not have been the game-changing event journalists hoped it would be, but perhaps it didn't need to be for iPhone sales to keep going its own way—up.
We want to hear what you think about this article. Submit a letter to the editor or write to letters@theatlantic.com.
Bourree Lam
is a former staff writer at
The Atlantic
. She was previously the editor of Freakonomics.com.