Health-Care Mergers: Good for Health-Care Companies, Not So Good for Patients and Doctors
The president of the American Medical Association is worried about the consequences of this summer's proposed billion-dollar deals.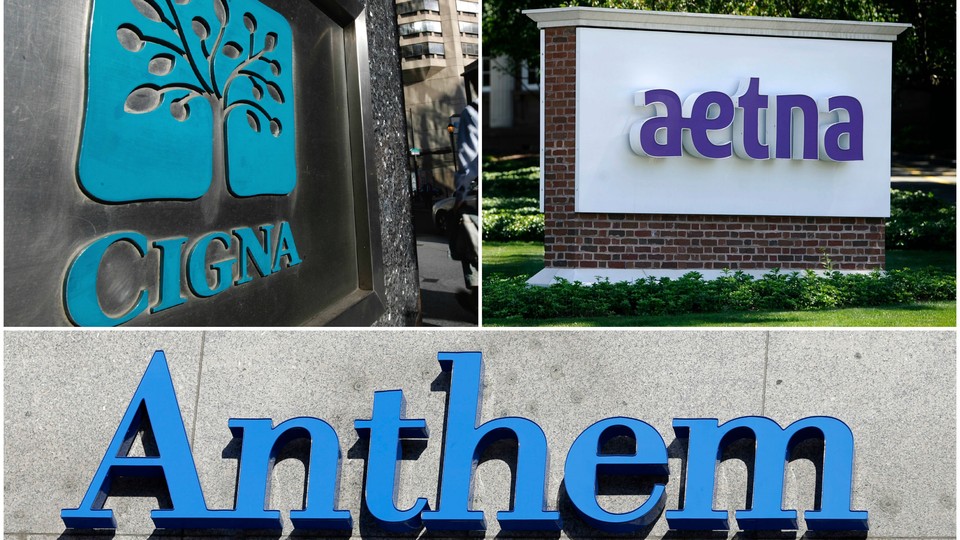 America's health insurers have been in the mood for consolidation. Two huge mergers were announced this past July: The first, Aetna's plan to buy Humana for $34 billion. The second, Anthem's plan to buy Cigna for $54 billion. Together, the four companies cover nearly 90 million people. The mergers would bring the number of major U.S. private health insurance players down to three. (The third giant is UnitedHealth, which covers 85 million Americans.)
The coverage of these mergers has mainly focused on the billions of dollars at stake, as well as the motives for consolidation—largely that the Affordable Care Act has made it hard for companies to raise prices, therefore hurting profit margins. Health insurers are seeking more negotiating power in the hope of cutting costs.
But what does all this consolidation in the health-insurance industry actually mean for customers? According to a new study by the American Medical Association, it'll mean worse coverage.
The report's main finding is that the two mergers would diminish competition in up to 154 metropolitan areas in 23 states in violation of federal antitrust guidelines.
"A lack of competition in health insurer markets is not in the best interests of patients or physicians," said Steven J. Stack, the AMA's president, in a statement. He details the stakes of the mergers for consumers: "If a health insurer merger is likely to erode competition, employers and patients may be charged higher than competitive premiums, and physicians may be pressured to accept unfair terms that undermine their role as patient advocates and their ability to provide high-quality care. Given these factors, AMA is urging federal and state regulators to carefully review the proposed mergers and use enforcement tools to preserve competition."
Critics say that doctors and hospitals are fearful that huge insurance companies, and the bargaining power that comes with being huge, will reduce payments to physicians. The New York Times noted that the AMA's findings are consistent with those of the Government Accountability Office.
Both deals are already being closely scrutinized by the Department of Justice and likely the Federal Trade Commission. In August, Aetna refiled its merger notification to give federal regulators more time to review. Cigna's executives are expecting regulatory review to last up to a year—meaning that if approved, the deal wouldn't close until the second half of 2016.