A World With Fewer Deals: Groupon Cuts 1,000 Jobs
The struggling company is restructuring and backing out of seven countries.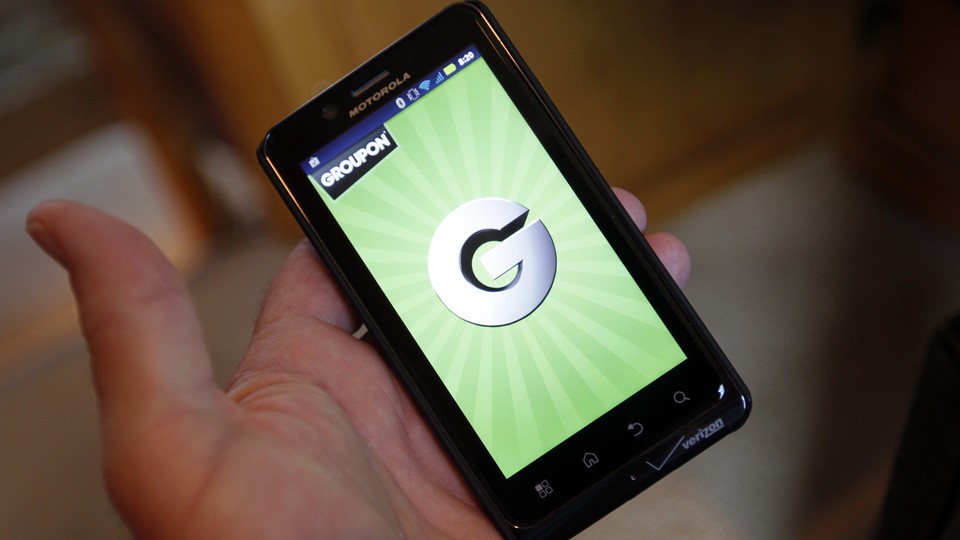 On Tuesday, the online coupon company Groupon announced that it would be cutting over 1,000 jobs—a little less than a tenth of its workforce.
Rich Williams, Groupon's COO, said in a statement that the layoffs would be primarily be in the company's "Deal Factory" and customer-service departments. He also noted in his post that Groupon's returns aren't doing so well in a number of countries, and that Groupon will be exiting Greece, Turkey, Morocco, Panama, The Philippines, Puerto Rico, Taiwan, Thailand and Uruguay. Groupon will still be operation in over 30 countries.
The daily-deal revolution that Groupon started seems to be winding down. Groupon began in 2008 in Chicago, and it is one of the original Internet "unicorns"—a startup that has received a valuation of $1 billion or more. The company grew an online-coupon juggernaut extremely quickly: By 2010, the company reported $500 million in revenue. That same year, Groupon brushed off a $6 billion buyout offer from Google and in 2011 it was valued at nearly $13 billion.
But the bad news came in 2012: As sales lagged, investors started dropping the company's stock. Share prices plunged, and critics weren't shy in calling the company "overhyped and overfunded." Things seemed to look slightly better in 2013 for Groupon as its North American sales grew, but by 2014 its losses were too big to ignore. According to SEC filings reported on by Ars Technica, the company lost $820 million between 2009 and 2013. (It has also been caught in more than a few instances of shady accounting.)
Groupon has one huge problem: It turns out it costs a lot, in manpower and marketing, to arrange all those deals, and then to turn around and sell them to consumers who are primed to expect low prices that leave little room for profit. Additionally, Groupon's model can create a lot of problems for shops by jacking up demand at an artificially low price. (Remember Rachel Brown, the cupcake maker who was nearly driven out of business because she had to make 102,000 cupcakes at a loss after Groupon orders flooded in?) Some shop owners claim working with Groupon can be a terrible business decision ever—costing them thousands of dollars to fulfill offers and orders. Whatever it is, though, it looks like Groupon itself is a bad business model that's looking worse these days.