Janet Yellen Expects Interest Rate Hike This Year
The U.S. Federal Reserve chairwoman described the central bank's positions in a speech Thursday.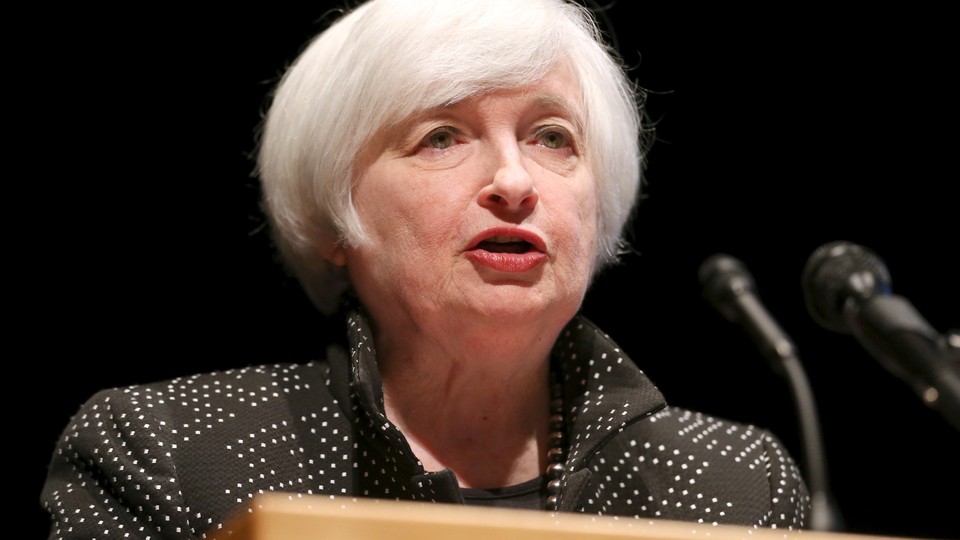 In Federal Reserve Chairwoman Janet Yellen's speech Thursday afternoon, investors were hoping she would clarify whether the U.S. central bank will raise interest rates this year. Fed watchers were again left adrift earlier this month when the Federal Open Market Committee (FOMC) decided not to raise rates, which was somewhat unexpected.
Yellen's calculated silence has been well noted. In her prepared remarks, Yellen said that she expects a rate hike in 2015:
Most FOMC participants, including myself, currently anticipate that achieving these conditions will likely entail an initial increase in the federal funds rate later this year, followed by a gradual pace of tightening thereafter. But if the economy surprises us, our judgments about appropriate monetary policy will change.
Yellen's speech reviewed the history of inflation in America, followed by a breakdown of the costs of inflation and why the Fed has a 2 percent inflation rate target. But that target hasn't been easy to reach in recent years, particularly given that the job market still has some room for growth: "In the wake of the 2008 financial crisis, however, achieving both this objective and full employment (the other leg of the Federal Reserve's dual mandate) has been difficult," Yellen said.
The September Fed decision came after much anticipation from markets and investors. When the rate hike happens, it will be the first time the Fed has raised interest rates in nearly a decade—removing the policy that's been in place since 2007 to keep interest rates low in the name of post-recession economic recovery.