The Fed Meeting Has Started
Interest-rate-watch reaches its finale.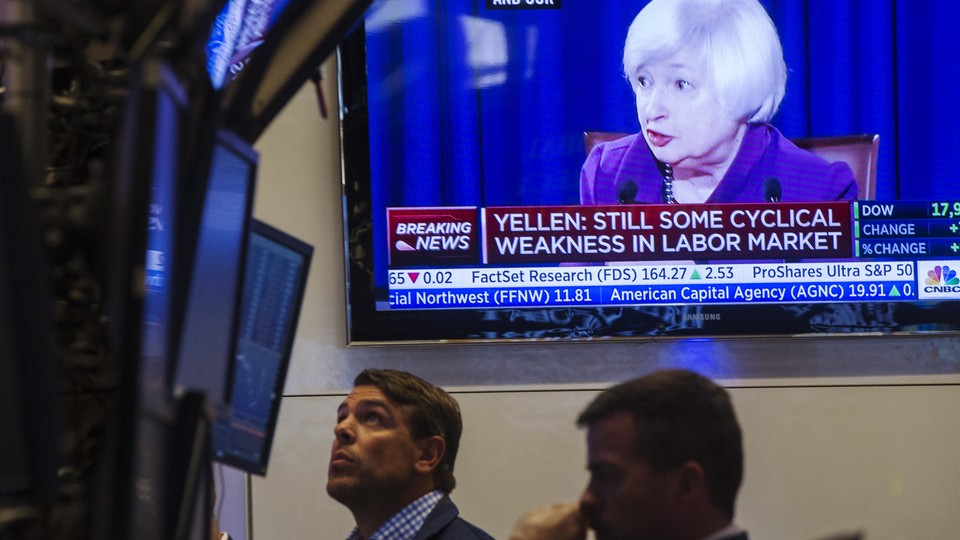 It's finally here: the "cliffhanger" Fed meeting the financial world has been waiting for all summer.
At the conclusion of the two-day closed-door meeting tomorrow, the Fed will announce whether or not they will move to raise interest rates for the first time since 2006—a question of intense speculation as of late, as the Fed has been hinting at it all year, though recent market turmoil and a still-low inflation rate have fueled hopes that they'll delay the hike. Strong employment numbers, however, may be edging the Fed toward raising rates (but as Ben Walsh over at The Huffington Post notes, raising rates now is signaling that this is as good as it gets).
August's jobs report was generally positive, though not decisive. Ahu Yildirmaz, the lead economist at ADP Research Institute (which puts together the private-sector jobs report), says that anemic wage growth is still a concern.
"One of the missing ingredients in the economy has been wage growth. However, we are seeing some indications that the tightening labor market is resulting in a pickup in wage growth… By tracking job holders, we find that wage growth is consistently higher than the usual method (when the fluidity of the labor market is included). During the past four quarters, wage growth for holders increased by 5.9 percent, more than double the reported numbers," says Yildirmaz.
Nobel economist Joseph Stiglitz warns that concerns about inequality at the moment might outweigh the traditional yardstick—inflation—when considering whether to raise rates. "If the Fed focuses excessively on inflation, it worsens inequality, which in turn worsens overall economic performance. Wages falter during recessions; if the Fed then raises interest rates every time there is a sign of wage growth, workers' share will be ratcheted down—never recovering what was lost in the downturn," Stigiltz wrote in The Guardian.
There's a case for and against an interest rate hike from the Fed. There are upsides. There are downsides. The markets may not be ready. But waiting too long risks asset bubbles. And in any case, there's might not be anything to worry about at all, as hikes—according to analysts and investors—will likely happen slowly.