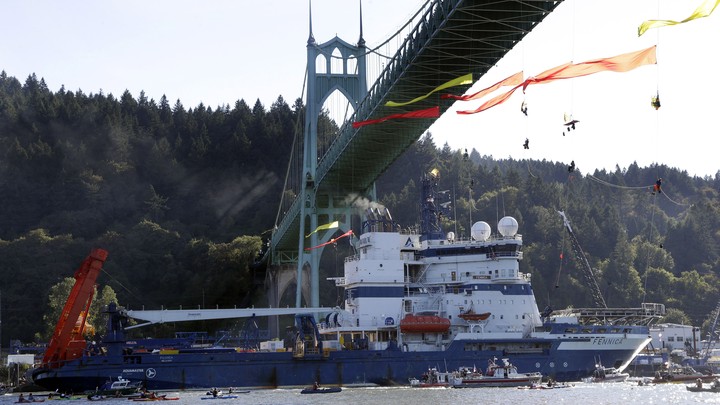 Shell, the Anglo-Dutch energy giant, says it is abandoning its work in the Alaskan Arctic because while it has found indications of oil and gas, "these are not sufficient to warrant further exploration."
"Shell continues to see important exploration potential in the basin, and the area is likely to ultimately be of strategic importance to Alaska and the U.S.," Marvin Odum, director of Shell Upstream Americas, said in a statement. "However, this is a clearly disappointing exploration outcome for this part of the basin."
Shell said it had drilled the Burger J well in the Chuchki Sea to a depth of 6,800 feet and the results mean the company "will now cease further exploration activity in offshore Alaska for the foreseeable future."
"This decision reflects both the Burger J well result, the high costs associated with the project, and the challenging and unpredictable federal regulatory environment in offshore Alaska," the statement said.
The decision will cost Shell $4.1 billion. Bloomberg adds that Shell and other oil companies are restricting spending after the price of oil has fallen by about 50 percent as the market remains oversupplied with oil.
Shell's decision to explore the Alaskan Arctic—and the Obama administration's approval of the drilling—had been condemned by environmental groups.
Greenpeace, in a statement on its Facebook page, called Shell's announcement Monday "a HUGE victory for the 7 million of us all around the world."
The environmental group Oceana, in a statement, said the "future of the Arctic Ocean just got a little bit brighter."
"Shell's announcement today allows the government to take a step back to apply careful planning, precaution, and science to forge a sustainable future for the Arctic," Susan Murray, Oceana's deputy vice president, said in the statement.
As Nicole Lou wrote in The Atlantic in May:
There are likely at least 4 billion barrels of oil hiding there. (For comparison, the U.S. produces a little more than 3 billion barrels of crude oil each year.) The Arctic Ocean, which includes the Chukchi, is estimated to contain 13 percent of the world's untapped oil and holds a treasure waiting for whoever can reach it. But environmentalists are trying to stop what they consider to be the exploitation of an unspoiled sea and a seasonal sanctuary for wildlife. …

Shell has been eyeing the Chukchi Sea since at least 2008, when it paid the U.S. government $2.1 billion for the rights to drill there and in several other areas of the Arctic. That deal secured Shell's claim to the Chukchi, but didn't guarantee that its drilling application would be approved by the government. Shell's prospects started looking promising when, after a long legal fight with environmentalists, the federal Bureau of Ocean Energy Management (BOEM) published an Environmental Impact Statement (EIS) for the project in mid-February.
We want to hear what you think about this article. Submit a letter to the editor or write to letters@theatlantic.com.