Everything You Eat, From One Farm
For a couple hundred dollars a month, customers of "whole-diet" farmshares can pick up as much food as they need.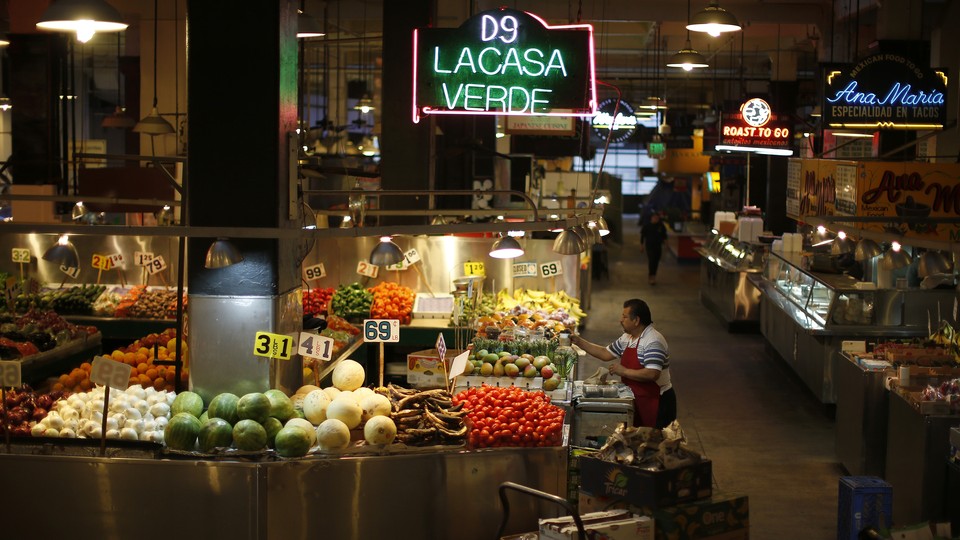 Sarah Bernardi almost never goes to the grocery store. Instead, her community-supported agriculture (CSA) subscription provides 90 percent of what she eats. "I buy crackers, pasta, oils, and nut butters. All those things I could live without if I really wanted to. I have not bought a vegetable since joining the CSA," she says.
Bernardi is a member in the whole-diet CSA program offered by Moutoux Orchard, a farm in Purcellville, Virginia, an hour west of the Capital Beltway. Whereas most CSAs focus on produce, many have branched out in recent years to provide meat, eggs, or grains. A select few aim to provide all of the food that an individual or family needs, year-round. Bernardi and other members in the Moutoux CSA drive to the farm every Tuesday or Friday afternoon to pick up vegetables, fruit, meat, eggs, grains, and milk. They pay a monthly fee of $250 per adult per month and take home as much as they'll use each week.
Bernardi acknowledges that it's not the most convenient option available. But, she says, "to make up for that, they set it up so it's like a grocery store. You're choosing what you want and what you know you'll eat, you're not just getting a box of stuff that someone's put together for you."
"This idea of a whole-diet CSA is a relatively new concept," says Maureen Moutoux, the co-manager of the farm. "There just aren't that many of them in the country."
As with most unregulated terms, it's hard to determine exactly how many whole-diet CSAs exist, but the best estimates say that there are a few dozen, at most. Essex Farm, located in upstate New York and one of the first and best-known whole-diet CSAs, started in 2003. And while Moutoux Orchard has been a working farm for over 50 years, this is only its fifth season running a whole-diet CSA.
The idea, says Moutoux, began with a desire to feed her own family solely off the farm. "We want to homestead, we want to be self-sufficient people, and to do that we expanded it to provide for a bunch of other families. We're just glorified homesteaders, and our 'kids' happen to be our paid staff. We're doing what people used to do all the time," she says.
Mike Kwasniewski started the Charm Farm's whole-diet CSA in Beverly, West Virginia, for a slightly different reason: Born and raised in West Virginia, he wanted to find a viable way of doing sustainable farming in a less-affluent rural economy.
"I didn't have that urban market where I could get a premium, so if I could supply more to fewer clients, and if I could structure the farm in a way that it could do all of that," he says, "then I'd be better off by focusing on serving the local population instead of shipping [my food] off to the closest metro area."
Kwasniewski describes his whole-diet CSA as a "one-farm local food economy," and he sees the business model as one that would work for other people in places without a strong base of farmers' markets and veggie CSAs. "It's really a way to trailblaze for the local food economy in areas where there hasn't been decades of work done, and the critical mass hasn't happened," he says.
With young people fleeing rural America for decades, and the average age of the American farmer now close to 59, many small towns and rural communities are hanging on by a thread.
"There's a lot to be said for coming back to the place that made you what you are, to reversing the youth and brain drain of rural America," says Kwasniewski, who is 26. "People are excited to see something new and innovative in the area. They're more than happy to support you, which makes marketing all that much easier."
Kwasniewski, Moutoux, and other farmers with whole-diet CSAs aren't providing a simple and universal solution to that problem, but they are offering a business model that works, a way to be financially sustainable in rural areas. No small-scale farming offers large salaries, but Moutoux and her husband have the LLC pay each of them $40,000 a year. They also can afford to hire a few full-time staff, and even take two weeks of vacation a year. That is a level of security quite foreign to many farmers.
And because they work with fewer customers, who each pay more up front, they can focus on a more sparsely populated region. By inviting their customers to the farm, they don't have to charge extra to cover transportation and market-staffing costs. And they generate loyalty and connections, building a stable clientele while also avoiding the isolation that can so often come along with rural and small-town life.
"I'm their household farmer," Kwasniewski says about his customers. "I get invited to any wedding or event that happens. It's a more intimate relationship than a veggie box, for sure. You try to know each family, and each kid in the family. People have a much stronger connection to the farm."
For Moutoux, it's a similar story. "I'm way into these people's lives, in a good way. And they're into ours," she says. "There's something about coming to the place where their food is coming from, and seeing us every week, that [makes them] so invested in our lives. You're just not going to get that anywhere else."
Moutoux Orchard has between 80 and 85 members, with no desire to expand, very little annual turnover, and over 150 people on their waiting list.
Like many CSAs, both Moutoux and the Charm Farm ask their customers to pay for a year-long subscription up front, and for some potential customers, the price can seem like a barrier. Moutoux's fee of $3,000 per adult, per year, can seem like a lot compared to a nearby farm's produce CSA, which offers a share for $500.
But most members seem to feel it's worth it. Heather Vogt, a member of the Moutoux CSA, says $250 per month initially seemed too high. "But then we tried the milk, and we were hooked. It changed our life, and this is how we eat now. The kids occasionally want things like cereal, but I'd say the farm provides 75 to 80 percent of our diet."
To avoid pricing out his local community in the mountains of West Virginia, Kwasniewski set the Charm Farm's CSA membership at 10 percent of the median annual income he and others in the surrounding counties' are earning. Since that median income is $24,000 a year, the Charm Farm's whole-diet CSA costs $2,400 a year, or $200 a month.
"I've got a few single moms that aren't rolling in the dough, but want to do it for their kids, and [$200] was a good round number," Kwasniewski told Chris Blanchard on the Farmer to Farmer podcast. "I didn't feel bad about asking folks to pay $50 a week for the farm's production."
Such prices are quite affordable, if the farm actually provides the vast majority of your food. At Moutoux Orchard, an average week's supply of food will include milk, eggs, enough whole-grain flour to bake one to two loaves of bread, one to two quarts of fruit, as many seasonal vegetables as you'll eat, and three to five pounds of beef, chicken, or pork. While their CSA pick-up is a free-choice model, they have to limit the number of prime cuts of meat and some low-supply fruits and vegetables that member may take per week.
Kwasniewski says he gets 95 percent of his own calories from the farm, but eating solely from one farm requires a level of awareness about seasonal foods that would seem radical to most Americans. So while these farmers rely primarily on having an incredible product, they also often have to educate their customer about how to prepare what they offer, and build anticipation of what foods are on the horizon.
"I used to see [time] broken up into seasons," Moutoux Orchard CSA member Sarah Bernardi says. "Now I see it broken up into fruits and vegetables. First it's blueberries, then blackberries, then squash. Everything has its little time, and that's how I move through my life now."
This level of connection to one place surely isn't for every consumer, and the level of complexity and diversity required to provide it surely isn't for every farmer. But for some, the connection is both deep and meaningful.
"I see it as they are feeding me," Bernardi. "They're keeping me alive, and I really appreciate it."
---