The Tiny Town Where Almost No One Owns a Car and Everyone Takes Taxis
Private automobiles are prohibitively expensive in Bethel, Alaska, and so is gas. Public transit is nonexistent.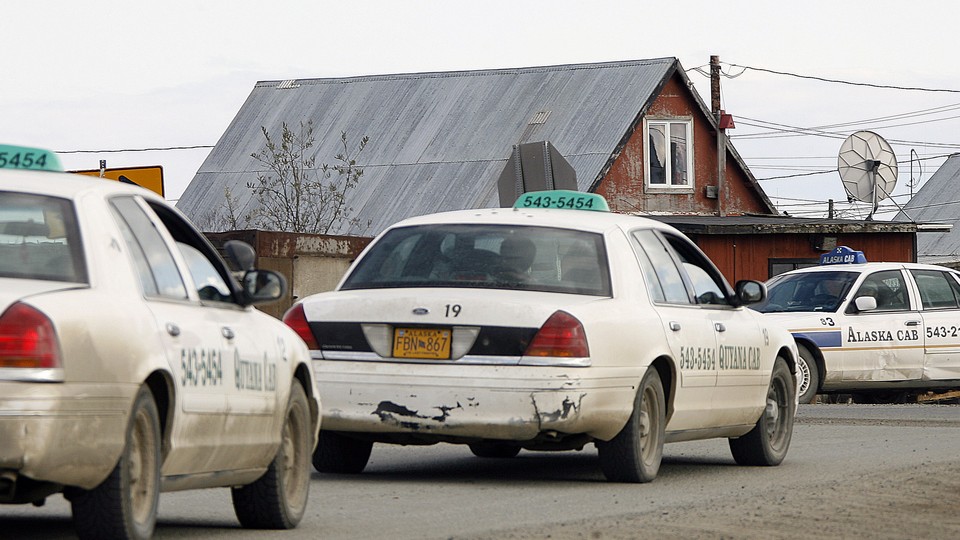 BETHEL, Alaska—Cheri Boisvert and Matt Janz are moving apartments on foot in the biggest town in Alaska's Yukon Kuskokwim Delta.
"Bethel's a strange place," Boisvert said, when I expressed surprise that she would attempt a move by  walking her possessions across the dusty blocks between her two homes. But like just about everybody else in this city of 6,000, they don't have a car, so Boisvert, a librarian, walks with a trash can.
One of the strangest things about Bethel is that though it's the government and transit hub for about 56 villages, there are almost no affordable transit options for its residents. The town has two shuttle buses, part of a public transportation system it launched five years ago. But ask just about anyone in town if they've ever taken the bus, and they laugh in your face.
No roads lead in or out of Bethel, so it's prohibitively expensive to bring in cars or other vehicles. Cars cost about double what they would on the mainland. Janz referred me to the town's unofficial used-car lot, where people park used old cars they want to sell. It's essentially a dusty ditch by the side of the road. When I was there, the price for a 2003 Ford Focus, which the Kelley Blue Book says would sell for $1,833 in "good" condition, was listed for $3,500. A 2003 Toyota RAV-4 with 160,000 miles costs $6,000 in Bethel, while the Kelley Blue Book says it's worth $3,900.
Cars, even used ones, are out of the price range of many people living in Bethel, and even if you buy one, gas currently costs $6 a gallon.
Instead, just about everyone in town depends on taxis or their own two feet to get around. There are about 70 taxi drivers in Bethel, one for every 85 people, making it the city in America with the most taxis per capita.
"In one sense, our cabs are our public transit," Leif Albertson, the vice-mayor, told me.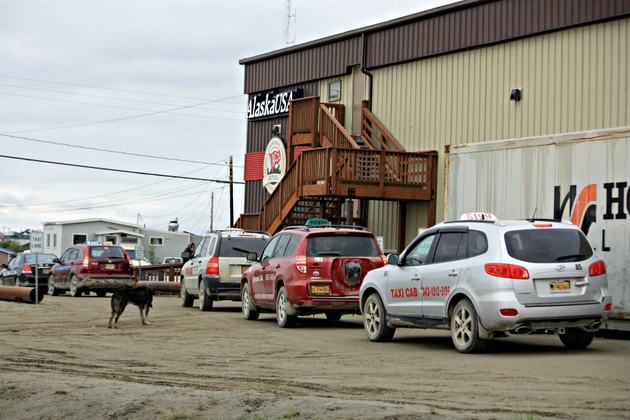 But a surfeit of taxis does not mean that transportation is affordable, either. A ride in town costs $5 per person, no matter how short the trip. A ride to the airport, or to the suburbs, costs $7. A stop en-route costs $1, plus $1 per minute after three minutes. That starts to add up in a town where 23 percent of the population is below the poverty line.
Dozens of people walk in the ditches alongside Bethel's one paved road, dragging their feet in the dust. But the town isn't particularly walkable either.  Bethel's newspaper is constantly posting stories of people who have been hit by cars. Janz told me he tries to walk to his job as a lawyer year-round, which means wearing cleats in the winter ice, and dealing with dusty pants in the summer.
I talked to one man in his mid-fifties named Nelson who was in town for medical treatment. He carried a cane, and said he walks everywhere to save money, even though he has a bad hip. He regularly walks the four miles out to a region called Tundra Ridge. He said that even the bus in Bethel, which costs $3 a ride, was too expensive for him (seniors pay only $1).
"Once I get going, it doesn't hurt," he told me, about his hip.
According to Census data, 1,500 people commute to work in Bethel by driving alone in a car, truck, or van. Five people take public transit, 740 carpool, and 3,615 commute by another travel mode. For Bethel residents that means walking or cabs.
Frances Reichs, who hosts a weekly radio call-in show in Bethel and is an unofficial town historian, moved here in 1975. Most people were relegated to walking then, he told me, because there were only three cabs. Then two brothers moved to town from Nome, and, taking notice growing number of jobs in the town's government sector and the affluent residents that came with them, they decided to start a cab company. It's now called Kusko Cab (many government jobs come with a hefty cost-of-living adjustment that doubles as hazard pay because Bethel is such an isolated place).
The cab companies also diversified Bethel. Looking for employees who had clean driving records and the capital to lease a taxi, companies started to recruit family and friends from overseas. Kusko is now known around town as the "Albanian" cab company because it employs mostly drivers from Albania and Macedonia. The other three cab companies employ mostly Koreans.
About 1.63 percent of Bethel's population is Korean, meaning it has the highest proportion of Koreans in the state, according to data. Many of the businesses in town, including the video rental store, are owned by Koreans.  Walk around and you'll see Korean flags hanging in the windows of apartments. The diversity has created some tensions.
"There is a very noticeable native Alaskan prejudice against foreign folks," Reichs told me. In 2012, a 54-year-old female Korean cab driver, Young Suk Chong, was stabbed to death, her body left in her taxi in the winter cold near a dump. A 21-year-old local man was convicted of murdering her in 2013. And in 2006, a Korean cabbie named Ju Young Joung was killed by a single gunshot wound to the head after people on idling snowmobiles approached his cab in a parking lot. Some locals worried that the attack was racially motivated, and no one was ever charged with the crime.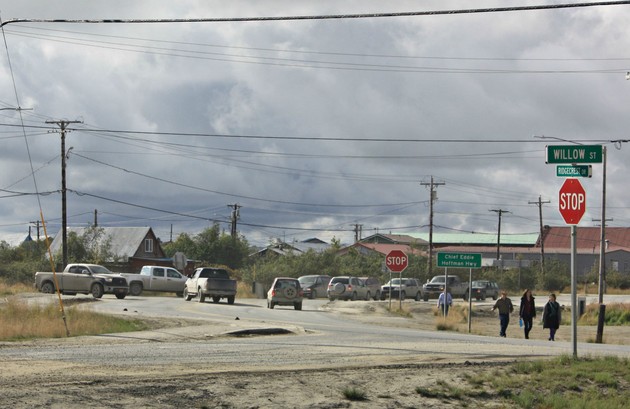 Driving a cab in Bethel used to be a lucrative endeavor. Less so now. When I asked Joe Yoon, a Korean taxi driver, about a rumor that cab drivers in Bethel make $100,000 or more, he scoffed.
"Not even close," he told me. Yoon estimates that he carries about 80 people a day around Bethel. Insurance costs $7,000 a year, and he has to pay the cab company $250 a week, he told me, as well as pay for fuel and maintenance costs for his cab. The roads in Bethel, which are all dirt save one, are notoriously dusty in the summer and icy in the winter, with enough bumps and holes to make most rides uncomfortable. As Bethel has become less snowy and cold in the last few years, more residents have decided to walk rather than take a cab, making his job tougher.
There's also not that many places for people in Bethel to go. The town has just one movie theater. It does not have clothing or book stores, bars, or anywhere that (officially) sells liquor. The only way to go away for a romantic weekend away is to take a pricey plane trip or ride a snowmobile on the frozen river in the winter.
To earn some extra cash, some cab drivers have become involved in Bethel's notorious bootlegging industry, a development the local government is trying to quash. The town voted to become "wet" in 2009, but the City Council hasn't recommend that any store be granted a liquor license (the state approves the liquor licenses, but looks to the local government for guidance). Alcohol fuels violence and addiction in the Alaskan bush, and many of the nearby villages have banned it. As the law stands, you can bring alcohol into Bethel, but you can't buy or sell it there.
But get into many cabs in Bethel, and ask for alcohol, and the driver will take you to a bootlegger. Other drivers charge a specific amount to drive people around while they drink, Mark Springer, a city councilman, told me. Springer recently introduced a bill that would revoke the license of drivers who are found to be selling alcohol from their cabs.
Still, for all its oddities, Bethel's new residents are committed to their town. It gives them the opportunity to pursue the American Dream without the hassles found in the nation's big cities.
Yoon, the taxi driver, moved to Anchorage after hearing about an opportunity to work at a restaurant there. He's been in Bethel for 15 years now, and both he and his wife drive a cab for Quyana Cab.
He raised a daughter in Bethel, and says he plans to stay there for the rest of his life.
"This is my hometown, I don't care what people think, I love it here," he told me, as he idled in the line in front Bethel's big supermarket, where there's almost always a line of cabs waiting.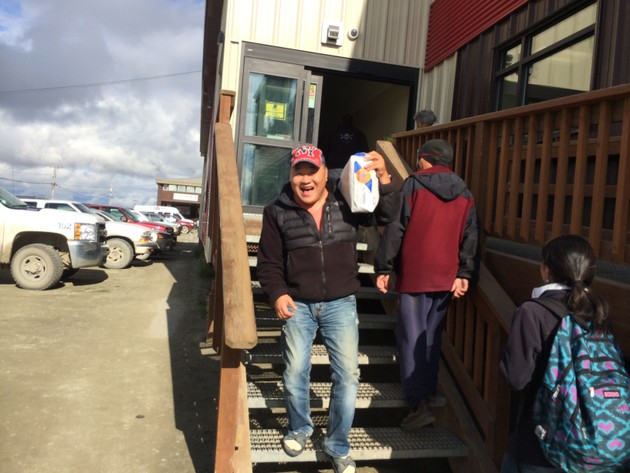 It's not unusual for a husband and wife to drive a taxi in Bethel. Even a husband and wife-to-be.
Albert Chupi lived in Albania when he met the woman of  his dreams. They'd known each other a long time ago, and started getting reacquainted on Facebook. To see if the relationship could work, though, she wanted him to move to town where her father ran a cab company. Chupi was up for the adventure. He's been in Bethel for a year now, working for Kusko Cab.
"It's okay here, but there's no place for fun," he told me, as he drove his cab around potholes in one of Bethel's many dirt roads.
The happy couple is getting married next summer in Albania, and plan to return to Bethel after a honeymoon abroad.