In Alaska: Too Many Fires, Not Enough Snow
The state nearly set a record for number of acres burned this year, while the Iditarod once more had to be moved north.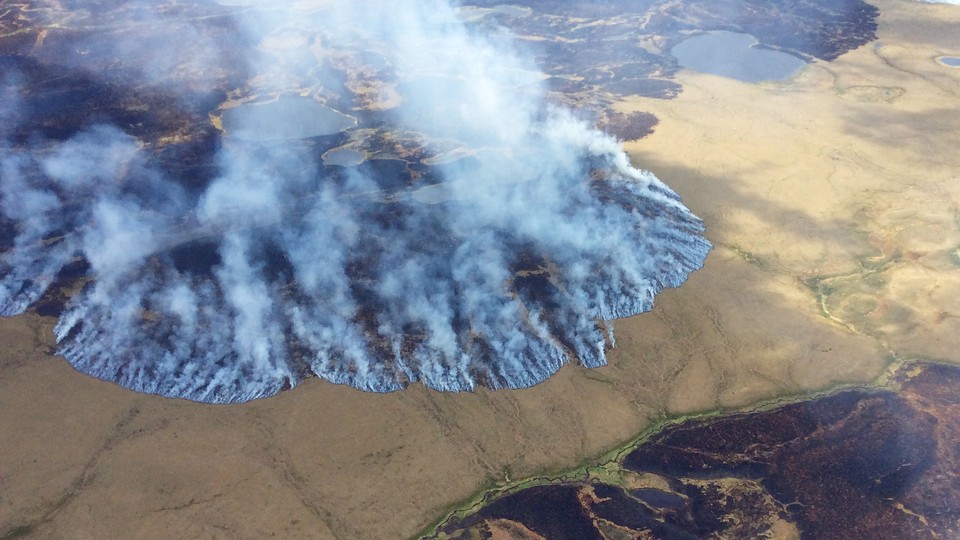 WILLOW, Alaska—The strange and changing weather in the northernmost state in the union has given Bob Chlupach one hell of a year.
Chlupach's home burned down in June during the Sockeye Fire, one of several blazes that lit up more than 5 million acres across the state of Alaska this year—making it among the worst fire seasons in the state's history. The Sockeye Fire was man made, but scientists say that it, and others, spread faster than past fires because Alaska's terrain is so much drier this year than usual.
That has also affected Chlupach. He and his partner Jan Steves raise and race dogs for the Iditarod, the epic sled competition across the Alaskan tundra. They were able to save their dogs from the fire, but the dry weather has wreaked havoc on the famous contest, which begins in March. For only the second time in 43 years, the race's starting point, was moved from Willow—where the couple lives—to Fairbanks, where there was enough snow. Steves, who raced in the Iditarod in 2015 (she didn't end up finishing the this year because her sled broke and temperatures reached 40 below), had to gather all of her gear and dogs and move them 300 miles north.
Chlupach is hesitant to blame the changes on global warming, but says he definitely notices something different in his state.
"The extremes seem to be lasting longer," he told me, standing amid the construction of the home he is rebuilding among the charred acres near Willow. "The rain cycles, they might last a little longer, the warm weather might last a little longer."
Statistics bear this out. The average winter temperature in Alaska has increased by six degrees over the past 60 years, and Alaska's has had more extremely hot days and fewer extremely cold days over the last few decades, according to the National Climate Assessment. Precipitation has increased too, as winters see more rain and less snow.
---
Alaska Average Temperature Change by Decade
---
The nation is seeing an uptick fires this year, as conflagrations torch acres in Washington state and California. So far, 8.1 million acres have burned across the country between January 1 and August 31 of 2015. Over the same time period last year, only 2.7 million acres burned. The majority of the country's fires, though, occur in Alaska.
Fires have always been a part of the Alaskan landscape, as much a part of nature as spring rains or winter snows. But this winter had little snow, and the spring featured record warm temperatures, setting extremely dry conditions, said Sam Harrel, a spokesman with the U.S. Bureau of Land Management's Alaska Fire Service. On one day near the Summer Solstice, lighting struck the state around 15,000 times, setting off dozens of fires, he said. Out of the 700-plus fires that burned in Alaska this summer, lightning caused 417.
At different points this summer, more than 200 fires were burning in Alaska at once (there's just one currently burning).
Alaska's fires might also be more intense than they've been in the past, which has worrying implications for the soil, according to Ted Schuur, a professor at Northern Arizona University who travels to the state every summer to study the soil and forest fires.
Much of Alaska is located on permafrost, once permanently-frozen soil that is beginning to thaw as temperatures rise. When that permafrost melts on the coast, it can accelerate erosion and wipe out entire swaths of land. Inland, intense fires can burn the soil that insulates that permafrost, forcing it to melt even faster. And when permafrost melts, it may release carbon into the atmosphere, Schuur said. "As things warm up, places like Alaska that have a lot of carbon stored in the soil might not always be that way. A lot of that carbon might be lost and end up back in the atmosphere, making climate change go faster."
Normally a cold winter would help re-freeze the soil and slow the melting of permafrost, he said. But the warmer air might prevent that from happening now.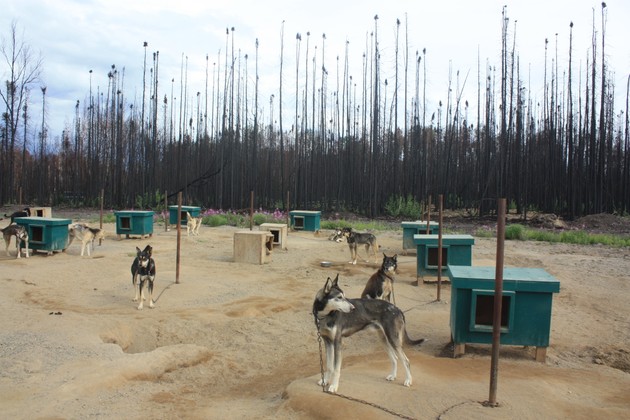 Of course, there are more immediate things to worry about than the melting of Alaska's permafrost. Like how to rebuild the homes lost in the fire. I talked to a man who goes by the name "Tacoma the Fly" (because of the fishing flies he makes). He used to live in a school bus outside of Willow but it burned down in the Sockeye Fire, and he only had time to grab a change of clothes and a charger. Community members in Willow are working to build him a new house, but in the meantime, he has nowhere to live, and it's getting colder.
"The whole world is changing," he told me. "There's no snow, there's mega rains, and it's too hot."
The changes are disrupting people all over the state. This summer, numerous Native Alaskan villages were evacuated because of fires that threaten air quality and structures. Dozens of homes and residences burned both north and south of Anchorage. And the state, which is already broke, had to scramble to come up with the money to fight the fires.
The warmer weather and lack of snow is also proving a threat to the passion that drives most people in Willow, where many mushers live. Anchorage, 80 miles south of Willow, had the lowest snowfall on record in the 2014-2015 season, with just 25 inches falling between July 1, 2014 and June 30, 2015. Willow is now a stark landscape of charred trees  and empty lots where homes once had been. One man's whole home burned down, but the fire spared his hot tub, which he'd been trying to sell, Krista Fee, who is leading the rebuilding efforts, told me.
Many mushers are finding it much harder to participate in the race because of the lack of snow, and not just because the race didn't begin this year in their backyard. In the 2014 race, rain wiped out much of the snow on the Iditarod trail, and one musher was knocked unconscious for an hour after hit his head on a stump in the notorious Dalzell Gorge. At the time, the trail was little different than how it appeared in summer—all gravel and rocks, he told a local TV station.
This year, it was raining in early March when the Iditarod has its ceremonial start in Anchorage, making it hazardous for the teams that had gathered there.
"It was crazy because we were so warm," Gwenn Bogart, a musher, told me. "I just had on a raincoat."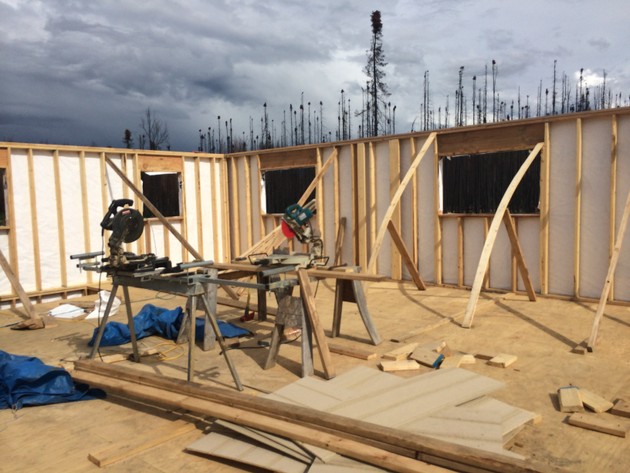 Practicing in Willow was difficult too, Bogart said. She's just now learning how to be a musher, and this year has had to saddle her dogs to her ATV to practice on the dirt, since the snow didn't come. This winter, when she was practicing in the poor conditions, she flipped over a chunk of ice and was dragged under her vehicle for nearly a mile.
Bogart moved to Willow from Vermont for the snow a few years back, after she'd noticed winters in Vermont getting warmer and wetter. But so far, Alaska's weather has been strange, too. When she went up to Fairbanks to start the race this year, there was a sudden chill and the temperature dropped to 60 below. There was snow everywhere, and Bogart decided not to race. She'd never trained on really good snow.