The World's Two Largest Beer Makers Brew Up a Merger
AB InBev plans to make a bid for SABMilller, a move that will bring Budweiser, Coors, Miller, and Blue Moon all under one roof.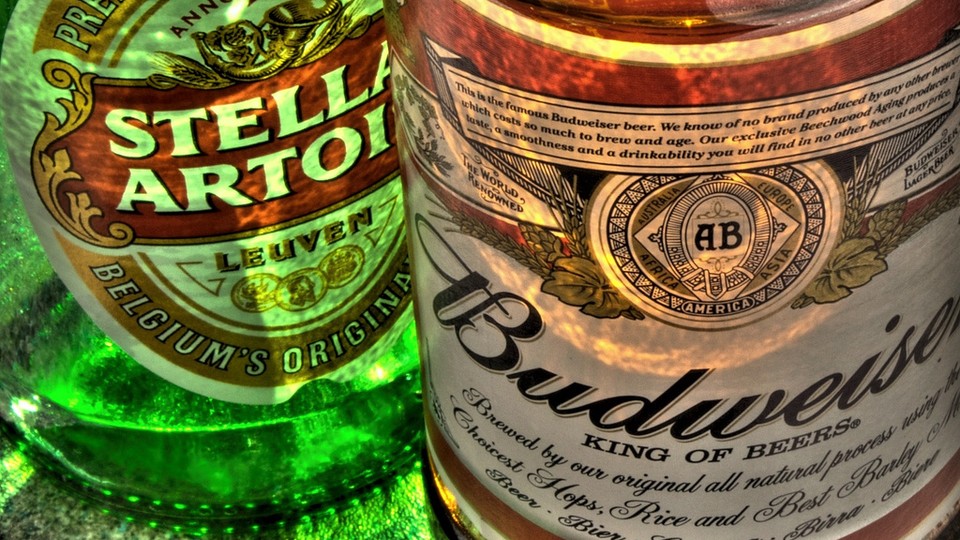 Make mine a … eh, what does it matter? If the options don't all come from the same place, they might soon.
AB InBev, the world's largest beer maker, said Wednesday that it will approach SABMiller, the world's second-largest beer maker, with an offer to buy the company. It's unclear what the deal would be worth, though AB InBev had $47 billion in revenue in 2014, while SABMiller brought in $22.1 billion in a fiscal year that ended in March. Moreover, the deal would bring all of the following brands together under one roof: Bud, Bud Light, Corona, Michelob, Stella Artois, Becks, Hoegaarden, Leffe, Coors, Coors Light, Grolsch, Icehouse, Keystone, Milwaukee's Best, Blue Moon, Foster's, Pilsner Urquell, Peroni, Miller Lite, and of course the champagne of beers, High Life. And that's only a partial list.
Rumors about further consolidation in the beer industry have been swirling, like so many unfiltered particles in a fermentation tank, for years. Bloomberg reports:
The acquisition of SABMiller would be the biggest in the industry's history and cap more than a decade of consolidation across brewing companies. A potential combination of the beermakers had been seen as likely for years as they have limited geographical overlap and are not controlled by a family foundation like their main competitors, Heineken NV and Carlsberg A/S.
The companies control a complicated patchwork of market dominance—for example, SAB Miller is particularly strong in Africa. The two companies both have strong sales in Latin America, but not always in the same countries.
Market reaction to the idea was positive—stock in both companies rose—but there are questions about whether regulators would approve a merger without some serious strings attached. Because the two companies are so large, officials in both the U.S. and Europe might force the combined behemoth to sell off certain assets to avoid antitrust concerns.
For any red-blooded, blue-collared, or bleary-eyed American, there's a momentous symbolism to the idea of Miller and Anheuser-Busch merging: the two great giants of U.S. beer, no longer in competition. A regal Midwestern marriage of the two leading cities of American mass-market beer, St. Louis and Milwaukee. But symbolism is all there is to it. AB InBev was formed when the Belgian-Brazilian InBev bought Anheuser-Busch in 2009, and the company is based in Belgium. SABMiller—the "SAB" stands for South African Breweries—bought Miller in 2002, and is based in London.
Consolidation is the order of the day in the booze industry, and economic slowdowns in Brazil and China, which have driven a great deal of beer-market expansion in recent years, are said to have accelerated this merger. The results of earlier mergers have been celebrated by the market, but not always by beer drinkers, who complain of changes to their favorite swill, and not for the better. In 2012, BusinessWeek reported on "the plot against American beer."
The consolidation trend extends to craft breweries. While the raw number of craft breweries continues to grow, the big conglomerates have started snapping up the most successful of them. Just last week, Lagunitas sold a 50 percent share to Heineken, the world's third-largest beer maker. In 2011, AB InBev's purchase of the beloved Chicago craft brewer Goose Island brought out the Chicken Littles, who were convinced it was a death knell for Honker's Ale. But as Jordan Weissmann notes, Goose Island's beer has remained pretty good.
If you're a Keystone fan, however, you're not probably not too worried about that sort of thing. So if the market's up, bottoms up!