A Sure Route to a Four-Year College
In central Florida, a community college degree earns you a ticket to a cheaper B.A.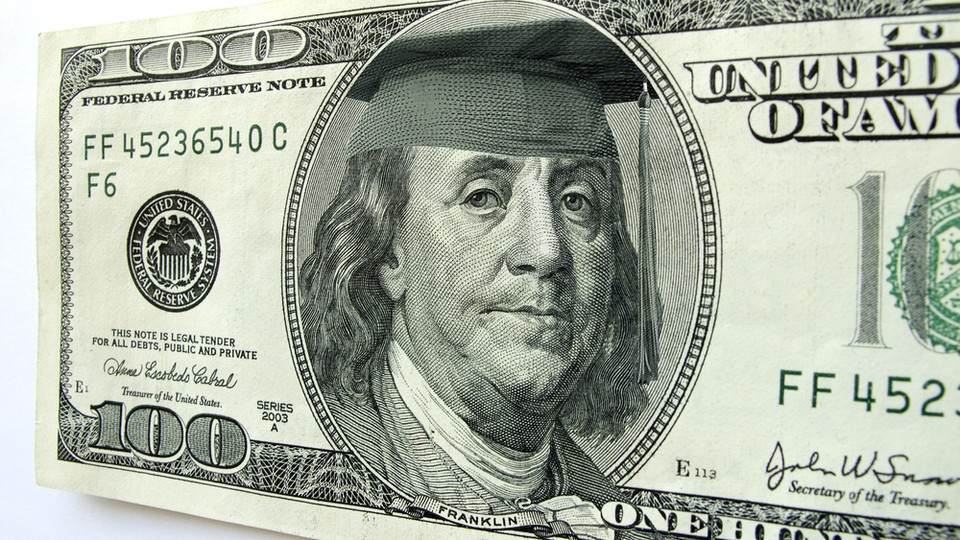 Sean Brooks goes to community college, but he already knows that he'll graduate from a four-year state university, and he even knows which one—the University of Central Florida.
His confidence flows from an innovative Florida program called DirectConnect, which ensures that student transfers to UCF from Valencia College, a community college system, are automatic.
This unusual arrangement between the two Orlando-based institutions of higher education relieves Brooks of worry about whether his credits will transfer or whether he'll need to apply separately for a bachelor's degree in his desired field of construction and engineering. Instead, he can concentrate on his classwork at Valencia, where the 28-year-old husband and father is thriving in the small classes—his calculus course has barely two dozen students—and is the president of the school's Florida Engineering Society chapter. When he is ready to transfer to UCF, part of the state's university system, DirectConnect advisers will make sure he has the necessary credits.
DirectConnect was launched in 2006 after Valencia's president, Sandy Shugart, and University of Central Florida president John Hitt saw a growing need for local residents to have an opportunity for higher education. Over the years, UCF had become more selective—accepting just 40 percent of applicants, down from its historical 72 percent—making it harder for local students to get in. "The demand for higher education all over Florida was exceeding the supply," Shugart says.
The two college presidents worked out a plan to guarantee Valencia students admission to UCF once they've earned their associate's degree. They hoped it would change the stereotypical view of community college as a school of last resort by making it a sure route to a four-year university and a chance at a bachelor's degree.
Better yet, such a pathway is cheaper, saving students a lot of tuition during their first two years. Enrolling at Valencia costs about $2,500 a year for Florida students, compared to almost $6,000 tuition at UCF, plus any costs for room and board. Most Valencia students live at home.
The low cost enables Sean Brooks to attend Valencia in the first place. Scholarships and grants cover all of his tuition; the income from his full-time job at a local engineering company (which his campus adviser helped him find) helps support his family. He and his wife, a teacher, have a six-month-old daughter.
Like many of his schoolmates, Brooks isn't a traditional student. Three-fifths of Valencia students are of traditional college age, but the rest of them are older, into their 60s, according to Joyce Romano, Valencia's vice president for student affairs. The student body is more diverse than in most four-year schools. About a third of the students are white, a third are Hispanic, and 18 percent are African-American—mirroring the demographic make-up of the Orlando area. Two-fifths of Valencia students are poor enough to qualify for federal Pell grants, which go to low-income students. "We see ourselves as a bridge to help students on the way to where they are going," Romano says.
Brooks, for one, doesn't mind the absence of dorms and keg parties. Right after high school, he went to community college in his native Ohio but dropped out. After meeting his wife-to-be at the age of 18, they eventually moved to Florida, where she taught school and he waited on tables and tended bar. He kept thinking about returning to school, until one day he drove past the Valencia campus, about five stoplights from his apartment. He took a placement test and enrolled in the spring of 2014.
The community college's benefits have proved more than financial. "At Valencia, you get more access to help, tutors, and small class size," Brooks says. He has developed study habits and an ability to focus that will prove useful at UCF. "Valencia is more of a go-to-class, go-to-the-study-sessions-and-tutors, and then-go-home type of experience," he explains. "It's two years of buckling down."
He speaks with confidence now about his prospects for academic success and for his career-to-come, and credits the community college as the starting place.
That's just what Shugart, the community college president, is hoping for. He is already thinking of ways that Valencia might build off its success with DirectConnect to guide local schoolchildren toward college degrees. One of Shugar's ideas is to establish a region-wide database with information on students from pre-kindergarten to graduate school, to help educators decide where academic intervention would ease a path to college.
The overriding goal, in Shugart's mind, is to make sure that community colleges keep higher education affordable. "It is safe to say that we are the best bet the students have for inter-class mobility—maybe the only avenue," he says. "Our job has become more important than it ever was."