A High School That's Also a College
In Brooklyn, disadvantaged teenagers can earn an associate's degree, tuition-free, and wind up with a job at IBM.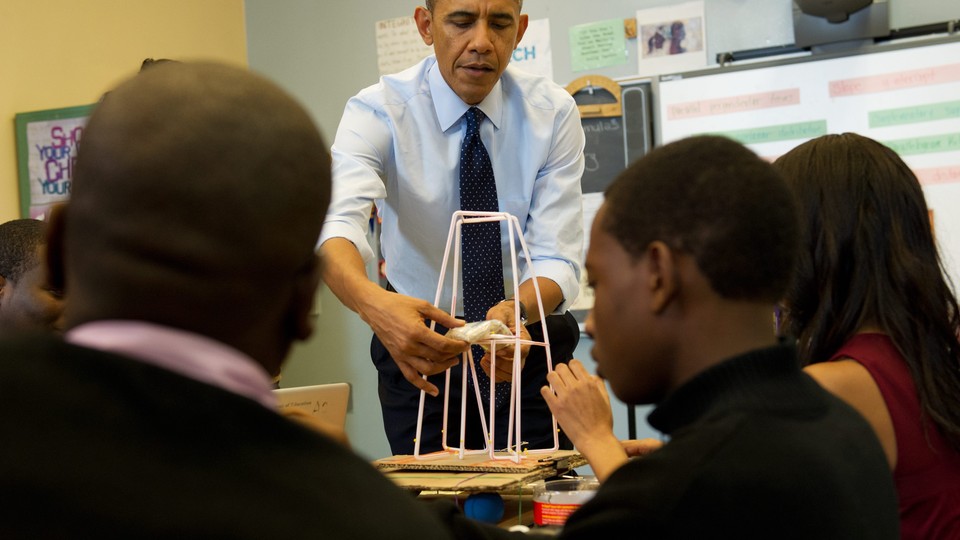 Few 18-year-olds can say that they earn more than $50,000 a year working at a Fortune 500 company in New York City. Radcliffe Saddler can.
The Brooklyn teenager graduated in June from the public school known as P-Tech, short for Pathways in Technology Early College High School. He enrolled in the fall of 2011, as part of the school's inaugural class of 103 students. The strong emphasis on math, science, and writing surprised him as a freshman, though he'd always been a good student.
"I did not understand the level of work it would require," he recalls, "and that, sometimes, it would require me to give up hanging out with my friends."
But the sacrifice was worth it. Saddler followed the trajectory laid out for P-Tech students and enrolled in his first college class—introductory engineering—after he completed the ninth grade. By the time he graduated, he earned both a high school diploma and an associate's degree in computer science—not to mention a job offer from IBM. He finished the six-year program in just four incredibly busy years.
P-Tech started in 2011 as a public-private partnership between IBM, the New York City Department of Education, the City University of New York, and New York City College of Technology. At the depth of the economic recession, city educators were looking for a way to connect high schools with potential employers. They found a willing partner in IBM for an experiment to give students a better handle on the skills they'd need in the workplace. They took over an old building of a failing school in the Brooklyn neighborhood of Crown Heights, which has a history of high crime and racial tension.
P-Tech revolutionizes the structure of high school by encouraging students to attend the school for grades 9 through … 14. This essentially extends high school into the early years of college. Over those six years, the goal is for students to complete both a high school diploma and an associate's degree. Graduates can either enter the workforce equipped with a postsecondary degree—no tuition, so no student debt—or continue on to a traditional college with a bevy of class credits in hand.
Stan Litow is IBM's vice president of corporate citizenship and corporate affairs—and a former deputy chancellor of New York City public schools—who was intimately involved with the founding of P-Tech. "The idea of getting into the workforce with just a high school diploma is an idea from the past," he says now. "We needed to come up with a new model."
The one in Brooklyn involves an intensive partnership with a big business. IBM helped design the school and continues to provide P-Tech students with mentors, internships, a dedicated staff person, and countless hours of pro bono work—an investment that Litow figures is worth $1 million to $2 million a year. All P-Tech graduates are first in line for available jobs at IBM that fit their skill level.
The most intriguing part of the P-Tech experiment is its focus on disadvantaged teenagers who don't usually get college-level training in science and math. No entrance exam is required, as it is for the Bronx High School of Science and New York's other elite public schools. Fully 95 percent of the students are African-Americans or Hispanics, and 80 percent are poor enough to qualify for subsidized school lunches; nearly three-quarters are male. The majority of them would be the first in their families to attend college.
"If you look at who is getting the 21st-century jobs, they are not children of color from low-income neighborhoods," Litow says. In 1970, only 6 percent of the poor held a college degree, a figure that has barely budged—it's now at 9 percent—in the decades since. "If you don't get at the core issue of education and skills," he warns, "then you will not solve this problem."
The acclaim P-Tech has drawn as a model of innovation for high schools in poor neighborhoods, as well as a way to make college easier to afford, earned a visit from President Obama in 2013. The P-Tech model has expanded to 40 other schools in New York, Connecticut, and Illinois, with numerous business partners, including Cisco Systems, Motorola, and Verizon.
P-Tech's strategy is to overhaul the traditional public high school experience, in everything from the calendar to the role of mentors in students' lives. The flow of the school day—and year—looks different. Groggy teenagers start the day (when, research shows, their brains are still waking up) with physical education classes, and they wait until 9:20 or so for academics. The school day lasts until 4:06 p.m. Summer vacation is limited to two weeks in August. During students' first year, in ninth grade, they take no courses in science or history, giving them more time to work on reading and math—to "bring them to a higher level," says Rashid Davis, P-Tech's principal.
The mentors, culled from all corners of IBM, are important. They commit to checking in with their student for 30 minutes every week, either online or in person, and they offer advice on everything from coursework to how to behave as an intern. Saddler had an internship at IBM Global Insurance, researching the insurance industry.
By far, the biggest benefit to attending P-Tech is the associate's degree that every graduate earns, either in computer science or in engineering. This emphasis on attending college-level classes, sometimes on a community-college campus, begins in ninth grade. "The decision to enter P-Tech is the decision to choose college," says an IBM guide to developing technology-centric schools such as P-Tech.
Earning an associate's degree along with a high school diploma makes college more affordable. P-Tech students pay nothing, not even for books, for "the opportunity to complete a postsecondary credential," Davis says. "I see students trying as hard as they can in spite of all of their circumstances."
Many of the students from its inaugural class are expected to graduate by June 2017, six years after the program started. Six of them, including Saddler, have finished two years early. Three of those have taken jobs at IBM; the others attend college.
Saddler chose a job as an associate analyst in market research at IBM because "I want to own my own company," he explains. His father is a manager at a construction company, and his mother is working toward a nursing degree; the family moved from Jamaica when Radcliffe, the eldest of three sons, was 6 years old. "Having this business experience is amazing," he adds. "What other 18-year-old could say, 'I worked at a Fortune 500 company right out of high school'?"
But Saddler hasn't given up on further education. With an associate's degree in hand, he plans to attend college on a part-time basis starting next spring.