10 Ways to Afford College
From Christian outreach to lottery-funded tuition, educators and politicians—and the occasional business executive—are trying to ease the costs.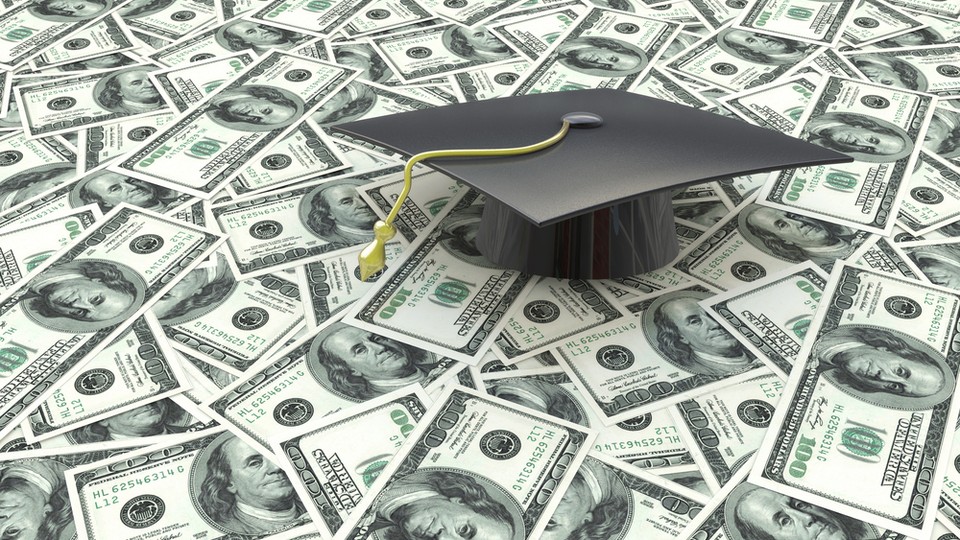 During the past 14 years, student debt in the United States has quadrupled, to more than $1.1 trillion. Students, parents, and politicians are all taking note. Research shows that the burden of debt falls the heaviest on students who are older or the first in their family to go to college. And, whenever voters get worried, politicians aren't far behind. The issue of college affordability has been popping up on the presidential trail, raised by Democrats and Republicans alike.
Happily, a smattering of colleges, companies, state governments—and even a high school that extends to the 14th grade—are doing more than just talking about the rising costs of college. They have found ways to make it easier and cheaper for more students to gain a higher education. Here are 10 of the most innovative programs:
Berea College: This four-year liberal arts school in Kentucky, a Christian college founded in the mid-1800s, expressly tries to enroll low-income students at the residential campus. In exchange for attending the college for free, students must work on campus 10 hours a week as part of a work-study program. The mission focuses on attracting poor students, both African-American and white, from Appalachia.
DirectConnect: Florida residents at Valencia College, a community college based in Orlando, can automatically transfer to the city's University of Central Florida to earn a bachelor's degree. The brainchild of the two college presidents, this program gives students a chance to start earning their degree at a cheaper, smaller school and then gain access to a four-year institution, letting them transfer all of their community-college credits.
Read an in-depth profile of DirectConnect here.
HAIL Scholarship: This new form of financial aid, called the High Achieving Involved Leaders Scholarship, pays full tuition and fees at the University of Michigan for low-income students with excellent grades from around the state. It's a pilot project developed with the help of Susan Dynarski, a professor of education, public policy, and economics at the university. The scholarship, totaling $60,000 over four years, includes help with the application process and fees. The money for the program comes out of the university's financial-aid budget.
New College of Florida: Florida is in the middle of an experiment in tying the funding of public colleges and universities to the number of students who graduate. New College, in Sarasota, is one of a handful of places trying so-called performance-based funding, decreed by the state to encourage schools to make sure that students don't fall behind. How well the idea works isn't clear yet, but it has drawn bipartisan support—from President Obama as well as from Florida Gov. Rick Scott, a conservative Republican. "The policy so aligns with national concerns about the cost and payoff of a college education that it's likely here to stay," said a recent article in Stateline, a publication of the Pew Charitable Trusts.
P-Tech: This Brooklyn public high school is trying to upend the traditional high school experience by partnering with a business—IBM, in this case—to teach students the skills they'll need to succeed in the 21st-century workplace. Besides the school's emphasis on math and science, P-Tech awards students an associate's degree after an additional two years of education. And, it's free—a boon to the primarily low-income, minority student body.
Read an in-depth profile of P-Tech here.
Starbucks: The coffee giant created a buzz in mid-2014 when it announced a partnership with Arizona State University to allow employees to earn degrees online, with the company picking up part of the tab. For its more than 130,000 U.S. employees who work at least 20 hours a week, the company hopes to help them further their education by earning a bachelor's degree.
Tennessee Promise: This statewide program, originally pitched by the state's Republican governor, offers a free community college education to all Tennessee high school students who maintain a "C" average. Financed by a state lottery, the program is expected to help 16,000 to 18,000 students start community college this year. Officials see it as a way to make community college available to low-income students whose parents didn't pursue higher education.
Read an in-depth profile of Tennessee Promise here.
13th Avenue Funding: This company is operating a small pilot program in California that lends low-income students money for college and pegs their repayment to how well they fare afterward. Anyone who benefits from the degree pays back the loan, and those who don't benefit pay less, or nothing at all. It's not so much a traditional loan as a venture-capital approach to college funding, as Bob Whelan, chief executive of the initiative, has said of the pay-as-you-age arrangement. This idea has proved popular among politicians, especially Sen. Marco Rubio, who has cited his own troubles with student debt during his presidential campaign.
Vassar College: With its $1 billion endowment, Vassar knew that it ought to do more to attract low-income students to its elite campus. In 2007, the college moved to an admissions policy that didn't take financial need into account and started working with a nonprofit group that connects low-income students to top schools. The school also recruits aggressively in poor neighborhoods and works with college-preparatory programs to recruit students. Now, more than 20 percent of Vassar's students qualify for Pell Grants available to low-income households, twice as many as a decade ago.
Western Governors University: This is one of nearly three dozen colleges and programs—nonprofit and for-profit alike—that are trying a fledgling model of schooling known as competency-based education. Its core idea: Let students earn their degrees based on their demonstrated knowledge of a subject instead of simply on face-time or performance in a traditional classroom. The not-for-profit Western Governors University works with nontraditional students, who may be older, poor, or underserved, or may have dropped out of college before. The goal: helping them earn a degree at their own pace, using expertise they already have.
Read an in-depth profile of Western Governors University here.