What's Next for Wall Street After Monday's Selloff?
At one point, the Dow was up 441 points. But by the closing bell, it and the other major indexes ended negative.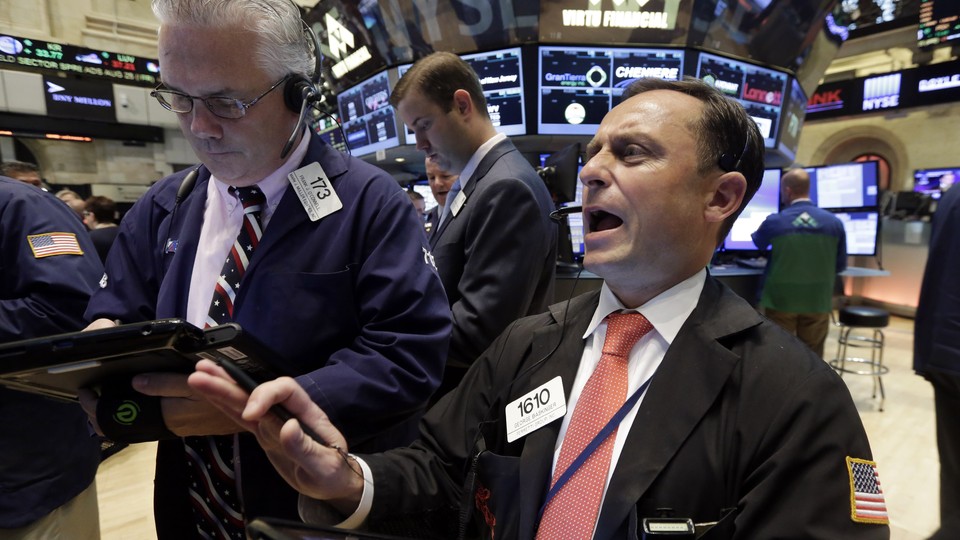 Updated on August 25 at 4:08 p.m. ET
U.S. stocks reversed their gains Tuesday, as a market rally faded in the last hour of trading. The Dow Jones industrial average—which at one point was up 441 points—shed more than 200. The S&P 500 and Nasdaq also closed sharply lower.
The Dow fell 205 points, the S&P 500 closed below 1,900, and the Nasdaq shed 0.44 percent. It was a second straight day of losses for the markets and it comes amid growing unease about the health of the Chinese economy. Stocks had a roller-coaster Monday, with the Dow shedding more than 1,000 points at the opening bell before closing down 3.5 percent.
It was a different story at noon on Tuesday.  At one point, the Dow was up 441 points. The Nasdaq rose 3.2 percent, and the S&P spiked 2.5 percent, out of correction territory. It ended back there Tuesday evening.
"Whatever triggered the consternation in the last few trading sessions is likely to be replayed again," Mark Luschini, chief investment strategist at Janney Montgomery Scott, told CNBC. He said a negative close "would be a set up to grind sideways to work out this process, if this rally and enthusiasm can't last I think it's an indicator (of that consternation)."
The Dow is now on track for its biggest monthly percentage loss since February 2009. For the S&P 500, it's the worst month since May 2010.
Stock markets around the world were all healthier Tuesday—except in China. There, the Shanghai composite index, which fell 8.5 percent on Monday, declined a further 7.6 percent. It is now firmly in negative territory for the year.
"Bothering markets yesterday were China and collapsing commodity prices and both of those have given us some relief," James Meyer, chief investment officer at Tower Bridge Advisors, told CNBC. "And when I look at China I don't look at the Shanghai market. I look at the Hong Kong market."
Indeed, the Hang Seng, the index in Hong Kong, closed up 0.72 percent Tuesday.
China's central bank, which devalued the yuan two weeks ago, showed Tuesday that it was willing to take more steps to bolster the country's sagging economy. It cut its main interest rate by 0.25 percentage points to 4.6 percent. In apparent response, stocks rallied elsewhere. Most European stocks rose. They closed down 5 percent on Monday.
"It's encouraging in the sense that they're [the Chinese] trying to mitigate the impact of the decline," Peter Dixon, a global economist at Commerzbank AG in London, told Bloomberg. "Investors panicked yesterday, concerned about of the lack of reaction, and this might help.
"Markets are beginning to realize this is a Chinese problem, not a European one. These are specific issues which refer to fundamentals in other markets and do not reflect the situation in Europe."