The Uneven Success of America's Housing Policy
Section 8 is supposed to help people move to areas with less poverty, but it's worked better in some places than others.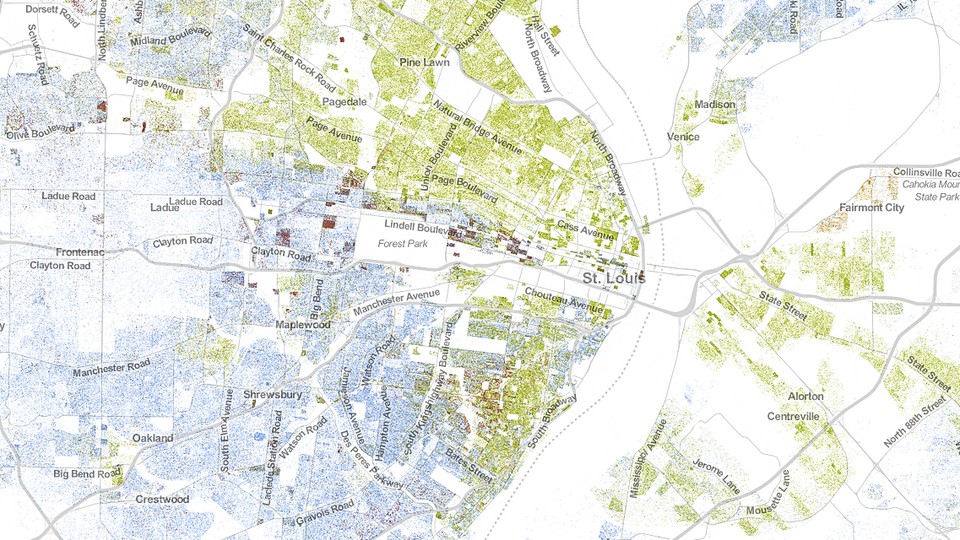 It's been proven time and again the housing vouchers, which provide permanent subsidies for poor families, work. They can help families move to areas with better job opportunities, better schools, and less crime. And as my colleague Alana Semuels has written, they're also one of the more promising methods for permanently curbing homelessness. That can make a voucher seem like a golden ticket. But the ability to make good on the promises inherent in the voucher system can be heavily dependent on where a family is located.
When you look at the nationwide statistics, it's clear that voucher recipients are able to live in areas of less-concentrated poverty, and that they live in less-segregated neighborhoods than poor families who have no choice but to live in shelters, transitional housing, or traditional public-housing units. (Vouchers are a rent subsidy that people can use to live in privately owned housing.) A typical voucher-holder lives in a neighborhood where poverty is 11 percentage points lower than those living in public housing and 3 percentage points lower than poor families who rent traditionally. Such promising results are part of the reason why the voucher waiting list is so long in many parts of the country. But even so, getting a voucher is only part of the battle for many families, and finding better neighborhoods with landlords who will accept vouchers can be nearly impossible in some areas.
---
Average Neighborhood Poverty Rate for 100 Largest Metros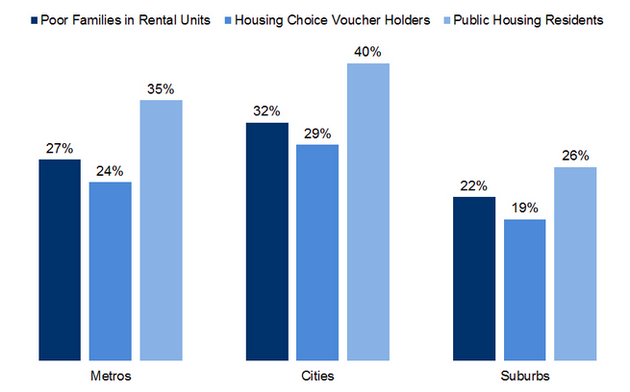 ---
Elizabeth Kneebone, a fellow at Brookings and author of an analysis of voucher-holders between 2009 and 2013, has found that voucher holders in the 100 largest metro areas lived in neighborhoods where the poverty rate was an average of 10 percentage points higher and the minority population share was 21 percentage points higher than the average for all neighborhoods in the largest metros. But those deviations varied across the country, with voucher holders in many regions in the West living in neighborhoods that were closer to regional norms than voucher holders who lived in former industrial areas of the Midwest, South, and Northeast. In Las Vegas, for instance, voucher holders live in areas where the poverty rate is only 3 percentage points higher than the regional average and the minority population is only 8 percentage points above the regional average. In St. Louis, though, voucher holders fare worse—there they live in neighborhoods with poverty rates that are 13 percentage points higher than the regional average and that are much more segregated, with minority population shares that are 33 percentage points higher than the regional average. The disparities between voucher holders and regional averages were highest in areas with longstanding patterns of segregation.
---
Difference Between Regional Poverty Rate and Voucher-Holder Poverty Rate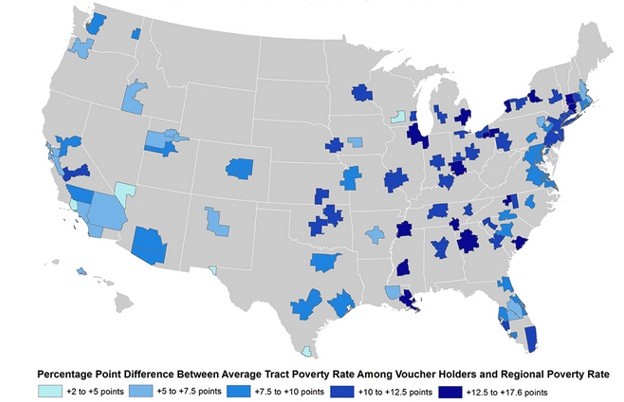 ---
Part of the issue is that vouchers, made specifically to allow families to move away from highly concentrated areas of poverty and into areas of greater racial and economic integration, often wind up not being all that portable because of discriminatory housing practices, landlords who refuse to accept vouchers, or difficulty identifying and moving to neighborhoods with more economic promise.
The data isn't evidence that voucher programs are doomed, but instead that more work needs to be done to help the programs, and their participants succeed, Kneebone says. "Delivering on the potential of the voucher program to improve access to opportunity means grappling with the barriers to mobility that restrict its use."