The Midwest, Home of the Supermodel
What a scout's success in the Heartland says about the modeling industry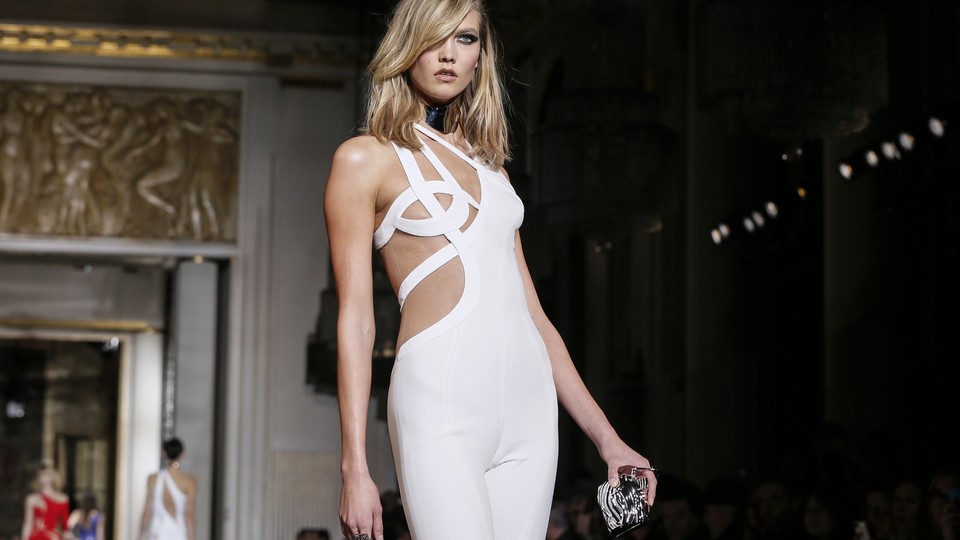 Jeff and Mary Clarke describe themselves as being "like stalkers, but the good kind." They're scouts who roam suburban malls and fast-food joints in search of teenagers who might have what it takes to become high-fashion models.
If you live in somewhere in the Central time zone and have the physique of a pipe cleaner, there's a chance the Clarkes might approach you while you're ordering a Blizzard and ask, "Have you ever thought about being a model?"
When I interviewed Mary Clarke recently, one of the things that surprised me about her work is where it's based. I had assumed any serious person connected to the modeling industry would plant themselves in a fashion mecca like New York or Los Angeles.
Instead, the Clarkes, who are married, operate out of Dardenne Prairie, Missouri, a small town about 40 minutes west of St. Louis. Their annual scouting trips center on Iowa, Wisconsin, and Illinois.
They're also undeniably successful. In 2005, they saw a 13-year-old named Karlie Kloss at a charity fashion show in St. Louis. Kloss, now 23, was one of eight Victoria's Secret angels until recently. A few years later, they spotted a 14-year-old anime fan, Grace Hartzel, at a St. Louis Cheesecake Factory. Last year, Hartzel opened and closed a Yves Saint Laurent show.
But that's nothing compared to one of Mary Clarke's earlier finds. In 1997, she was at a bar near the University of Iowa when she approached a biochemical engineering student named Chris Kutcher and convinced him to give modeling a shot. He would end up using his middle name, Ashton, professionally.
So why has flyover country been so fruitful for the Clarkes? It boils down to two secret ingredients of the modeling business: plenty of height, and just the right amount of competition.
The fashion world has become more open to models of different sizes and ethnicities in recent years, but it still clings to one, unshakable standard: You have to be tall. Female models on the "short side," Clarke says, are still at least five-foot-nine.
One theory, which Clarke heard from a fellow scout, is that the Midwest is home to a disproportionate number of people whose ancestors were the vertically gifted Northern Europeans.
"I remember [this scout] telling me that there's a lot of Scandinavian blood," in the region, Clarke said. "There's a lot of height in Iowa in particular."
There's no definitive model database, but even this Wikipedia list tallies a surprising number of models from Illinois, Minnesota, and Ohio. Aside from Clarke's roster, other renowned Heartland hotties include Erin Heatherton, Lindsey Wixson, and the DeKalb, Illinois, native Cindy Crawford. (Florida seems to be another model incubator. I welcome armchair hypotheses about that one.)
The scout's Scandinavian theory is plausible. The Swedish and Norwegian immigrants who came to the U.S. in the late 19th century settled mainly in Iowa, Minnesota, the Dakotas, and Wisconsin. Countries like Norway, Sweden, Germany, and Denmark have minted some of the tallest people in the world for centuries. Some researchers refer to this as the "North-South gradient," with people living in the colder European countries having, on average, a couple inches on the people living in warmer ones.
According to the census, 31 percent of Scandinavian-Americans live in the Midwest, though even greater numbers live in western states. The Midwest is, however, home to the largest percentage of Americans whose ancestors were Dutch, another famously lanky people.
---
---
But there's another reason why the Clarkes and other scouts prowl the Aeropostales of Omaha in search of fresh faces. For every client that strikes it big, scouts receive a finder's fee. Or, depending on the arrangement, they might earn a percentage of each job the model books. That means it behooves scouts to work where there isn't much competition—like the vast, open plains—and to seek out girls and boys who aren't already tied to a modeling agency.
"Sometimes several scouts might find one model and they all end up trying to lure her over, which becomes a hassle," said Ashley Mears, a sociologist who has studied the modeling industry and was a model herself.
Larger cities are already too crammed with scouts. The types of youths the Clarkes would consider recruiting from the sidewalks of New York or Los Angeles are likely already modeling—or have considered and decided against it. Whereas in Missouri, "nine times out of 10, they've never thought about it before," Clarke explained.
Of course, Midwesterners don't have the modeling market cornered. Scouts are everywhere, flocking to remote corners of South America, Kenya, and Siberia in search of tall, thin people.
"Scouts are going to places that they perceive as economically underdeveloped," Mears explained. "They'll go into Eastern Europe ... or Brazil"—places where statuesque teens are likely to see modeling as a promising ticket.
But why brave a February modeling convention in Novosibirsk when you could—as the Clarkes did successfully a few years ago—just flag down a hunk as he's pumping gas in Hannibal, Missouri?