The End Has Come for Northwestern Football Players' Unionization Bid
The National Labor Relations Board ruling is a victory for the NCAA amid a tide of legal challenges to its business model.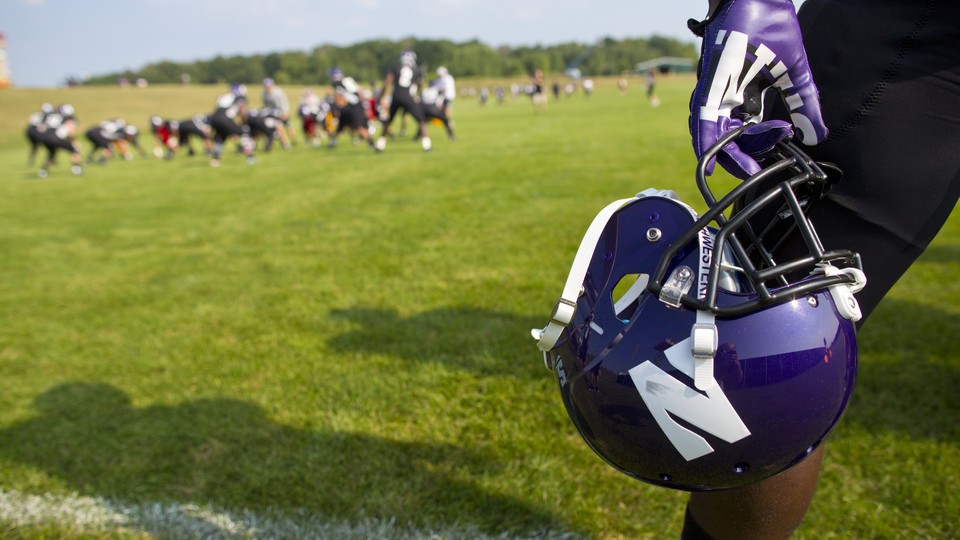 In a 5-0 ruling Monday, the National Labor Relations Board (NLRB) declined to assert its jurisdiction in a dispute between Northwestern University and its football team, effectively ending the players' first-in-the-nation bid to unionize.
Members of the team held a vote on unionization in April of 2014, but the ballots were never counted pending appeal. A regional office of the NLRB initially ruled that Northwestern's players were employees for purposes of collective bargaining under the National Labor Relations Act.
The case was a historic one for college athletics. Players in all major U.S. professional sports leagues are unionized, but the 460,000-plus "student-athletes" in NCAA-organized competitions are not. "The Board has never before been asked to assert jurisdiction in a case involving college football players, or college athletes of any kind," the board noted in its ruling. "There has never been a petition for representation before the Board in a unit of a single college team or, for that matter, a group of college teams."
The NCAA formally envisions all colleges athletes as "students first, athletes second." Not all athletes agree with this characterization. Former Northwestern quarterback Kain Colter, who spearheaded the unionization drive, countered that he spent 40-50 hours a week on his football "job" during the season and said it negatively impacted his academic performance, according to Sports Illustrated.
Meanwhile, universities are making piles of money from sports. According to The New York Times, the average Division I athletic department's revenue ballooned from $6.5 million in 1970 to $56 million in 2012. Athletes are compensated to varying degrees with scholarships, but they receive none of the profits from lucrative broadcast- or marketing-rights deals. At the same time, the highest-paid state employee in 40 of the 50 states is the football or basketball coach of a public university.
A key factor in the NLRB's decision was the structure of college athletics itself. Many NCAA Division I conferences include teams from both private universities, over which NLRB has authority, and public universities, where it lacks jurisdiction. Of the 14 teams in the Big Ten Conference, only Northwestern is private.
In such a situation, asserting jurisdiction in this case would not promote stability in labor relations. Because most FBS teams are created by state institutions, they may be subject to state labor laws governing public employees. Some states, of course, permit collective bargaining by public employees, but others limit or prohibit such bargaining. At least two states—which, between them, operate three universities that are members of the Big Ten—specify by statute that scholarship athletes at state schools are not employees.
Allowing a single team to unionize within an athletic conference would be unbalanced, the board reasoned, and could have led to "asymmetry" within competition.
To be clear, we are not suggesting that the NCAA's control over many of the terms and conditions under which college football players conduct their activities is an independent reason to decline to assert jurisdiction. We merely observe that bargaining in a single-team unit will not promote labor stability in this case.
The ruling comes amid two other major court challenges to the legal architecture of college athletics. The first serious blow came last August when a federal judge in California ruled that the NCAA could not block colleges from paying athletes. Former UCLA basketball star Ed O'Bannon and other former collegiate athletes brought the suit over the use of their likenesses in NCAA-licensed video games, for which they received no compensation. The NCAA appealed the decision to the Ninth Circuit; a three-judge panel heard oral arguments in March but has yet to issue a ruling. If the ruling stands, college football and basketball players could receive a $60 million settlement from the NCAA and Electronic Arts.
Another potentially historic case looming in the courts is Jenkins v. NCAA. A group of college athletes sued the NCAA and five Division I conferences in March 2014. The players alleged that the NCAA's grant-in-aid scholarship system is a price-fixing cartel that limited compensation in violation of the Sherman Antitrust Act. A victory for the plaintiffs in Jenkins would completely upend college sports' business model. A federal judicial panel merged Jenkins with a similar case and assigned it to federal judge Claudia Wilken, who also presided over O'Bannon. A ruling could come in early 2016.
The NLRB decision is a terminal blow to Northwestern football players' efforts to unionize. But the board's refusal to assert jurisdiction neither blesses nor blocks future attempts to unionize college athletes. In the ruling, the NLRB bent over backwards to emphasize that its decision applied solely to the Northwestern case and did not foreclose others. "Whether we might assert jurisdiction in another case involving grant-in-aid scholarship football players (or other types of scholarship athletes) is a question we need not and do not address at this time," the board explained. If other legal challenges succeed, that opportunity could come soon.