New Orleans Is Still Not Prepared for the Next Storm
Improvements have been made, but without serious investment in infrastructure, the city and its residents will remain vulnerable.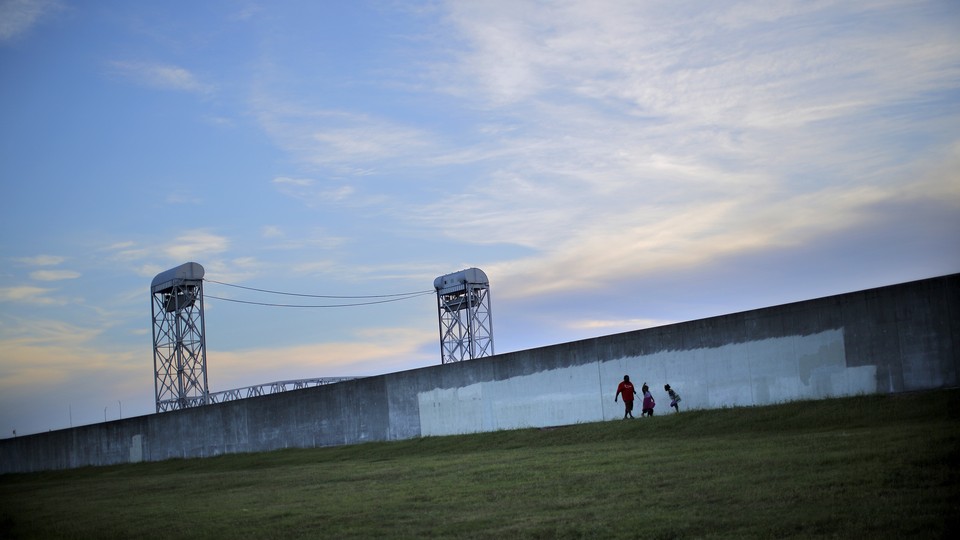 NEW ORLEANS—The question of what it will take to prevent the next Katrina or Sandy has a pretty straightforward answer: money.
Of course that leaves a lot to be sorted out: Where should the money come from? How should it be spent? But the overarching need to invest in improving infrastructure was a plea made by several panelists during the "New Orleans: 10 Years Later," hosted on Monday by The Atlantic.
Even a decade after New Orleans's levees were breached, some say that the improvements made by the Army Corps of Engineers—which have included raising, rebuilding, and reinforcing levee walls, and updating predictive models to reflect the possibility of more severe storms—are still simply not enough to ensure the safety of the city or its residents in the longterm.
That's because, even in the wake of Katrina, people do not want to raise taxes to fund the necessary improvements. "Levees require reinvestment. It's not a free system," says David Waggonner, the president of Waggonner and Ball Architects, which is based in New Orleans.  He noted that St. Bernard Parish—which borders New Orleans and had 100 percent of its housing stock damaged or destroyed during Katrina—has twice voted against the implementation of a levee tax, which would support the maintenance of the structures meant to protect residents from the very same floodwaters in the future.
Even with the added capability of higher, stronger levees, there are no guarantees. As Karen Durham-Aguilera, the director of Task Force Hope in New Orleans, U.S. Army Corps of Engineers stressed, "It's really a question of how much you want to invest to reduce risk."
That's why structural solutions, like the levees and more advanced pumping systems, should never encompass the entirety of a city's disaster plans, and why evacuation protocols are critical. "The system is meant to protect our property, not our lives," said Mark Schleifstein, an environment reporter at The Times-Picayune. He noted at the event that, statistically, the evacuation that preceded Katrina was by all counts successful—with a large segment of the population actually leaving the city. But many who didn't have access to transportation, couldn't travel, or didn't have money for housing if they did manage to escape, were left behind. Part of preventing another tragedy, he said, requires figuring out how to help the most vulnerable leave safely, should another big storm come.
---