Making Homeownership Less Exclusive
A new program aims to help poor and minority families qualify for mortgages.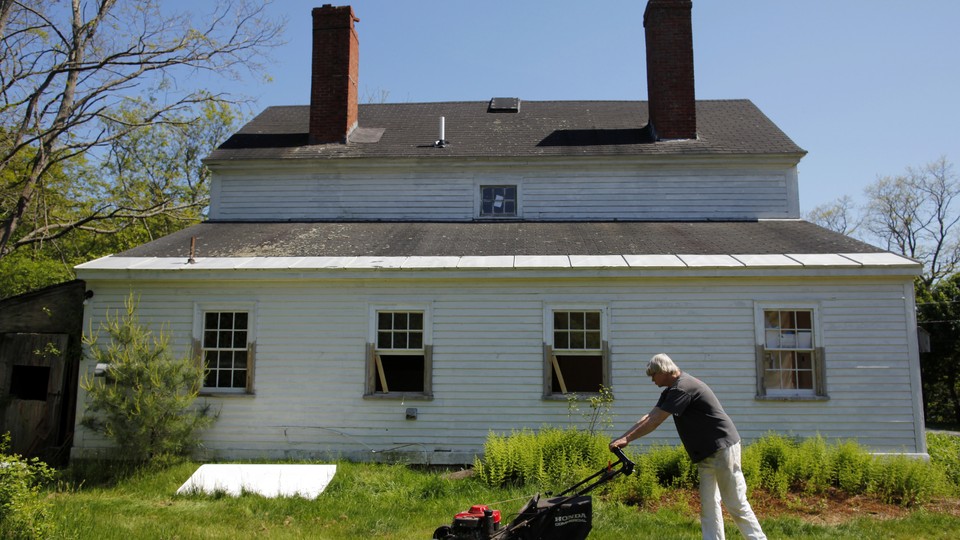 In the years since the recession, the dream of a steady paycheck and a home in a nice neighborhood have become more elusive for many working-class Americans. While some may say that the lack of homeownership reflects changing values, owning a home remains an important tool for wealth building for most families. Yet it is particularly unattainable for low-income and minority households. The homeownership rate for households that fall below median income was less than 50 percent in 2014, for those who made above the median it was nearly 80 percent. And the gap in homeownership between whites, and blacks and Hispanics is almost as large.
Now, a new program from Fannie Mae is trying to change that.
This week, the government-sponsored enterprise unveiled plans for a new loan product. HomeReady is specifically targeted toward low-income and minority households, and it allows prospective buyers to pay just a 3 percent down payment up front, provides a homeowner's education course, and the biggest boon—the program will allow applicants to count income from those who won't actually be borrowers, toward their gross income. That means in multi-generational households, the contributions of children or grandparents—and for younger borrowers, financial assistance from parents, or aunts and uncles—could be included. For current owners who rent a room or portion of their home for extra income, the money they receive from tenants would count as income if they decide to move.
These may seem like small perks, but the new program could be a big deal for households who rely on income that hasn't been counted by banks or lenders in the past.
---
Homeownership by Race 2004-2014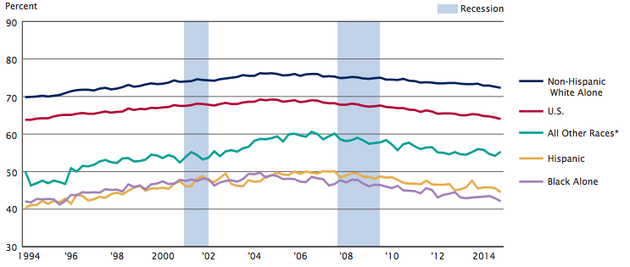 ---
In the wake of the subprime debacle, banks tightened their lending practices. In the past few years, prospective home buyers had to put up larger down payments, and have higher credit scores than they did a decade ago. For lenders that wanted their loans to be guaranteed by Fannie Mae (which buys the loans, packages them, and promises to compensate lenders in the event of a default), borrowers also had to meet specific requirements that limited how much debt loan applicants could have relative to their income. Stagnant wages, expensive rent, and increasing debt loads made mortgage criteria hard to meet for many lower-income households.
The broader terms of this new program would make it easier for those households to meet these income requirements.
This generally might seem like good news, but the program already has critics. Edward Pinto, a fellow at the American Enterprise Institute, told The Wall Street Journal: "I don't think this is a step forward for borrowers. These other incomes that they're adding are not of the same quality." While the program will surely face additional opposition the fact remains that income is only one of several requirements used to assess a borrower's loan-worthiness.
The case can be made that the current system of home loans leaves out many working-class Americans who could benefit from homeownership without risking another crisis. Low-income residents wanting to buy homes is not what caused the financial crisis: The boom and bust were the fault of predatory lending practices (that included fluctuating interest rates that could quickly change), causing mortgage payments to skyrocket along with the lack of due diligence by lenders—who were more concerned with making money than making quality loans. The lack of transparency about the risky financial products backed by these loans, which were repackaged and resold multiple times, caused a system-wide meltdown.
This new program is also a recognition of the changing demographics of the country. According to the Urban Institute, 75 percent of new households will be headed by minorities during the next decade—88 percent during the decade after that. And a growing number of households include multiple generations living under one roof.
While some worry that HomeReady will allow poor families to buy homes they can't afford, it's a step in the right direction to help poor American families that already can't afford the astronomical price of rent around the country—much less save up a down payment while paying those rents. A quarter of renters spend more than 50 percent of their salaries on housing, with minority and low-income households much more likely to face these severe rent burdens. Even for many families who have access to rent-controlled apartments, quickly gentrifying neighborhoods, and landlords looking to boost profits, threaten to push them out. All the while, monthly mortgages remain comparatively affordable in many places. But without access to credit, working-class families simply don't have the choice to buy.
Fannie Mae's new program will surely not be a panacea for inequity in the U.S. housing market. But the overarching goal, that of allowing all Americans to find housing that they can actually afford, is a worthy one. That's because even after the crisis, homes still account for a large portion of the overall wealth of middle- and working-class families. And though many Americans are still understandably wary of the housing market and its risks, access to the economic benefits that growing wealth can provide, like collateral for loans, or equity lines, too often remain out of reach for poorer families.