Lawn Tennis Makes a Lot of Green
Editor's Note:
This article previously appeared in a different format as part of The Atlantic's Notes section, retired in 2021.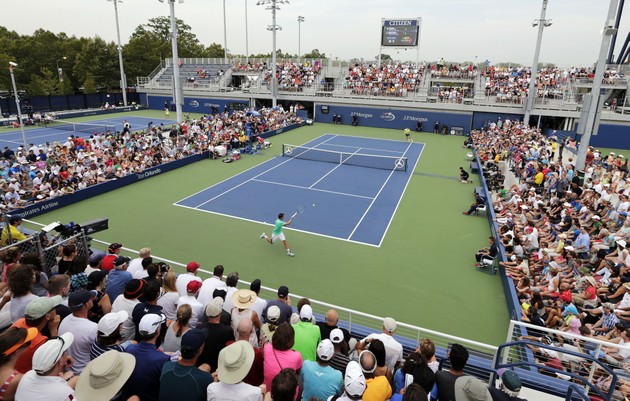 Writing in the August 1903 issue of The Atlantic, Arthur Stanwood Pier opens his love letter "Lawn Tennis" by charging the net: "That tennis is entitled to the place of supremacy among games seems to me no unreasonable claim." (In case you didn't know, the contrarian take even held court in the time of the Bull Moose and King Edward VII.)
Pier argues that what tennis lacks in the gruesome injuries of polo or football, it more than makes up for in individual intensity. "Tennis more than any other game has the qualities that gave the duel its fascination." One hundred and twelve years later, one of the sport's lesser-heralded qualities is its capacity to generate loads of revenue for cities hosting tournaments. One shining example is the U.S. Open, which kicked off in Queens on Monday.
The two-week extravaganza is expected to bring 700,000 fans to the city. According to the United States Tennis Association, nearly half of the attendees hail from outside the metropolitan area. The upshot: Thousands of seasonal jobs, over 200 matches, and more than $40 million in prize money. That's not even mentioning over $700 million in expected revenue for the region. Compare that to the 2014 Super Bowl, which was held just outside of the Big Apple in New Jersey and pulled in $500 million.
What's more impressive than that? Not much, except maybe New York Fashion Week, the biannual juggernaut, which hauled in $900 million last year, according to a congressional joint committee.
The big draw for this year's tournament is Serena Williams, the subject of a stellar profile this weekend in The New York Times Magazine by the poet Claudia Rankine. Williams is battling to win her 22nd major title—the second-best of all-time—as well as become the first player to win all four major tennis tournaments in a calendar year since Steffi Graf did it in 1988.
It's not exactly the "two men at close quarters" that Pier wrote about all those years ago, but fans are excited nonetheless. As Quartz noted over the weekend, tickets for the U.S. Open women's singles final sold out before the men's title match did for the first time in history.