Why Louisiana Fought Low-Income Housing in New Orleans After Katrina
During the massive rebuilding, the state imposed a moratorium on all new subsidized units. The city is still paying the price.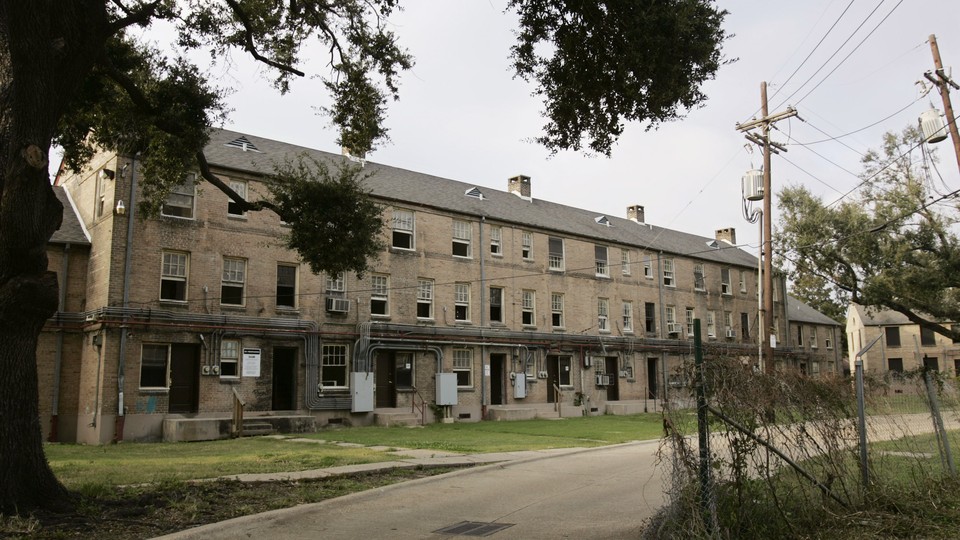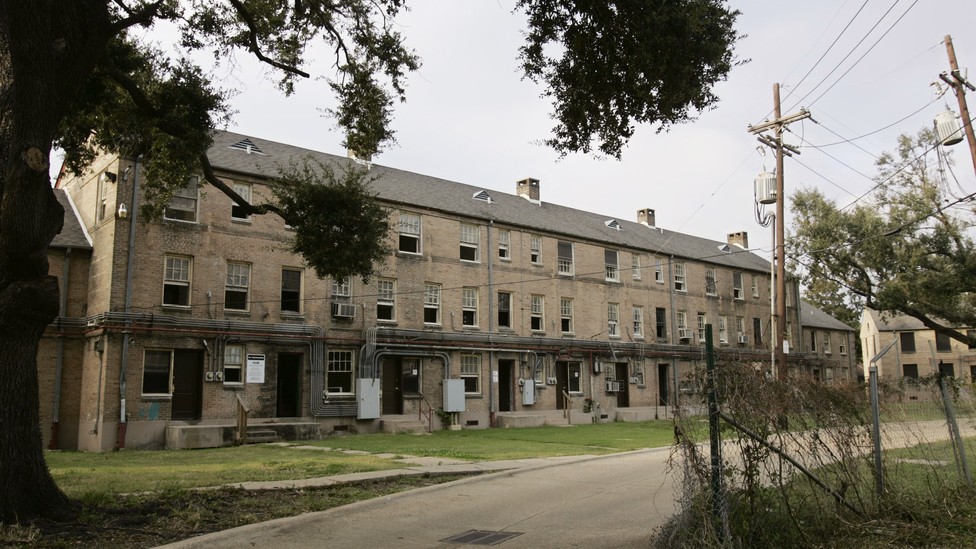 In May 2009, about four years after Katrina destroyed most of New Orleans, a locally based research nonprofit called the Bureau of Governmental Research issued a key finding:
Subsidized housing will assist more of the poorest households in New Orleans than before the disaster, and a far greater number of low- and moderate-income households with incomes between 40 percent and 80 percent of median.
This was actually a warning. Taken from its report "The House That Uncle Sam Built," BGR was concerned that the city was taking on too much subsidized housing and needed to reconsider its overall strategy. Noting the downside of federal housing-assistance programs—"a declining tax base" it listed, as one example—the research center came to the conclusion that, "in planning for the future of the city, policymakers should strive for a housing market that accommodates different income levels without placing a disproportionate burden on the city."
By "burden" the report's writers meant low-income households. "It is a misnomer that we need more affordable housing," said Donald Vallee, a former president of the New Orleans Landlords Association, in response to the report. When BGR released it in 2009, the city was far from meeting its housing-rebuilding goals, though.
---
Housing Production  2005-2016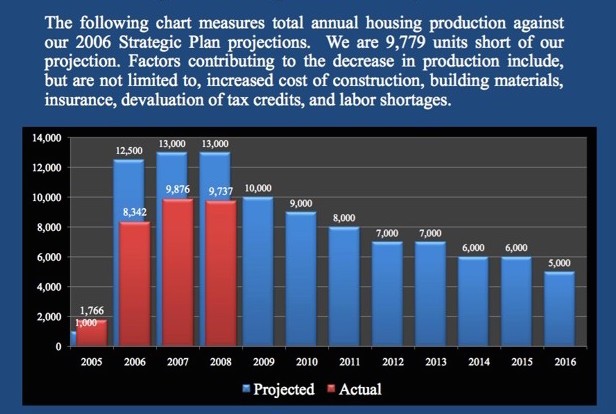 ---
Not only that, but people were paying higher rents, and spending more of their take-home income on rent than before the storm, especially low-wage workers. And it was only getting worse: The Greater New Orleans Data Center (today called The Data Center) reported in 2009 that "The affordability crisis for very low-income New Orleans renters (earning less than $20,000) actually worsened from 2007 to 2008. That is, the percent of very-low-income renters in Orleans Parish who were cost burdened increased significantly from 2007 to 2008."
---
Share of Rent-Burdened Residents in New Orleans
---
The "Big Four" public-housing complexes that were still standing in the weeks after Katrina had either been demolished or were headed that way in 2009. BGR estimated that there were 19,800 rental units subsidized for affordability in New Orleans before Katrina, but it included units rented with financial-assistance vouchers in that number. When the Vogt Williams Bowen Research firm released a housing-assessment study in September 2009, it counted roughly 10,743 actual subsidized units before Katrina, when the voucher number was taken out. Only 6,561 subsidized-rental units had been built by 2009, though, according to the firm's count—more than 4,100 fewer affordable units than before the storm.
Even if you factored in the vouchers, it was hard to argue that all affordable housing needs had been met, especially when there was no clear understanding of demand at the time. Of the 47,472 people making less than $50,000 in 2009, according to the Greater New Orleans Data Center, over 20,000 were unable to afford what housing was going for.
---
Housing Demand Versus Supply, 2009
---
A recent survey from Louisiana State University's Public Policy Research Lab found that, of residents forced to live somewhere else after the storm, the ones who took the longest to return home were those who made less than $20,000 a year. Nearly 68 percent of those households took longer than a year to move back to New Orleans, compared with just 8.23 percent of those who made more than $100,000 a year. Part of the reason for that gap was the fact that poor families had few places to move back to.
There were only 1,750 public housing units occupied by 2009, with only another hundred, at most, planned to be built in the future. That's compared to 5,148 before the storm. Many former public-housing tenants were still living in "temporary" trailers. Even with the remaining 7,000 or so federally-subsidized rental units in the pipeline to be built, plenty of people were spooked about the loss of all those public-housing units.
Also scary, though, was the fact that the state had decided in 2009 to pull the plug on building any more subsidized-housing units for low-income families. Certain state officials had been led to believe that the affordable-housing stock that year was overbuilt, and were emboldened in large part by BGR's report to act on that belief.
* * *
At the center of this mess were the financing structures that the state of Louisiana set up in Katrina's wake to ensure housing for people whose wages fell well short of the cost of living in New Orleans. Those were mainly two groups of people: The first consisted of moderate- and fixed-income (mainly elderly) residents who earned regular paychecks, but were still overburdened by rent, insurance, food, medical, and utility costs. The second group consisted of the lowest-wage workers, making less than 40 percent of area median income (AMI), the disabled, and the homeless—many of them former public-housing tenants. The latter group, considered "very low income" by Louisiana standards, also tended to require the most support services in order to sustain housing.
Small-scale private landlords renting out basements or vacant rooms in their shotgun houses mostly accommodated the first group. These are what the state call "small rental properties" and before Katrina, that accounted for about 70 percent of the city's rental stock. The "very low-income" tenants in the second group needed more structure: an apartment building or complex with adequate property-management staff, and preferably some kind of on-site social worker—like the kind offered in the former housing projects.
Which is why such tenants are generally anathema to market-standard apartment developers. "You just don't take them, or you evict them. Just get them out of there. I don't have the staff to deal with them," said Pres Kabacoff, the HRI Properties CEO responsible for much of New Orleans's rental stock today, in an interview with Gawker earlier this year.
After Katrina, Louisiana dedicated the majority of recovery dollars to homeowners. There were few immediate solutions for renters, even though they made up over half of the city's residents before and after the storm.
---
Summary of Investments Compared to Housing Units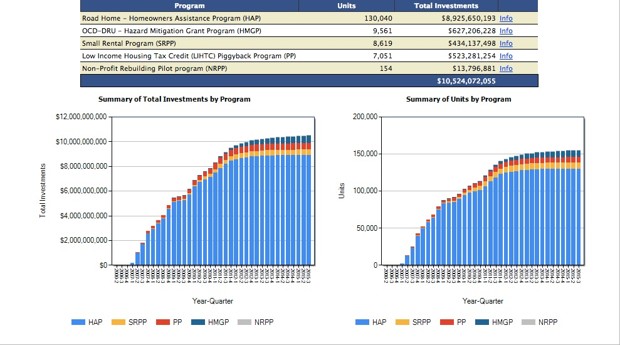 ---
To ignite rental housing for low-wage households, the Louisiana Housing Finance Agency (LHFA) worked with the Louisiana Recovery Authority (LRA), to create what was called the "Piggyback Program." Under this plan, the agencies took federally issued low-income-housing tax credits and "piggybacked"community development block grants (CDBGs) on top of them to entice private developers to invest in low-income housing deals. The subsidy package reduced financial risks for private developers, and without it, the crawl towards rebuilding low-income housing in New Orleans would have been slower than it already was.
Other states had pulled together multi-layered financing structures like this in the past, particularly as a way to leverage private-equity investments in the quest to perfect the ever-evolving federal HOPE VI program. The mixed-income housing projects it would produce fell in line with what the city's housing authority and the U.S. Housing and Urban Development had planned to replace the "Big Four" housing projects with before Katrina.
Similar public-housing overhauls were already happening in other cities including Chicago, Atlanta, Pittsburgh, and Washington, D.C.. It was HUD's new urbanist method of breaking up segregation and concentrated poverty. New Orleans was just now catching up. But while those other cities' processes allowed for a gradual transition away from public housing, in New Orleans, the approach was more abrupt, with people pushed out of their homes in one fell swoop after Katrina.
The Piggyback Program was supposed to help alleviate some of the root-shock of that abrupt mass eviction. And for a second, it looked like the state was prepared to do that, thanks to a huge influx of Gulf Opportunity (GO Zone) disaster-relief funding. The plan was not only reproduce what was lost in the storm, but to hopefully plug away at the unmet affordable-housing needs that existed prior to the disaster.
For that GO Zone-Piggyback Program bonanza, the state had over $1 billion in low income housing tax credits to marry with roughly $600 million in CDBG funds for housing—most of it targeted for New Orleans. Over at the Bureau for Governmental Research, there was a concern that this was too much subsidy for the city. As it stated in its "House That Uncle Sam Built" report:
Since the 2005 disaster, an influx of federal aid has propelled a radical transformation of the city's subsidized rental-housing market. From accelerated public housing redevelopments to new mixed-income complexes to increased housing vouchers, the federal aid has reshaped and expanded the supply. BGR estimates that the absolute number of subsidized units is 21 percent higher than its pre-Katrina level and will be 80 percent higher by 2012. Relative to the overall market, subsidized rental units now represent 18 percent of total housing in New Orleans, compared to 10 percent pre-Katrina. BGR projects that the percentage will grow to 25 percent by 2012.
Though BGR president Janet Howard said the report's purpose was not to curtail affordable housing, it still sounded like a dog whistle to opponents of low-income housing. BGR could not be easily written off, though, given its widely-respected reputation as an independent, non-partisan institution focused on better government that had been around since 1932. The report's full impact was felt when state bond commissioners slammed the brakes on construction of low-income multifamily apartment dwellings, holding up the report as their reason.
* * *
No subsidized housing projects could move forward without approval from the state's bond commission, especially apartment complexes, which needed multifamily mortgage bonds from the state. When the bond commission rejected plans for two multifamily housing projects that would have included permanent supportive housing units to help the homeless, it was a bold statement on the new direction around housing. State Bond Commission Chairman John Kennedy and then-State Bond Commissioner Jim Tucker were now calling for further studies on housing needs. They also began suggesting that the CDBG funds for low-income housing should be put to other uses.
Louisiana Housing Finance Agency president Milton Bailey responded in a statement to the state bond commission saying:
Absent these CDBG subsidies for mixed-income developments, very little affordable mixed-income rental housing would be constructed by developers to serve the policy-targeted population of Louisiana's workforce. The use of CDBG funds to subsidize affordable housing does not convey an unfair advantage to affordable housing developers. It levels the playing field.
Not to mention, LHFA had already contracted with GCR & Associates to conduct a comprehensive housing-needs assessment (to add to similar studies already done by VWB Research and the Greater New Orleans Data Center). As Bailey explained to the bond commission in his statement, GCR's analysis led to a projection that:
Between 2008 and 2013, there will be a demand for approximately 44,713 affordable rental units in the New Orleans Metro region. If the current pipeline of tax-credit and small-rental units is subtracted from this demand, there is still a need for over 18,000 affordable rental units in the area. According to GCR & Associates, New Orleans has one of the highest needs for affordable rental housing in the state.
The bond commission still would not budge though, and all of this couldn't have come at a worse time. All one had to do was look out a window in New Orleans in 2009 to see what the housing needs were. And yet the bond commission's red light was far from the only force at play threatening to undermine the construction of affordable housing. Consider that:
This was happening less than a year after Katrina's follow-up hurricanes Gustav and Ike had hit the Gulf Coast, displacing some of the already-displaced, and creating an even greater need for affordable housing, especially for those still looking to return to New Orleans.

The 2010 deadline for using GO Zone tax credits was approaching, and if the projects weren't completed in time, the state would lose those credits. Which would mean the loss of the central financing tool for low-income housing, which would mean they just wouldn't get built at all.

America had just experienced both a housing and financial crash, the latter of which forced many private-equity investors to pull out of the tax-credit deals (as they no longer had the capital to buy them), which caused the tax credits' values to drop.

Disaster Housing Assistance Program (DHAP) vouchers, distributed to displaced Katrina victims, were set to expire that coming August 31, 2009, which would only increase the need for more subsidized housing.

There were still hundreds of thousands of people living in FEMA trailers—those formaldehyde-leaking trailers—while state bureaucrats were playing political football with subsidized housing.

New Orleans's homeless population had doubled from 6,000 before the storm to 12,000; then-Mayor Ray Nagin jokes about busing them out of the city as a solution.
It was bad enough that the city wasn't bringing back all of the public housing it demolished after Katrina. But now it was in danger of losing funding for whatever affordable housing was stuck in the pipeline.
And much of this was spurred by BGR, who had been sounding alarms about subsidized housing well before its 2009 "House that Uncle Sam Built" report, as read in its 2007 report "Cementing Imbalance" on the regional distribution of subsidized rental housing. Also, its 2007 "Public Investment, Private Developers" report put the state's use of GO Zone low-income-housing tax credits under scrutiny. Both urged the state officials to reconsider deploying these subsidies in Orleans Parish, and instead recommended spreading them around neighboring parishes. This, despite the fact that the bulk of the destroyed rental stock was in New Orleans, and that surrounding parishes like St. Bernard were aggressively fighting to keep multifamily housing developments away, even defying federal court orders in the process.
---
Major and Severe Damage by Parish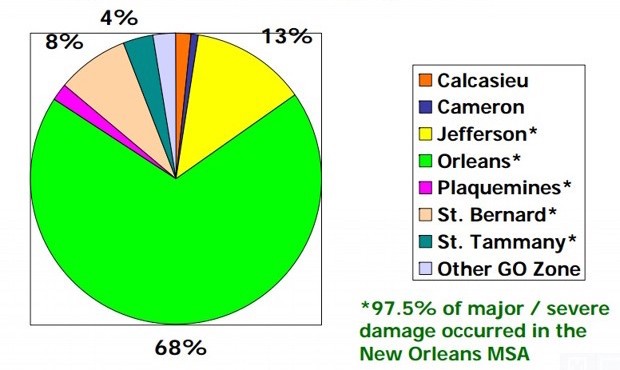 ---
Where the damage occurred was irrelevant, though, if the main point was to decrease the number of poor people in New Orleans. BGR was concerned about diversifying the incomes (and therefore the tax base) of the population rebuilding the city, which was not unreasonable. But there were other things BGR could have researched to address these concerns, like adopting a living-wage ordinance, reversing the prevailing anti-union culture, or convincing Governor Bobby Jindal to accept more of the stimulus funding the federal government was offering at the time. But their primary concern was that too much taxpayer money was going toward building housing for people of meager resources.
As it turned out, BGR's accounting on this issue was flawed. As LHFA president Bailey explained to the state bond commission:
BGR's report presents a supply-side analysis of affordable housing. It does not, however, include absorption-rate or demand-side analyses for that same housing. As a result, its narrative has created an unfortunate degree of confusion that may have led to the misinterpretation of certain ground-level realities.
And BGR even got the supply side wrong. It's researchers counted all of the available housing vouchers at the time as a subsidized-housing unit. This despite the fact that not all vouchers were used in tax credit or CDBG-subsidized housing (or even used within New Orleans), and that many of those vouchers were either not used at all or were about to expire. The report also counted thousands of subsidized units that hadn't been built yet, and that had little guarantee of being completed for the reasons bulleted above.
The VWB Research firm also found many errors in BGR's accounting, which led to this conclusion in its 2009 report:
It does not appear that the BGR report is an attempt to answer the question of the need for additional subsidized or Tax Credit housing in Orleans Parish. Instead, it is our opinion that the report is simply an attempt to provide an accounting of the existing and potential affordable rental-housing supply of the Parish. Without demographic data (particularly data that focuses on low-income renter households) or reconciliation between supply and demand, it is our opinion that the BGR report should not be a basis for decisions regarding the need for additional affordable housing.
Unmoved, state bond commissioners Kennedy and Tucker stuck with its official moratorium on approving all future subsidized multifamily-housing projects. This ended up later triggering a Fair Housing Act complaint from the U.S. Department of Justice, which read:
In August 2009, the State Bond Commission adopted a Moratorium on approving bond financing under the Piggyback Program for low-income housing projects located in the City ("Bond Commission Moratorium"). The City and Bond Commission were aware that, at the time, the Esplanade and two other affordable-housing projects in New Orleans would be subject to the Bond Commission Moratorium. The Bond Commission stated that its Moratorium was needed to study whether the housing market in the City would support the Esplanade and the other two projects. In March 2011, a final study was completed, which concluded affirmatively that the City's housing market would support additional affordable housing for very-low-income individuals. Despite this report, the Bond Commission has not lifted the Moratorium on the Esplanade, which remains in effect today.
In 2010, Tucker also led the bond commission to vote for the right to appoint two of their own hand-picked members to the Louisiana Housing Finance Agency's board of directors, which was seen as a ploy for Tucker to gain more control over the agency's budget. This was a suspicious move considering that Tucker himself was a real-estate developer, with a number of multifamily dwellings to his name. An ethics complaint had been filed against him in 2008, in fact, alleging a conflict of interest given his private real-estate holdings and his powers as a bond commissioner. The complaint was dismissed. Tucker, meanwhile, maintained that his maneuver was purely about austerity.
"As money has grown tighter, we have been going through different agencies and looking more closely at them, and we understand that with LHFA, we don't have purview over them, but we believe that we should," Tucker told The Lens, a non-profit, investigative news site. (Full disclosure: I helped start up The Lens in 2009 and reported on this issue during the site's beginnings.) "The point is to have greater oversight by watching the agency through these difficult financial times, and having a direct link from them back to the legislature."
* * *
Governor Jindal was also preparing at this time to collapse the agency altogether, which he did in 2011, forming a new department called the Louisiana Housing Corporation. He did this even after Moody's Investors Service warned that dissolving the housing-finance agency would be a "credit negative." The new housing entity would be governed by a board of directors that consisted of two members appointed by the speaker of the house (who at the time was Tucker), six members appointed by Jindal, and State Treasurer John Kennedy, the state bond commissioner chairman who led the charge to halt construction of low-income housing.
Come 2014, Kennedy was still answering for that moratorium to the Justice Department, which he fought to the very end. He rejected a settlement deal in March of that year that would have waived a $3 million penalty that the DOJ was set to impose on the bond commission for its actions. He finally gave in to the settlement that July, agreeing to lift the moratorium and to refrain from blocking future consideration of affordable-housing deals. The entire time, low-income housing opponents claimed the moratorium was about concerns around concentrating poverty. But that concern was already addressed through the push for mixed-income housing developments, as HRI Properties CEO Pres Kabacoff recently acknowledged:
Kabacoff says of Road Home "we were concerned they would end up concentrating poverty." Asked gov to change rules to allow mixed income

— Robert McClendon (@RobertMcClendon) August 24, 2015
The GO Zone period is over now, as is the Piggyback Program era. The Louisiana Housing Corporation still assumes responsibility for low-income housing development in the state, but it is controlled mostly by people who don't consider this a priority.
New Orleans does have other tools for spurring low-income housing development, but they've been underutilized. The Neighborhood Housing Improvement Fund, a local tax program established in 1992 that brings in roughly $3 million annually. In the past, it's been used to cover administration costs and for fighting blight (which hasn't exactly been going well). There's now a push for the city to use those funds for producing more affordable housing.
But BGR's 2009 alarms of too much subsidized housing were overblown. It predicted back then that by 2012 New Orleans would "have approximately 35,700 units of subsidized rental housing—an increase of approximately 15,800 units over the pre-Katrina level."
It's 2015, and the city is nowhere close to that. The city of New Orleans' Katrina 10 website says it spent $543 million on 59 new multi-family rental developments, containing 7,475 units. Through it's other finance programs, it built 4,958 affordable rental units (some of which are in the multi-family developments), and another 551 permanent supportive housing units. The Lens reports that of the city's 16,100 units built since Katrina, about 12,000 could be considered affordable. Either way, this is far less than the BGR foretold. Housing vouchers have become the primary instrument for helping low-income families, but they've faced so much discrimination along with continuing rent surges that the vouchers have been of little help in New Orleans.
On Friday, August 21, the Greater New Orleans Housing Alliance released its preliminary "HousingNOLA" report where it concluded that the city actually needs another 11,000 rental units for low-wage families by 2025. Reads the report:
[T]he projected demand for homes in New Orleans over the next 10 years will be 33,593 homes by 2025 (rental and homeownership). This includes 10,952 rental units for low- and moderate-income households; 5,720 market-rate rental units; 5,628 low- and moderate-income homeownership units; and 11,293 market-rate homeownership units … With low wages, high poverty rates, and limited resources, significant financial resources will be needed to meet the high demand for deeply affordable housing for the city's most vulnerable and working poor.
New Orleans has broken a lot of ground for housing over the past 10 years. But there's no telling how much ground was lost to begin with during the affordable-housing moratorium.
---
A version of this story originally appeared on CityLab. This project was made possible with support from the W.K. Kellogg Foundation.