Is Best Buy Making a Comeback?
Strong second-quarter profits suggest that the electronics mega-retailer is doing some things right.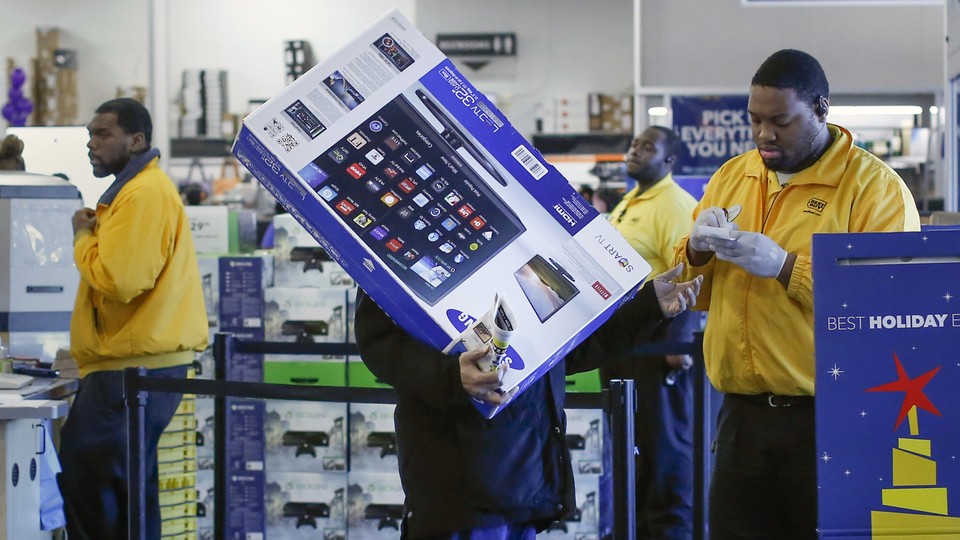 Yesterday was a rough day for markets worldwide, but today U.S. markets are gaining after yesterday's swings. One bit of good news amid the upward trends: Electronics mega-retailer Best Buy announced it had beat expectations with a 12 percent increase in second-quarter profits. Best Buy attributed the gains to strong sales of TVs, appliances, and phones. Others have speculated that the boost might be due to the demand and sales of Apple products at Best Buy stores.
Analysts have been speculating for a few years about whether Best Buy would survive competition with online retailers—namely Amazon. Was Best Buy just a showroom where customers would go look at products in real life, then walk out and buy their Xbox at better prices online?
In the last two years, Best Buy's CEO Hubert July has been on a cost-cutting spree: Earlier this year, he announced that the company had cut $1 billion in expenses, and plans to reduce another $400 million in spending over the next three years by closing stores and retreating from unprofitable international markets. The company has also been focused on offering more competitive prices, hoping that paired with better in-store service for customers—a part of in-person shopping online retailers miss out on—will boost sales at stores.
It's likely a combination of several factors that explain why Best Buy is bouncing back. Yes, people continue to love Apple products. But the reason might also be more subtle: that consumers feel better about buying big-ticket appliances in person—an e-commerce global survey from Nielsen showed that those looking for electronic equipment were more prone to online browsing rather than buying. And, if it's good, an in-store experience might tip the scales. After all, free shipping still takes time, if the prices are the same and the in-store experience isn't awful, why not just buy that phone in person?