A Roller-Coaster Day on Wall Street
The Dow was down more than 1,000 points at the opening bell before dramatically recovering, and then closing down nearly 600 points.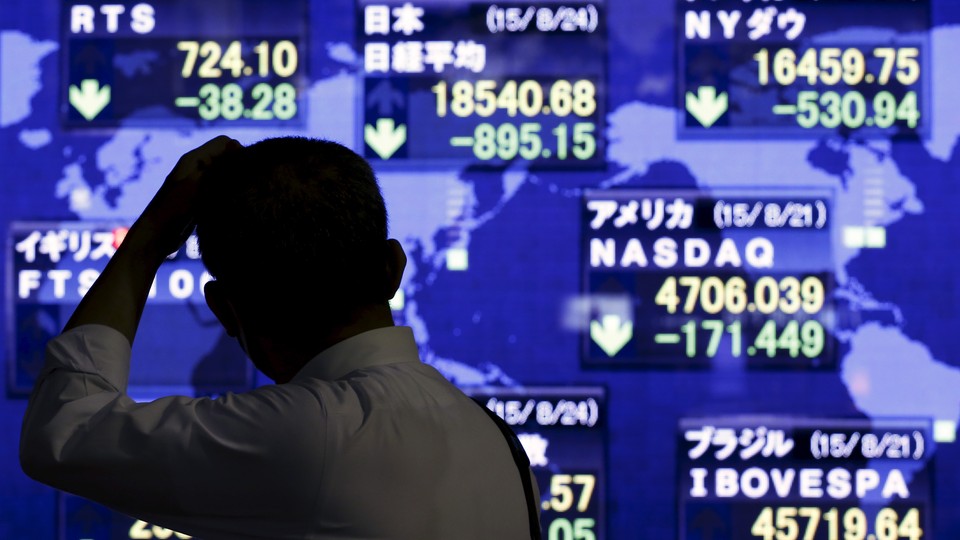 Updated on August 24 at 4:15 p.m. ET
U.S. stocks had a roller-coaster day Monday, with the Dow falling more than 1,000 points at the opening bell before recovering at noon when it was 150 points down, and then fading again in the afternoon to close down 585 points, or about 3.4 percent.
The broader S&P 500, which also had partially recovered in the afternoon, closed in correction. It was 3.9 percent down at 4 p.m.—11 percent below the record it set in May. The Nasdaq Composite fell 3.8 percent.
Although the declines were large, they were by no means even close to the largest percentage decline in Wall Street history. On October 19, 1987—now famous as Black Monday—the Dow fell more than 22 percent.
At the heart of Monday's massive selloff was growing unease about the state of China's economy. Markets were hammered in Europe and Asia. In China, the benchmark Shanghai composite index erased its gains for the year.
Ryan Larson, head of U.S. equity trading for RBC Global Asset Management, attributed the selloff to "herd mentality."
"But once that herd gets out of the way, there can be some very good buying opportunities," he told The Wall Street Journal.
Larson told the newspaper the Dow's relative recovery—it cut its earlier losses by nearly half—showed investors that the initial drop was an overreaction.
Monday's opening on Wall Street followed last week's steep decline in markets—the worst in four years. The Journal adds:
Investors were further rattled Monday by the lack of fresh steps to stem the selloff over the weekend from Chinese authorities. The Wall Street Journal reported that the central bank was preparing to flood the banking system with liquidity to increase lending, the latest in a series of measures designed to give the flagging economy a boost.
In China on Monday, the  Shanghai composite index tumbled 8.5 percent, entering negative territory for the year. Stocks across Europe closed down 5 percent, despite paring some of the day's earlier losses.
The source of the woes is China's economy. One sign, as my colleague Bourree Lam noted last week, is that factory output is at a six-year low. The country's central bank tried to intervene two weeks ago, devaluing the yuan. But that seems to have had little effect. Chinese stocks, which in May hit seven-year highs, have wiped out all their gains.
Oil prices continued their decline Monday, with Brent crude—the global benchmark—below $45 per barrel for the first time since March 2009. Global currencies, especially those of emerging markets, also fell.