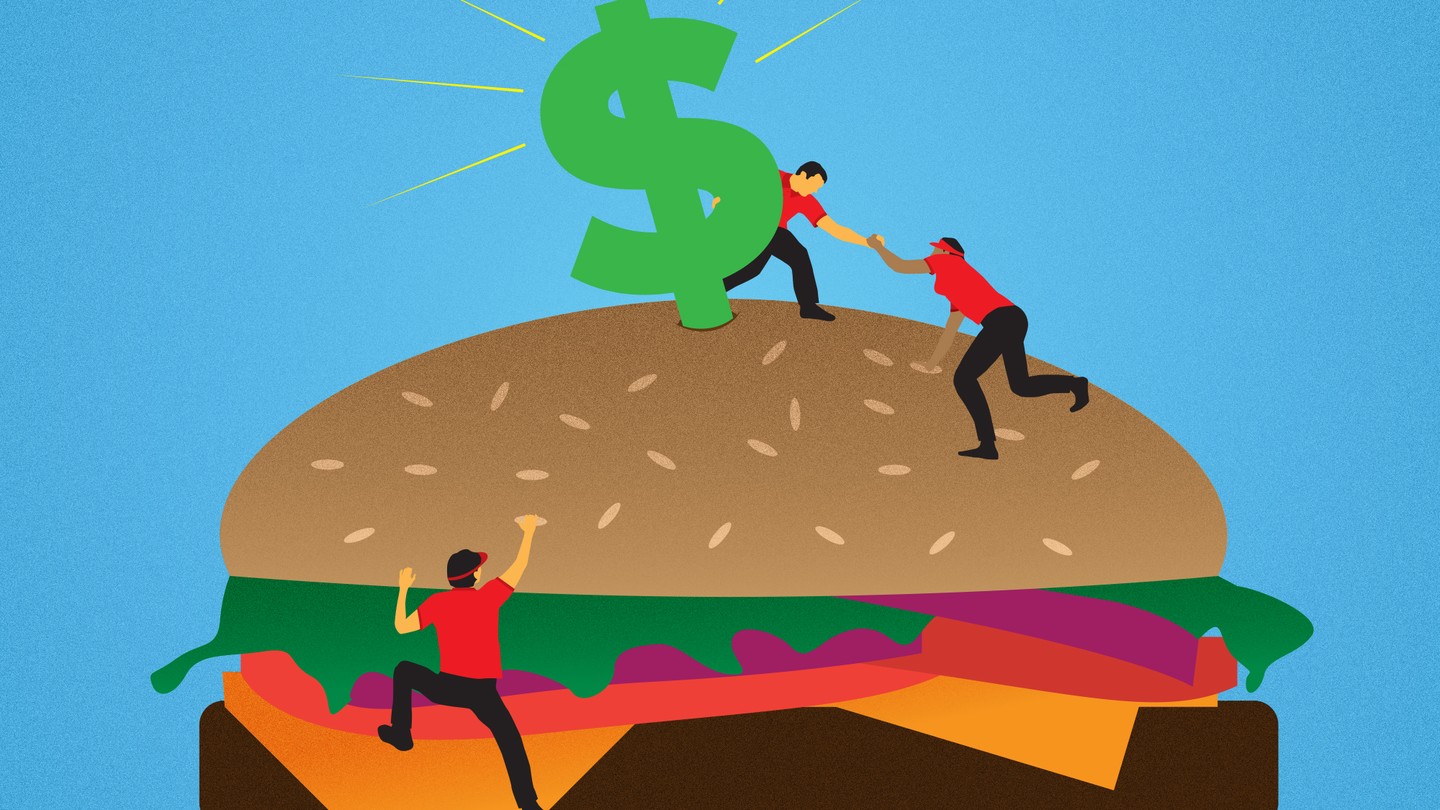 How to Get Low-Wage Workers Into the Middle Class
The Service Employees International Union has had unexpected success raising the minimum wage in cities across the country. But how far can they take that success without adding new union members?
After 10 years as a McDonald's cashier in Los Angeles, Albina Ardon earns just $9.05 an hour. For most of her time there, Ardon, 28, has been deeply frustrated because her pay has barely budged, forcing her and her husband—a cook at the same McDonald's—to turn to Medicaid and food stamps for their two daughters, ages 6 and 8.
But some hope arrived two years ago in the form of an innovative and unorthodox campaign—the Fight for 15.  At first, Ardon didn't know what to make of it, but she signed on, inspired by its ambitious goal of securing a $15 hourly wage for fast-food workers. And now, after nine one-day strikes by fast-food workers nationwide and some sophisticated community and political mobilization, the campaign has delivered a huge win for Ardon and others. Working closely with organized labor, the Fight for 15 persuaded the Los Angeles City Council to enact a $15 minimum wage, starting with an increase to $10 next year and climbing in steps to $15 in 2020. The campaign also persuaded a panel appointed by Andrew Cuomo to announce a $15 minimum wage for the 180,000 fast-food workers across the state of New York.
Ardon is one of 15 million workers in the U.S. earning less than $10 an hour, which translates to $20,800 a year for a full-time worker. (Ardon, a part-time worker, earns only $12,000 a year.) For a family of three, the poverty line is $20,090, and for a family of four, it's $24,250. "A few years ago, nobody was talking about raising our wages," Ardon said. "Now all the talk is, 'We need $15 and a union.'"
But those are two very different things. Underwritten by the Service Employees International Union, the Fight for 15 has not only focused a national spotlight on the issue of low-wage work, but accomplished more than many thought possible just a few years ago. The campaign and its allies have gotten Seattle, San Francisco, Los Angeles, and New York to adopt a $15 minimum wage and Chicago and Kansas City a $13 wage— not to mention more modest increases in Alaska, Arkansas, Nebraska, and other cities and states. SEIU leaders say that the Fight for 15's efforts have yielded raises for over 8 million U.S. workers. (By contrast, SEIU has 1.8 million members.)
Enacting a higher minimum wage is one of the most surefire paths to lifting the prospects of millions of low-wage workers—although many economists say a jump in the minimum wage all the way to $15 will result in fewer jobs overall. If the U.S. labor movement continues to shrink, it follows that it will become harder to get minimum-wage hikes enacted. As SEIU officials note, it is often organized-labor's clout that persuades lawmakers to raise the minimum wage, even though those increases help far more non-union workers than union members.
"They're accomplishing great things on the $15 side, which I think is quite extraordinary," said Nelson Lichtenstein, a labor historian at the University of California, Santa Barbara. "But on the unionization side, trying to unionize fast-food workers—I'm skeptical."
In the union movement's heyday back in the 1950s and 1960s, labor played a pivotal role in building the American middle class. Unions bargained a series of contracts that catapulted autoworkers, steelworkers, machinists, truck drivers, carpenters, paper workers, and even some apparel workers to middle-class status. (Of course, increases in worker productivity also helped make this possible.) In recent decades, the labor movement has grown far weaker, with membership dropping to 11.1 percent of all U.S. workers (just 6.6 percent in the private sector), down from 35 percent at its peak. Labor's weakness, numerous studies have found, has contributed substantially to wage stagnation and income inequality.
For most of the 20th century, organized labor did little to unionize workers on the lowest rungs—although that changed over the past two decades as unions focused more on bringing janitors, hotel housekeepers, and home-care aides into the fold. There are 4.5 million retail-sales workers (median pay $10.20 an hour), 2.1 million janitors and cleaning workers (median $10.48 an hour), 1 million home and hotel housekeepers ($9.67 an hour), and 4 million fast-food workers  ($8.85 an hour). Like Albina Ardon, many of these low-wage workers want higher pay and a union.
As does the SEIU. With the union spending more than $30 million on the campaign, it would make sense for that union to seek to organize fast-food workers with an eye to making them dues-paying members to help finance the fight and help the union grow. "Campaigns like this don't happen spontaneously," said Peter Dreier, a professor of politics and urban policy at Occidental College. "Ultimately this campaign depends on having an organized-labor movement that can pay for organizers on the ground to whip up workers into a protest campaign."
But unionizing workers is hard—and harder yet for those on the bottom rungs, since those workers, many of them immigrants, are terrified of being fired. In the increasingly balkanized U.S. economy, with far more workers in non-traditional jobs—more temps, freelancers, part-time workers, independent contractors, on-call workers, employees at franchised operations—it's become geometrically more difficult to unionize workers. Just 1.7 percent of fast-food workers and 5.7 percent of retail workers belong to unions. "People badly underestimate the level of resistance when you try to unionize a company," said Stephen Lerner, the principal strategist in the SEIUs' Justice for Janitors campaign, often considered the most successful effort to unionize low-wage workers.
Some fast-food workers in Seattle, Los Angeles, or New York might conclude that they don't need a union once they start getting $15 an hour, but failing to unionize might prevent them from winning further wage increases and improvements in years to come—perhaps in the form of legislation for paid sick days or maternity leave. And if the nation's labor unions continue to weaken and slide into irrelevance, it is doubtful that newfangled advocacy groups that fight on unaffiliated workers' behalf, even highly effective ones such as the Coalition of Immokalee Workers or Domestic Workers United, would begin to have the finances, lobbying clout, or organizing muscle to get cities and states to embrace a $13 or $15 minimum wage. In years to come, new progressive, pro-worker groups or movements might form—perhaps some group resembling Acorn—that would champion a higher minimum wage, but again it is questionable how effective such a group would be without a strong, viable labor movement to provide it political and financial support.
If the SEIU can come up with a way to unionize a franchising giant like McDonald's, it would be a watershed for organized labor—and could create a replicable strategy for lifting hundreds of thousands, perhaps millions, of low-wage workers.
Without unionized workers in the fast-food chains, SEIU has sought to exert pressure on McDonald's from a variety of angles. For instance, it played an instrumental role in getting the European Union to investigate McDonald's avoiding over $1 billion in taxes by steering royalty payments to a tiny Luxembourg-based subsidiary. The SEIU also helped persuade Brazil's two largest union federations to sue McDonald's biggest franchisee in Latin America, accusing it of wage theft and unsanitary conditions, charges that could merit fines of up to 30 percent of annual sales. This week a Brazilian union asked prosecutors to investigate whether that giant franchisee has committed large-scale fraud and whether it has dodged more than $100 million in taxes through accounting tricks and setting up a tax haven in the British Virgin Islands.
The SEIU is exerting all this pressure—and hints at more such pressure—in the hope of getting McDonald's (and perhaps other fast-food companies) to sit down and talk. McDonald's has declined the invitation. In April, the SEIU's president, Mary Kay Henry, said, "We will see as the movement grows how we can get these employers to the table. We feel very encouraged that there will at some point be a breakthrough."
SEIU officials declined to be interviewed for this story, and haven't said exactly what they would like to discuss with McDonald's, although labor experts say the SEIU would probably love to get McDonald's to require its franchisees, probably nationwide, but perhaps just in certain geographical areas, to use card check (granting union recognition as soon as a majority of workers sign pro-union cards) and to refrain from opposing any unionization drive. Those are tremendous asks, and McDonald's and its franchisees can be expected to resist vigorously.
"Fast-food companies are very vulnerable to pressure, but they'll go to great lengths to avoid giving in to any kind of union organizing," said Janice Fine, a professor of labor relations at Rutgers. She said the SEIU has scant interest in trying to unionize McDonald's franchises piecemeal—say, two restaurants in one city and three in another. "SEIU's philosophy is they are never going to go retail if they can go wholesale," Fine said.
If the SEIU succeeds in pressuring McDonald's to agree to card checks, this will likely inspire a wave of copycat unionization efforts at other franchised operations, such as Midas Muffler, Taco Bell, Jiffy Lube, Subway, Super 8 hotels, or Dunkin' Donuts.
Asked about the Fight for 15 campaign, Heidi Barker Sa Shekhem, a McDonald's spokeswoman, said, "While the SEIU has spent tens of millions of dollars in an unsuccessful attempt to unionize McDonald's workers, it does not represent any employee in a McDonald's restaurant. Therefore, there is no reason for our company and the union to meet."
Steve Caldeira, president of the International Franchise Association, said the SEIU was seeking less to help workers than to get more dues money. "Part of the problem for the union is that the employees don't want it to represent them," he said. "Otherwise unionization would already happen." Caldeira said franchisors, such as McDonald's, cannot set wages for their franchisees' employees—although some legal experts say nothing prohibits McDonald's from requiring its franchisees, through their contracts, to pay a certain minimum hourly wage. "Unionizing all franchises would destroy the very foundation of a business model that continues to outpace the growth of the overall U.S. economy," Caldeira continued. "The SEIU's goal is to break the franchising model for one sole purpose—to increase labor's dwindling private-sector membership."
To further pressure McDonald's to talk, the SEIU is pushing the National Labor Relations Board to rule that McDonald's is a joint employer at its 12,500 franchised restaurants in the U.S. If the labor board decides that McDonald's falls into that category, that could help make the company jointly liable in cases where franchisees illegally fire workers for backing a union or where franchisees fail to pay overtime or otherwise cheat on wages. McDonald's, for its part, maintains that it is not a joint employer, saying that its franchisees control their employees and are responsible for hiring, firing, disciplining, and directing them.
For the Fight for 15 and SEIU, the ideal outcome might be to sit down with McDonald's and—this seems a long shot—get it to agree to have its 1,500 corporate-owned restaurants in the U.S. (with 90,000 employees) pay a $15 minimum wage and have all its franchised restaurants (with 660,000 employees) do likewise. Or the SEIU might instead get McDonald's to agree to a $13 minimum wage and declare victory, perhaps maintaining that $15 was just the opening bid in its negotiating strategy.
Such an approach, says Dorian Warren, a fellow at the left-of-center Roosevelt Institute "would copy the European union model, where a union engages in nationwide bargaining with a company or industry, even though many of the workers in that company or industry are not unionized." Such industry-wide bargaining has produced a $20 base wage for fast-food workers in Denmark.
Some labor experts say that if the SEIU is serious about unionizing fast-food workers, it might be smarter to think more locally than nationally. One approach, common among unions, is to organize what are called "hot shops"—McDonald's locations where a substantial majority of employees would be "hot" to vote to unionize. The SEIU could probably unionize dozens, maybe hundreds, of such union-friendly locations within a year, but it might be substantially harder to secure a contract once those shops are unionized because McDonald's and its franchisees could drag out negotiations indefinitely, saying they can't possibly afford $15 an hour. This could dishearten the newly unionized workers and discourage other fast-food workers from unionizing. "This has been a historical dilemma for the labor movement," Lerner said. "There are hot shops, but not only might it be hard to get a contract after you unionize them, but the contract you get might be far less than $15, and that could undermine the whole campaign. The first agreement can be the end of the campaign if it's not terrific."
Wilma Liebman, a former chairwoman of the National Labor Relations Board and a former consultant to the SEIU, said the SEIU should consider mounting a unionization drive exclusively at company-run McDonald's restaurants as opposed to franchisee operations. "If you want to start organizing, you can start methodically at corporate-owned stores in big cities like New York, Chicago, and L.A.," Liebman said.
Some strategists have suggested focusing unionization efforts on a few large franchisees with 10 or more restaurants, but there's a concern that many franchisees might not have large enough profit margins to afford $15 an hour—and they thus might need to press McDonald's to cut the fees it charges franchisees to make it possible for them to afford such a raise.
Among the advantages of focusing on McDonald's corporate-owned restaurants are that the company, with $4.7 billion in profits last year, has deeper pockets and, because it is so image-conscious, might be more vulnerable than its franchisees to an aggressive worker-community-pressure campaign. Moreover, if the SEIU were to win $15 an hour, or even $13, in contracts with corporate–owned McDonald's locations in several cities or states—perhaps liberal, labor-friendly states like California, Massachusetts, or Washington—that could spur a rush by workers at thousands of other McDonald's to unionize and get copycat contracts.
"A lot of people are skeptical that this can happen anytime soon," said Ruth Milkman, a City University of New York sociologist specializing in labor issues. "But you can imagine a scenario where, if these workers succeed—just as what happened after the Flint sitdown strike in 1937—it will catch the imagination of millions of people, and they'll say, 'Let's try it.'"
Some SEIU strategists have floated the idea of setting up guild-like hiring halls, similar to those used by the longshoremen and some construction unions, and insisting that McDonald's hire trained fast-food workers from those hiring halls. In exchange for these better-trained workers, the SEIU would hope that McDonald's agrees to pay higher wages.
The SEIU's conservative critics often say it has underwritten the Fight for 15 for just one reason—to attract dues-paying members to fatten its coffers. Union leaders vigorously deny this, pointing out that they've spent more than $30 million so far without unionizing a single worker. Not surprisingly, the SEIU's leadership has heard some dissent from below, from union officials and members questioning whether this is a wise way to spend millions in members' dues. Those complaints could intensify next year because the SEIU is likely to spend heavily on the 2016 political campaign and because the Supreme Court might, in Friedrichs v. California Teachers Association, seriously hurt the SEIU and other unions by barring any requirement that public-sector workers pay any fees to the unions that represent them.
Henry, the SEIU's president, has repeatedly defended—and championed —the union's role in the Fight for 15, saying it has turned low-wage work into a national issue and helped not just fast-food workers, but also many union members who earn less than $15, including home-care aides, janitors, nursing-home workers, security guards, and school-cafeteria workers. Henry says the campaign will also help child-care workers, adjunct professors, and millions of other low-wage workers, whether unionized or not. "The SEIU is really committed to improving the pay and working conditions of low-wage workers," said Richard Hurd, a labor relations professor at Cornell. "They'll be willing to pursue the Fight for 15 as long as they have the budget." Still, Hurd said the SEIU faces a daunting challenge in seeking to unionize McDonald's. "If they succeed, it would be quite something," he said. "It would be a huge addition to union rolls if they were able to organize fast food."
One of the toughest economic questions facing America today is how to move low-wage workers into the middle class. Unionizing workers at McDonald's and other fast-food chains might be a long shot, but if it succeeds, it might help lift a million or more workers into the middle class (or at least into the lower middle class) and create a model for low-wage workers in other industries.