The Ripple Effects of China's Weakening Currency
The central bank devalued the yuan for the second straight day.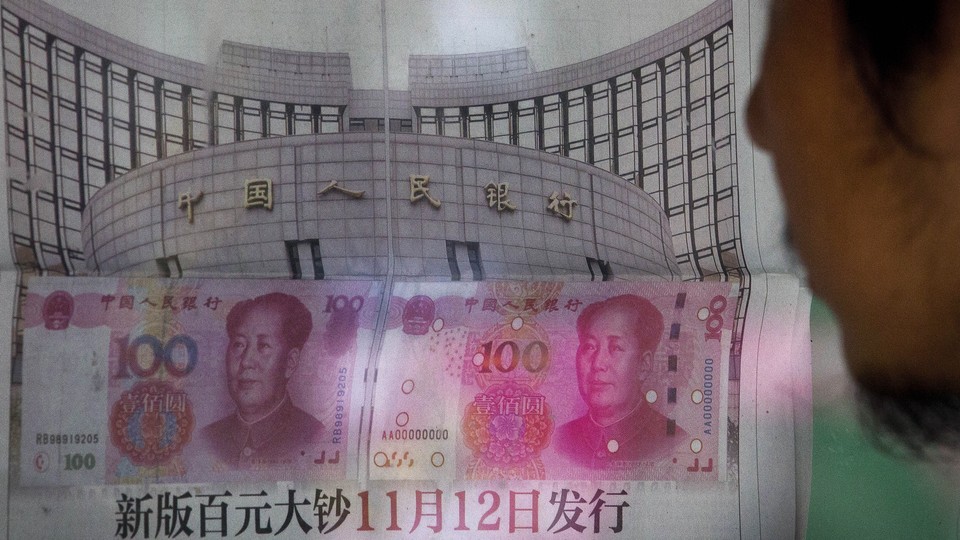 China devalued its currency for the second straight day, sending markets across the region sharply lower and raising fresh concerns about the health of the world's second-largest economy.
The People's Bank of China, the country's central bank, set the official exchange rate Wednesday at 6.33 to the U.S. dollar, 1.6 percent lower than the level set on Tuesday when, as we reported, the yuan was devalued nearly 2 percent.
Wednesday's depreciation was the currency's second-biggest fall since China's modern exchange-rate system was set up in 1994. The biggest depreciation was Tuesday's devaluation of the yuan.
In a statement, the central bank pledged it would allow the market a larger role in setting the exchange rate, and added a further devaluation of the currency was unlikely.
"In view of both domestic and international economic and financial condition, currently there is no basis for persistently depreciation of RMB," the statement said.
But The Wall Street Journal and others reported that China intervened to prop the yuan, which fell nearly 2 percent Wednesday. The move, the newspaper said, underscored "the tricky balancing act now facing its central bank: how to keep the country's currency from free-falling."
Wednesday's move had a ripple effect across the region where both currencies as well as stocks slid. Japan's Nikkei closed down 1.6 percent, Hong Kong's Hang Seng index fell 2.4 percent, and shares in Singapore fell 2.9 percent.
The New York Times has more on the reasons for China's decision to devalue the yuan.
For one, it could help offset the country's slowing economy. Exports have been particularly hard hit, contracting by 8 percent in July, and a cheaper renminbi makes China-made goods relatively more affordable for consumers in the United States and Europe.

At the same time, China is also seeking a greater role for its currency on the global stage. In recent months, policy makers have been lobbying the International Monetary Fund to include the renminbi in its basket of global reserve currencies, which includes the dollar, euro, yen and pound.

That means convincing the fund that the renminbi is a freely traded currency.