Bedbugs: A Nightmare for the Hotel Industry
A new study found that they're not only a top concern for travelers, they're the number one reason to leave a hotel.
In 2010, it seemed all but impossible to escape bedbug infestation and paranoia in New York City. Almost everyone knew someone that had to deal with them; I remember guilt-ridden conversations of how to politely escape social gatherings at the homes of friends who had had them.
That year was the peak of bedbugs in New York. The Department of Housing Preservation and Development reports that infestation cases have been falling since then; last year's case number—2,268—is less than half of what it once was.
Nevertheless, bedbugs are still a huge concern for the hospitality industry.  The reason isn't merely the bugs themselves, but how travelers choose their accommodations these days: online, guided by the reviews of their fellow travelers. And those online reviews can do real damage to a hotel if there is just the slightest hint of a bedbug infestation.
That's the finding of three researchers—Michael Potter, veteran entomologist, and agricultural economists Jerrod Penn and Wuyang Hu at the University of Kentucky—who teamed up to look at the economic impact of bedbugs for the hotel industry. Their forthcoming report was funded by Protect-A-Bed (a company that makes mattress protectors), and it shows that bedbug reports lowered the value of a hotel room by $21 for leisure travelers and $38 for business travelers.
The researchers conducted a survey of more than 2,100 respondents, asking them what factors were important to them when picking a hotel. In order to mimic the way bedbug information would be discovered in real life as travelers booked hotels online, Penn explained, the information about bedbugs required a couple extra clicks from the participant. They found that bedbugs were at the top of people's lists of concerns when picking a hotel. Further, if an actual bedbug was found—participants reported it as the number one reason they'd leave the hotel immediately.
---
Respondent Reactions to Various Problems in a Hotel Room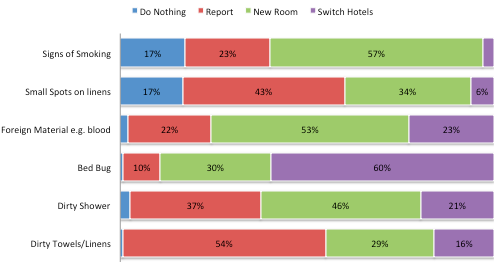 ---
The survey also asked respondents whether hotels should be required to inform customers about whether a room has had a prior problem with bedbugs, and 19 percent answered no, perhaps believing that such a requirement would create a stigma, long after the bugs were exterminated."The problem with that logic," Potter says, "is that it's often difficult or impossible to know whether it's been resolved … There's no 100 percent guarantee assured way that you can wave a wand in that room and say all these bedbugs are gone."