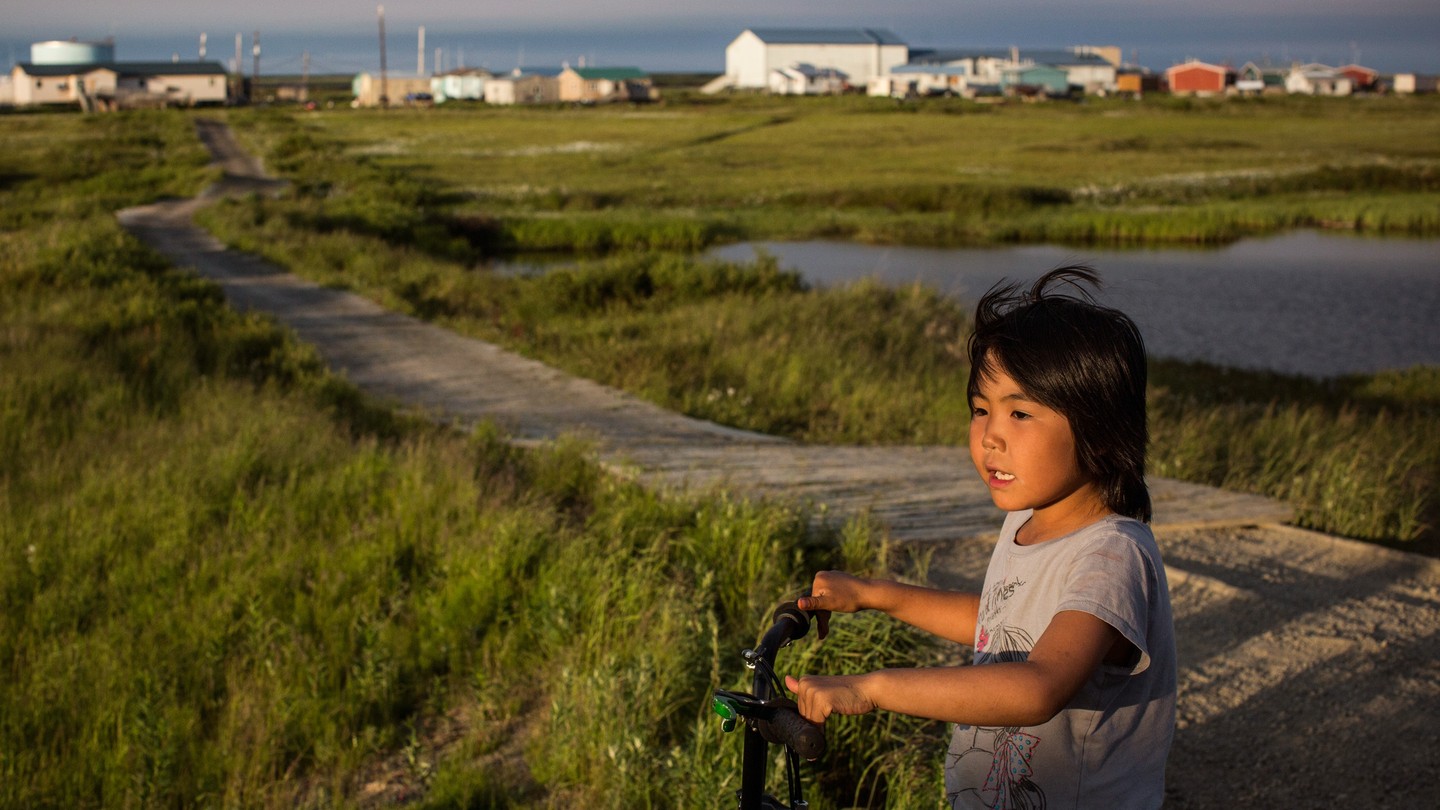 The Village That Will Be Swept Away
Residents of Newtok, Alaska, voted to relocate as erosion destroyed their land. That was the easy part.
NEWTOK, Alaska—Two decades ago, the people of this tiny village came to terms with what had become increasingly obvious: They could no longer fight back the rising waters.
Their homes perched on a low-lying, treeless tuft of land between two rivers on Alaska's west coast, residents saw the water creeping closer every year, gobbling up fields where they used to pick berries and hunt moose. Paul and Teresa Charles watched from their blue home on stilts on Newtok's southern side as the Ninglick River inched closer and closer, bringing with it the salt waters of the Bering Sea.
"Sometimes, we lose 100 feet a year," Paul Charles told me, over a bowl of moose soup.
Many communities across the world are trying to stay put as the climate changes, installing expensive levees and dikes and pumps, but not Newtok, a settlement of about 350 members of the Yupik people. In 1996, the village decided that fighting Mother Nature was fruitless, and they voted to move to a new piece of land nine miles away, elevated on bedrock.
It wasn't an easy decision, to leave behind the place where many of them were born, and where most have memories of following their parents and grandparents out on the tundra to hunt and fish. But villagers could see the water creeping closer to their homes and school, which the Army Corps of Engineers said could be underwater as soon as 2017.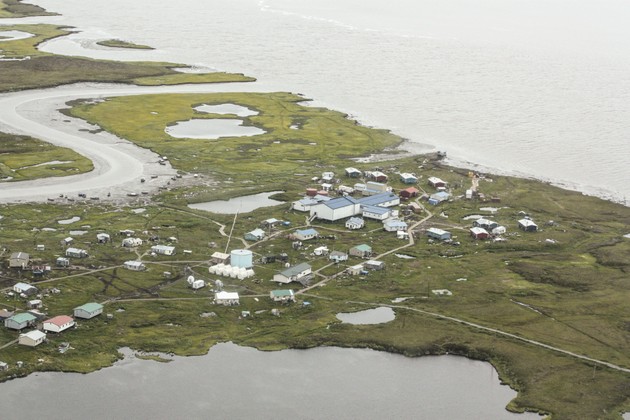 Newtok is eroding in part because it sits on permafrost, a once-permanently frozen sublayer of soil found in Arctic region. As temperatures increase in Alaska, that permafrost is melting, leading to rapid erosion. Snow is melting earlier in the spring in Alaska, sea ice is disappearing and the ocean temperature is increasing. Alaska is warming at a rate two to three times faster than the mainland United States, and the average winter temperature has risen 6.3 degrees over the past 50 years.
Alaska sits on the front lines of climate change. But the rest of the nation is getting warmer, too, and so communities across the country may soon have to face some of the same problems. That's one reason President Obama is visiting the region this week.
"What's happening in Alaska isn't just a preview of what will happen to the rest of us if we don't take action," Obama said in a video previewing his visit. "It's our wakeup call."
But many of the nation's climate change policies are focused on helping victims rebuild in place after a disaster. There's little funding or political will to spend money on moving communities away from disaster-prone zones to prevent tragedies from happening, perhaps because policymakers don't want to believe the dire predictions about what will happen to many of the nation's coastal villages and towns.
But the experience of Alaska shows that failing to take action could be costly. A  2003 report from the Government Accountability Office found that most of Alaska's 200-plus native villages are affected by erosion and flooding, and that four were in "imminent danger." By 2009, the GAO said 31 villages were in imminent danger.
As of this year, though, only a few of those villages are making immediate plans to move. Newtok is the furthest along of these four villages in its relocation efforts, and the scariest part is that it isn't very far along at all.
* * *
Newtok is an isolated village. There are no roads that lead there—the only way a visitor can get in or out is by a propeller plane that stops by a few times each day, except in inclement weather. There are no roads in Newtok, either— boardwalks run between the homes and the school and the post office, and just about every family has a small boat that is its primary mode of transportation.
It wasn't that long ago that Yupik communities like this one were nomadic, traveling to the rivers to catch salmon and to higher ground when the waters rose. But between 1900 and 1950, as missionaries in Alaska tried to "civilize" native Alaskans, the Yupik began to settle in villages, in part because of legislation that required all children of a certain age to attend school. One group of people ended up in the place where Newtok now stands in part because a federal-government barge carrying a new school building could only reach this far up the Newtok River before getting stuck.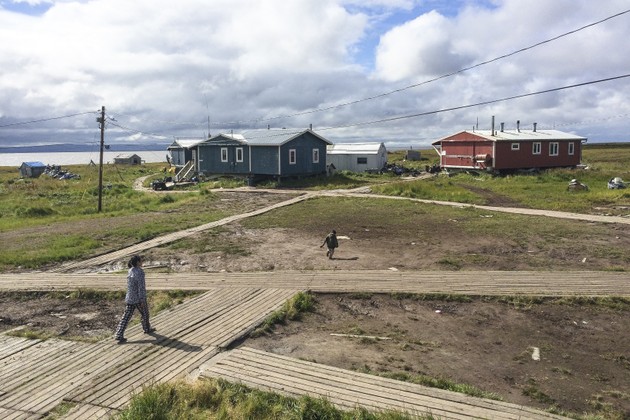 Villagers did not abandon their lifestyle just because they began living in a town with a post office and electricity. This is still a place built on a subsistence system, where residents survive off moose, seals, fish, berries, and other local plants all year round. The homes, small wooden boxes on stilts, often have pelts from a musk ox hanging on their porches, or moose antlers stacked alongside the snowmobiles and ATVs in the yard. As Canadian geese caw overhead, different breeds of dogs run throughout the village, a reminder of the dog teams that used to help villagers travel through snow. Just about every house has a small shelter out back where residents hang the moose, seal, and fish they've caught to dry.
As I wandered around town, I encountered Zenia Andy, who was watching her son Paiton disembowel a seal he had hunted. His hands stained red with blood, he gutted the creature with  an ulu, a sharp rounded blade attached to a handle. He separated the ribs, the heart, the flippers, the head, carefully saving every part.
The dedication to this subsistence lifestyle could have made it difficult for residents to pick up and move, since most Alaska Natives want to continue to be close to traditional hunting grounds but high enough off the land that the rising tides will not displace them ever again. Kivalina and Shismaref, two of the other threatened Alaska Native villages, have struggled to find a place to relocate that is within reach of their traditional hunting grounds and can also withstand decades of melting permafrost, Robin Bronen, the executive director of the Alaska Immigration Justice Project, told me.
But Newtok was lucky. Villagers had once spent summers nine miles from Newtok on a place called Nelson Island, part of a vast stretch of land on Alaska's western coast that sits on volcanic bedrock elevated from the river. Villagers voted to move there, to a piece of land they call Mertarvik, which in Yupik means "getting water from the stream."
In 1996, the Newtok Native Corporation, which was then the village's governing body, passed a resolution allowing leaders to negotiate with U.S. Fish and Wildlife Service, which managed the land where Mertarvik sits. Newtok had to hire a lobbyist to prod Congress for eight years to get title to the land, Bronen said, and in exchange they offered to relent their claim to their current land and allow the government to turn it into a wildlife refuge. This shouldn't have been a difficult swap—fly over Mertarvik or Newtok by plane, and all you can see is vast stretches of land and water with no development (or trees) whatsoever. The trade was finally approved in 2003.
But it's been 12 years since then and not a whole lot has happened since, despite two massive flooding incidents in 2004 and 2005, one of which temporarily turned Newtok into an island. Three homes have been constructed in Mertarvik, but no one lives there year round. There's a half-completed evacuation center next to piles of pipes and Dura-base flooring.
"We've been waiting so long. I don't know. I'm beginning to lose a little bit of hope," Newtok resident Jimmy Charles told me as he stopped by the one-room post office to pick up his mail.
The difficulty of relocating Newtok was evident from the beginning. Most villages can't find funding for relocation projects because the costs often outweigh the expected benefits, according to the 2003 GAO report. Money to build new runways is usually only available after the old runways have been flooded or eroded, not to prevent such flooding from happening. It's expensive to bring in materials and labor to remote villages, and the Army Corps of Engineers requires villages to pay up to half of the costs of these projects—"funding that many of them do not have," according to the report. Dave Williams, a U.S. Army Corps of Engineers project manager in Alaska, told me his group had been approved to build a road and community building at the new site. Newtok would be required to pay 35 percent of the costs, but has not followed through on the necessary paperwork, he said. The Corps estimated that moving Newtok could cost $130 million in total.
The whole effort to move a village feels a bit like a giant Catch-22: The school district won't build a new school at the new site until 25 families live there, but no families want to live there without a school. The FAA won't fund the design and construction of the Newtok airport until there is power generation at Mertarvik to provide runway lighting, but without an airport, it's difficult to get a power source there. Mail service requires at least 25 families and regularly scheduled transportation to the community, which doesn't exist without an airport.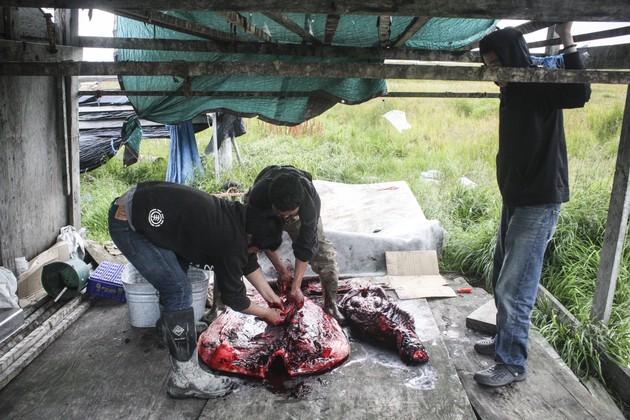 Newtok's experience demonstrates that decades after the nation first became familiar with climate change, Americans are still focused on responding to climate-related disasters, not preventing them.
"In almost every disaster event in America, from Hurricane Sandy to tornadoes in Oklahoma, the rally cry of 'we will rebuild' and FEMA's support of rebuilding in place exemplifies the hazard-centric idea that disasters are one-off aberrations of normal conditions and that increased warning infrastructure, response plans, and technological interventions can prevent the next disaster," writes Elizabeth Marino, an anthropologist who has studied Shismaref and has a book coming out about the town's efforts to move. "Rebuilding in the same way, in the same place leaves no space for reconsidering our relationship with the environment."
In Kivalina, for example, the U.S. government completed a $2.5 million sea wall to protect the village from the sea in 2006 to great fanfare. The wall was partially destroyed in a storm surge the same year, according to Bronen. In 1900, Galveston, Texas, was destroyed by a hurricane that killed 6,000 people, but the city rebuilt, only to be damaged repeatedly by storms, including Hurricane Ike in 2008. The city is now considering building an "Ike Dike," which would cost billions.
Still, no matter how compelling it might be to try and move Newtok, neither the state nor federal government has the authority or the funding to spearhead the move.
"There has not been any formal direction on how to proceed on all of this," Sally Russell Cox, a planner with Alaska's Department of Commerce, Community, and Economic Development, told me. "While I can advise and assist and provide resources, it's really the community that's supposed to be relocating themselves."
I was referred to Cox by a number of different governmental agencies when I asked for a name of a point person on the move. Yet Cox told me she was never asked to formally lead any sort of relocation project, it's just fallen to her because she's in her department's division of community and rural affairs.
To be sure, there are problems inherent in having a state or federal agency step in and move a Native community, but the village voted to move itself, and needs assistance and funding to carry out those plans. Yet there is nowhere the village could apply on the state level to get the funding they need to move, said Jeremy Zidek, a spokesman for the Alaska Division of Homeland Security and Emergency Management.
"To my knowledge, there is no mechanism within any of the departments of state government that could wholly fund the move of Newtok to Mertarvik," he told me.
Funds are even tighter now that Alaska is facing a $3.7 billion budget deficit because of the declining price of oil. The state gets almost 90 percent of its revenues from oil taxes and royalties.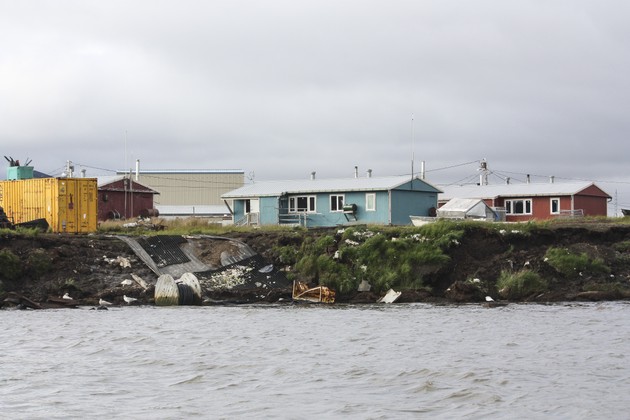 While it has waited for funding, erosion has made Newtok even more isolated.  In 1996, the Newtok river was captured by the Ninglick River, creating more powerful tides on the smaller river, and in 2005, a raging storm temporarily turned the village into an island. A 2013 storm destroyed the barge landing where the town gets most of its supplies. The barge now drops off goods at a makeshift landing on ground that is continuing to erode.
"It's getting closer each year," Zenia Andy told me, as her son gutted the seal. She glanced up at the river, which is now just a few hundred feet from her house. "It used to be so far away."
The community members in 2006 partnered with state and federal agencies to create the Newtok Planning Group, which meets a few times a year to coordinate efforts. But the group comes with no funding mandate, nor does it have much authority. Four homes close to the Ninglick River need to be moved, but when the group asked the Natural Resources Conservation Service for funding to do so, they were told the move would not meet the program's criteria. Funds designated by Congress to move communities like Newtok were instead used to study the feasibility of a move, Bronen told me.
The villagers' biggest hope for funding is now FEMA, thanks to the 2013 storm and the subsequent flooding, which allowed Newtok to apply for $4 million of FEMA funds through the Hazard Mitigation Grant Program. That money, if it is approved, will be used to relocate 12 homes and buy out five homeowners in Newtok, who can use that money to build a new house in Mertarvik. But that application was submitted in July and funds won't be available for another year.
The two decades the village has been trying to move seem especially long when compared to the amount of time it took the village of Pattonsburg, Missouri, to move after the Great Flood of 1993. The community had experienced floods for years, but the Great Flood buried homes and businesses under 20 feet of water. That year, the village voted to move, and by 1994, the town of New Pattonsburg had been established on higher ground. All it took was a disaster.
* * *
Nine miles may sound close to people accustomed to paved roads, highways, and dense cities. But the nine-mile-long ride from Newtok to Mertarvik is 50 minutes on a bumpy boat across a river so wide it looks like the sea. In the winter, villagers go back and forth by snowmobile once the river freezes up, and they say that freeze-up is happening later and later. Boat and snowmobile are the only way to get between the two sites.
I visited Mertarvik with Tom John, a tribal administrator, and his wife Bernice, on a recent August afternoon. We had to wait for high tide, since the Newtok river is now too shallow during low tide for boats. As the motor coughed up mud, we headed out to the wider waters of the Ninglick River. We passed land sloughing off into the sea and signs of erosion everywhere, as if someone had taken a guillotine and chopped the Earth away. Though it was summer, typically an easy time to get across, the air was cold and the water bumpy, and the journey felt long.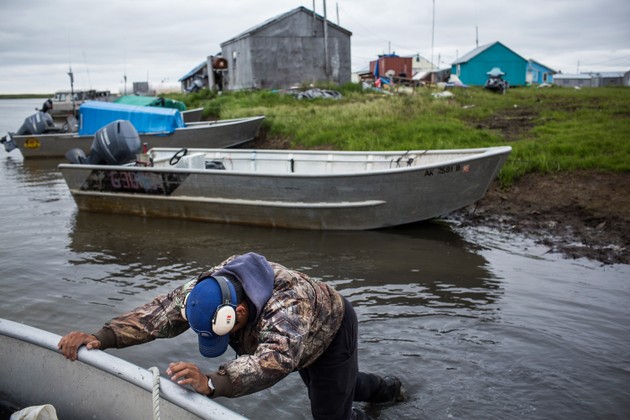 We arrived in Mertarvik, parked the boat at a small dirt beach there, and walked up a steep ramp of road made from Dura-base—mats that are easier and faster to install than roads—laid by the military as part of the Defense Department's Innovative Readiness Training program, which seeks to deploy military personnel to help civilian communities as part of war preparation. (The soldiers have since left.)
In addition to the Dura-base road and three tan houses on the hillside, there are the beginnings of a massive evacuation center, funded by Alaska's state legislature, but so far, only the foundation has been completed. Nails are falling out of the stairway leading to the elevated evacuation center, which had been considered a top priority because the village needs somewhere to house families while their homes are being transported between the two sites. (A 2013 audit of the evacuation center found that the group in charge of building the center, the Newtok Traditional Council, failed to inspect the workmanship and the materials. That council has been replaced by the Newtok Village Council, which employs Tom John.)
It was spitting rain and windy the day we visited Mertarvik, weather that will become more common through the fall months, the Johns told me. The wet weather only made the urgency of the move more evident to them as they stood on this high mountain, looking out over the water towards their village, which this fall will be threatened with floods every time it rains.
"We have to get it right this time," Tom John told me, standing on the platform of the rickety evaluation center as his grandson played on nearby abandoned construction vehicles.
"The whole world is watching us," Bernice added, and then she headed off to a nearby field to pick salmon berries and blackberries.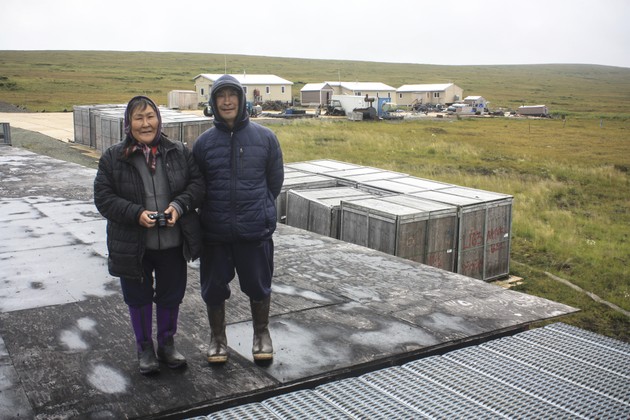 Much of the move is out of their hands, though. Without a major influx of new homes and an airport it will be difficult to convince anyone to live in Mertarvik. And without more money—a lot more money—the town can't build anything.
Lisa and Jeff Charles and their five children moved to one of the three new homes in Mertarvik in the summer of 2012. There was no electricity or running water, so the experience felt like camping, but they enjoyed the quiet, Lisa Charles told me. But their children needed to go to school, so the family couldn't stay in Mertarvik during the school year.
When Lisa got pregnant, she didn't want to be a 50-minute boat ride from medical care. Though they could survive on the food they caught, the Charles' have loans to pay, for the snowmobiles and ATV that allow them to subsistence hunt. To pay those loans, they needed jobs back in the village. After the summer, they returned home to Newtok, and the tribal council gave the Mertarvik home to someone else.
* * *
While the village waits to move to Mertarvik, Newtok is falling apart. State agencies have been hesitant to invest in the town, since it is supposed to be moving soon. The boardwalks connecting the homes are rotted, their nails falling out, pieces of wood surrendered to the mud. A small spit of land runs between the air strip and the village, but the boardwalk connecting the two has gaping holes, making the ride over it in a four-wheeler harrowing.
Without running water or toilets, villagers use "honey buckets" for waste, which they dump into the river, but high waters sometimes bring waste back into the village. The dump site was lost to erosion, and the new dump is only accessible during high tide by boat. "Do not burn your trash here," one sign reads on the banks of the Ninglick River.
The village's water supply, a freshwater lake, is just a few hundred feet from the saltwater river—in a severe storm, it could be compromised by the saltwater. A rickety series of pipes, held up on stilts, connects the lake to a shed where villagers collect tap water, where the boardwalk is nearly always covered in mud and trash.
The deterioration is taking a toll on public health. Between 1994 and 2009, more than one-quarter of infants in Newtok were hospitalized with lower respiratory tract infections, which meant Newtok had one of the highest rates of infection in the state. Public health professionals in 2006 found that inadequate levels of drinking water and high levels of contamination from honey bucket waste could be contributing to the infections.
Lisa Charles raised two of her children in Anchorage, and the rest in Newtok. Her infants had no health problems in Anchorage, but in Newtok, two of her babies came down with fevers and respiratory infections, she told me.
With little progress on Mertarvik and the water continuing to rise, it's unclear how much longer the villagers will wait. If they leave and head to a bigger city, the centuries-old traditions and culture that they've preserved could disappear.
"My kids' education comes first," Zenia Andy told me, when I asked her whether she planned to move. If the school begins to lose teachers and students, she may move her family somewhere else.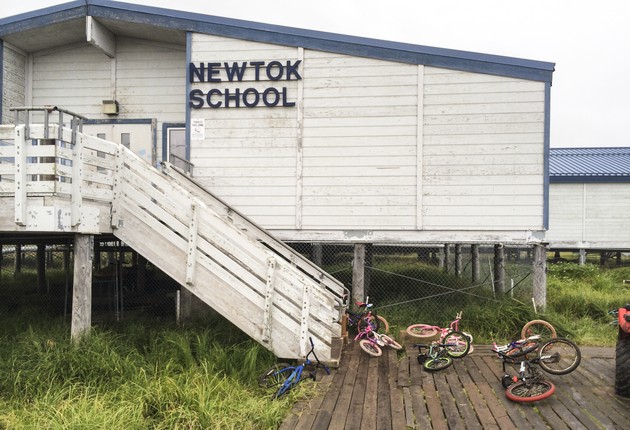 Another resident, Jimmy Charles, told me that his children didn't want to stay in Newtok because of the frequent floods.
Lisa and Jeff Charles have stuck around despite the floods and the health scares because they think Newtok is a good place to raise their children, and they want their kids to have the same experiences they did, trapping muskrats in the winter and fishing in the summer for survival. But Lisa Charles is beginning to worry for their safety. During the 2013 storm, she and her family watched as the water got higher and higher, eventually reaching 20 feet from their house. Charles eventually evacuated her grandmother and children to the school to be safe.
She wants to stay and relocate the nine miles across the water to Mertarvik, but she's been waiting a long time.
"If it gets too dangerous, I have to get my kids out," she told me.
Over the past few weeks, the fall rains have started, once again threatening to flood her hometown.