A New Commuter Station, Courtesy of a Corporation
When Boston's rail system couldn't pay for the infrastructure, New Balance--yep, the shoemaker--stepped in.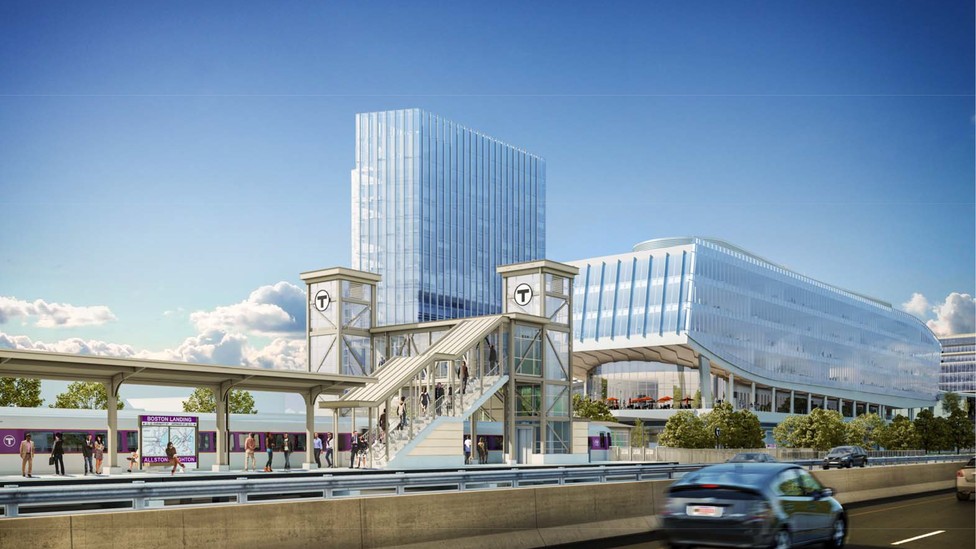 BOSTON—If you were in a generous mood, you might call the public transportation system here troubled. Otherwise, you'd call it an ancient, broke, disorganized, mess. The MBTA owes $9 billion in debt. Trains are old. They often can't run in the snow, which is problematic in a city that got 109 inches last winter.
Still, the city of Boston is growing as Snake People and Boomers alike look for walkable, dense places to live. Boston needs more transit, but the state can't help much: Governor Charlie Baker has proposed cutting $26 million from the state Department of Transportation and $14 million of MBTA funding.
So when the sneaker-and-sportswear manufacturer New Balance decided to expand its headquarters and build retail, a hotel, a track, and skating rink in a western Boston neighborhood not served by public transit, it didn't wait for the city to agree to build new train stations or add bus routes, which could have taken years. Instead, it decided to build a commuter rail station itself.
Last spring, the company broke ground on the new Boston Landing station, starting a process that will add another stop on the commuter rail line between Boston and Worcester by the fall of 2016. New Balance is paying to build the station, which will cost between $14 million and $16 million, and will then pay for its maintenance costs for at least the first decade after the station opens.
The cost of the station is a relatively small piece of the $500 million, 15-acre real estate development planned by NB Development Corporation, a real estate company owned by New Balance. But the partnership between the company and the state, whose transportation officials supervised and approved the design of the station, is significant.
New Balance has its roots in the Boston area. As the company grew from six people making 30 pairs of shoes a day to the 5,000 it now employs globally, it expanded into real estate, said Matt LeBretton, a company spokesman.
The company is outgrowing its current headquarters, and is nearly finished with the first big piece of its Boston Landing project: a new, 225,000-square-foot building that slightly resembles a hightop sneaker. The company hopes to move into the new building next month. It plans to open an ice-skating rink that will serve as a practice facility for the Boston Bruins by September 2016, alongside a 190,000-square-foot office building that NB Development will lease to other tenants. The company also plans to build an apartment complex with 275 units, a track and field complex, and a boutique hotel. Along the way, it will add 80,000 square feet of retail space, which will include a New Balance experience store.
New Balance wasn't always on the hook for the transit station. Indeed, when it floated the idea of building a hotel, track and field arena, and hockey rink by its current offices, residents complained about the lack of transit in the area.
"We need a commuter rail station. The MBTA does not want to talk about this. At all," wrote Tom Crowley, a blogger for Allston Brighton Newsflash, in a March 2012 post about the New Balance plans. "The state is going to get a lot of revenue from this development. Some of it needs be used to build a better transit system, here."
By May, the Massachusetts Department of Transportation and New Balance had co-signed a letter of intent that stated that New Balance would pay for the permitting, design, and construction of the new commuter rail stop.
As cities and states continue to struggle with budget issues, experts say that the practice of private companies working with public entities on transit and transportation projects will—for better or for worse—become more common. Already in Boston, Harvard and Boston universities had agreed to help fund a separate commuter rail station, though BU pulled out, as The Boston Globe reported earlier this year.
"The idea for moving to these partnerships is that you ... not have the public sector on the hook for all of the design, building, operating, and maintaining things into the future," said Robert Puentes, a senior fellow with the Brookings Institution's Metropolitan Policy Program, where he has studied public-private partnerships for infrastructure projects.
Public-private partnerships for infrastructure are common in Asia and other regions of the world: Tokyo's railways and Metro system are privatized, for instance, and a light-rail line in Ottawa, Canada, is being built by a private company in partnership with the government. But such partnerships are less common in the U.S., in part because there has often been public money set aside for such projects. When there's not, a strong tax-free municipal-bond market provides incentives for states and cities to borrow money and build on their own.
The concept of governments building transit is, in some ways, un-American, Puentes says. The government uses taxpayer money to build a rail line or a highway, which then increases the property values of private homes and businesses nearby, putting money into the pockets of landowners who didn't have to spend a penny to make their real estate more valuable. Early infrastructure investments in the U.S. were made by private companies, including some New York City subway lines. But as the federal government started to put more and more money into roads and highways, private companies took a step back.
Today, though, the government often can't afford to spend very much on transit systems. Congress nearly let the National Highway Trust Fund sink into insolvency before recently passing a stopgap extension through next May. Bridges and roads across the U.S. are crumbling, and the nation's public-transit infrastructure received a grade of "D" from the American Society for Civil Engineers.
Luckily, the private sector can afford to build transit. And doing so is becoming a more attractive proposition as Americans who move back into urban cores want walkable, transit-oriented development.
"People are demanding better and more access to public transit, driving up the real estate value," Puentes said. "It becomes much more attractive to the private sector to make these kind of investments."
To be sure, the recent history of public-private partnerships (or PPPs, to aficionados) for transit in the U.S. hasn't been a rosy one. In 2009, the city of Chicago signed a $1.2 billion, 75-year deal that leased its 36,000 parking meters to a private company backed by Morgan Stanley. Soon, parking rates increased to $8 for two hours in certain areas. The city realized that because it hadn't properly vetted the deal, it was locked into a contract that stipulated that it could not build new parking lots for 75 years and that it was responsible for compensating the company every time there was a parade or festival and the meters couldn't be used. The Chicago parking-meter deal is often held up as an example of a PPP disaster.
In other instances, private companies lost their shirts as well. The company that built a monorail in Las Vegas as part of a PPP filed for bankruptcy in 2010. The private entity behind the South Bay Expressway, a private 9.2-mile toll road near San Diego, filed for Chapter 11 in 2010 as well. Last year, the private operator of the Indiana Toll Road also filed for bankruptcy.
But, Puentes pointed out, at least the government isn't posting these losses: If these partnerships are structured the right way, taxpayer dollars aren't being wasted on a project that doesn't work. As more cities and states try these deals and then learn from them, Puentes said, they'll figure out what works and what doesn't. Chicago is now a leader in public-private partnerships, having learned from the parking-meter debacle. Many local governments are bringing people on staff who are familiar in these types of partnerships,and are savvy enough not to get swindled by private companies offering sweet deals.
Still, private companies can't yet pay for transit and roads everywhere. Only 23 states have laws that allow public-private partnerships for transportation projects, according to a recent report by the Federal Transit Administration. And many Americans still think that governments are being cheated by partnering with private companies, auctioning valuable resources to the highest bidder.
In Boston, however, the response has been largely positive to New Balance's development moves, possibly because people know the pitiful state of the transit  agency. "The MBTA can barely manage what they have—building new stuff is almost impossible," said Ali Carter, the executive director of Brighton Main Streets, a neighborhood-revitalization group. As for New Balance, she said, the company has asked for community input about its building plans and made sure the transit station would be accessible for people who  walk from nearby while not overloading the neighborhood with cars.
"I couldn't imagine having a better multinational corporation to be in your backyard," she said.
Reprinted with permission from The Atlantic. The original story can be found here.