A College Without Classes
No need to sit through lectures when you can learn what you need on your own and then get tested on how much you know.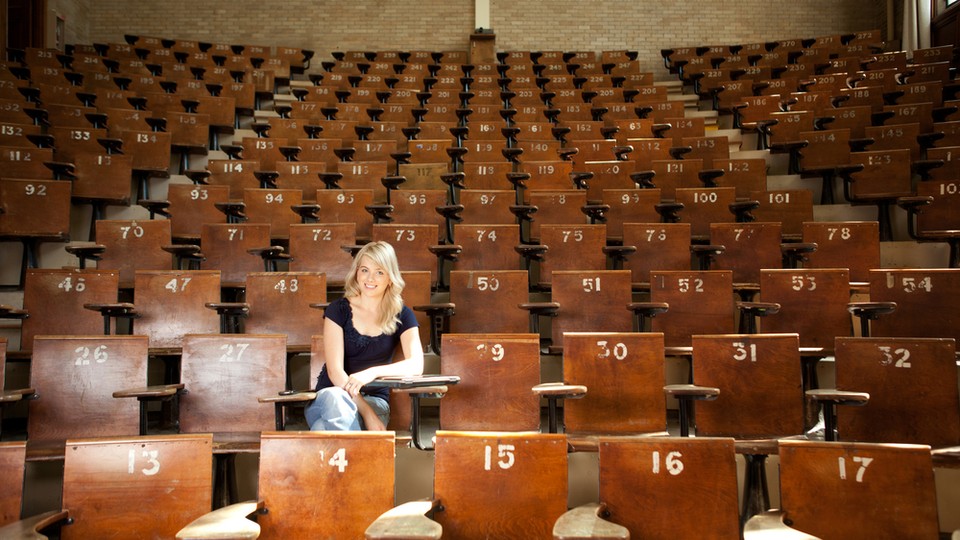 MANCHESTER, Mich. — Had Daniella Kippnick followed in the footsteps of the hundreds of millions of students who have earned university degrees in the past millennium, she might be slumping in a lecture hall somewhere while a professor droned. But Kippnick has no course lectures. She has no courses to attend at all. No classroom, no college quad, no grades. Her university has no deadlines or tenure-track professors.
Instead, Kippnick makes her way through different subject matters on the way to a bachelor's in accounting. When she feels she's mastered a certain subject, she takes a test at home, where a proctor watches her from afar by monitoring her computer and watching her over a video feed. If she proves she's competent — by getting the equivalent of a B — she passes and moves on to the next subject.
Kippnick's classroom is a small study she's set up in her home in rural Michigan, where she can stare out at apple trees and the occasional passing deer. She can finish her degree as quickly or as slowly as she wants. It costs her just $5,000 a year.
For the most part, colleges and universities have changed very little since the University of Bologna gave the first college lectures in 1088. With the exception of Massive Open Online Courses, or MOOCs — free lectures and courses on the Internet — most university learning still requires students to put their butts in seats for a certain number of hours, complete a list of courses, and pass tests demonstrating that they learned from those courses (or were able to successfully cram for over the course of a few days).
But a new model is upending the traditional college experience, and has the potential to change the way universities — both new and old — think about learning.
Called competency-based education, this new model looks at what students should know when they complete a certain degree, and allows them to acquire that knowledge by independently making their way through lessons. It also allows students who come into school with knowledge in a certain area to pass tests to prove it, rather than forcing them to take classes and pay for credits on information they already know.
"They're taking this process that's been the same for hundreds and hundreds of years and fundamentally changing it in ways that make it much more efficient," said Martin Kurzweil, the director of the Educational Transformation Program at Ithaka S+R, a higher-education research and consulting firm.
Competency-based education was pioneered by Western Governors University, a non-profit school founded by governors from 11 states in 1996. Its goal was to create an institution that would better prepare students for the working world, while harnessing the power of technology.
Since then, dozens of universities, have signed on to the Competency-Based Education Network, making a commitment to design and deliver competency-based degree programs. They include not only small technical college and community colleges, but also large universities: the University System of Georgia, University of Maryland, Purdue University, and DePaul. By fall of 2014, three Big Ten institutions, including the University of Michigan, had announced degree programs that use the competency model.
"We're focused on learning, not teaching," Larry Gruppen, who runs the competency-based Master's of Professional Health Education at the University of Michigan, says. It's an important development in the field of higher education, which has long been in need of some major changes.
"The essential manner of delivering education has not taken advantage of technological innovation in the way we've seen in other universities," said Josh Wyner, the executive director of the College Excellence Program at the Aspen Institute, told me.
College is getting more expensive, after all, in part because schools have to pay for faculty and buildings and land and football teams and fancy dorms. An online education model does away with most of those things. Some students may want them. But many don't and can't afford the additional costs. Neither can the nation, which needs more college graduates to fill the 60 percent of jobs that, by 2018, will require a college diploma.
"If you're in the privileged class and you can afford to send your kid off to college for four or five years to experiment with life and learn about things and drink a lot, and go to football games, great, do that," says Bob Mendenhall, the president of WGU. "What we're doing is providing an alternative, equally good educational experience, for the rest of the population."
Unlike MOOCs, which mainly expect students to use resources online to complete courses themselves, competency-based programs depend on faculty mentors to walk learners through the learning process. It's almost the opposite of the university lecture. Rather than a professor talking to a roomful of students, a professor talks to students one-on-one while they learn information at their own pace.
"You get to teach them things that matter, when they matter," Michigan's Gruppenand says, "not try to cram a bunch of information down their throats."
Reprinted with permission from The Atlantic. The original, full story can be found here.