Unshopping, Un-Uber
The original conception of the "sharing economy" persists in small institutions that leave capitalism behind.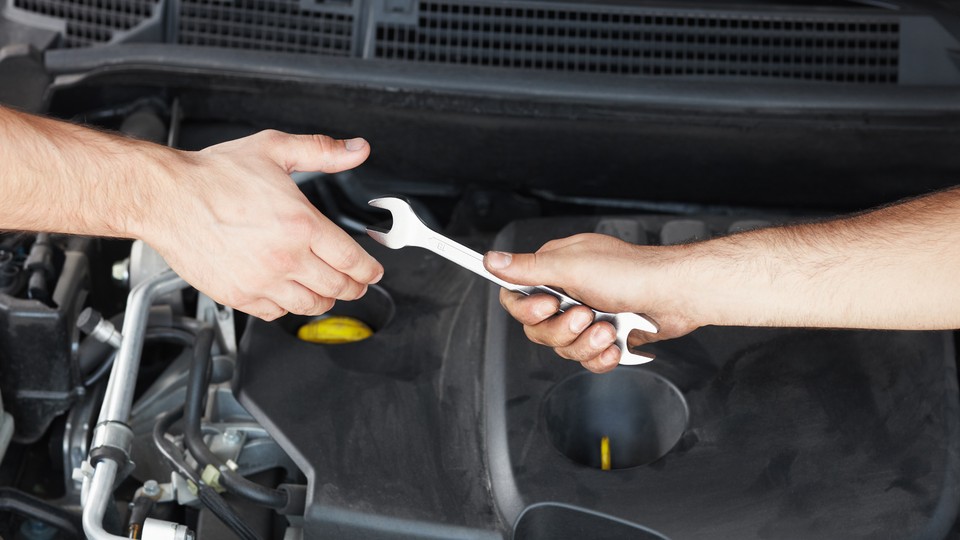 This past March, in an up-and-coming neighborhood of Portland, Maine, a group of residents rented a warehouse and opened a tool-lending library. The idea was to give locals access to everyday but expensive garage, kitchen, and landscaping tools—such as chainsaws, lawnmowers, wheelbarrows, a giant cider press, and soap molds—to save unnecessary expense as well as clutter in closets and tool sheds.
The residents had been inspired by similar tool-lending libraries across the country—in Columbus, Ohio; in Seattle, Washington; in Portland, Oregon. The ethos made sense to the Mainers. "We all have day jobs working to make a more sustainable world," says Hazel Onsrud, one of the Maine Tool Library's founders, who works in renewable energy. "I do not want to buy all of that stuff."
So, the founding group started an online donation campaign and raised roughly $13,000, mostly at $20 or $25 a pop. The startup capital paid for tools and the steeply discounted rent of a warehouse.
So far, about 50 people have joined the Maine Tool Library, after showing proof of Maine residency and paying $50 for a year's membership. This allows them to borrow up to eight tools at a time for a week. The library is open twice a week, for a few hours each time, staffed by volunteers who work in occupations ranging from farming to nonprofits to Web design.
These tool-lending libraries are just one example of an often-overlooked part of the sharing economy: networks of people who share resources to cut down on their purchases and to make better use of the stuff they already have. This was the original conception of the sharing economy when it first truly emerged in 2008—to harness websites, apps, and other technology that put people in contact so they can get more mileage (and maybe even make money) from their underutilized cars, homes, and other assets. Think of City Car Share, the not-for-profit car-sharing service in the San Francisco Bay area that hopes to reduce traffic and congestion. Or, the free bookstore ("You can only take 150,000 [books] per day, per person," says its website) in a gritty neighborhood of Baltimore.
This is a much different version of the sharing economy than the prevailing model of sprawling young companies—Airbnb, Lyft, Postmates, Uber—that are more akin to Silicon Valley's next, new thing. The evolved version isn't to everyone's liking. "The frame of the sharing economy has been destroyed or radically challenged by people who are just trying to maximize their profits as their primary, sole goal," says Adam Werbach, a former Sierra Club national president who co-founded Yerdle, a website and mobile app conceived as a means of encouraging people to give away their used goods. "When I think about the true sharing economy, I see libraries, parks, and common roads."
Yerdle is just one example of this stratum of the sharing economy that is focused less on consumption than on its opposite. Werbach thought of the idea after visiting Mumbai, India, and learning about "saving circles," groups of Indian women without formal credit who pool their savings to buy items they need. With two friends—veterans, respectively, of Walmart and Zipcar—he started the Internet-based company in 2012. They launched it on the day after Thanksgiving, the traditional start of the Christmas shopping season, with the goal of reducing by 25 percent the amount of stuff that people buy—to promote, as the company calls it, "unshopping."
Yerdle posts a photo of the item—clothes, toys, candlesticks, whatever—on its website, and anyone who has signed up can claim it. Membership is free, and Yerdle even pays for part of the shipping costs if the object weighs less than 10 pounds. The company, according to Werbach, has signed up a half-million members and averages 42,000 transactions a month. Yerdle received some of its estimated $5 million in startup funding from the investment fund associated with Patagonia, the outdoor-sportswear company. (Patagonia also donates some of its returned items of clothing to Yerdle for members to claim.) "We have a pretty large, lofty goal to try to displace what is being sold on Amazon and Walmart," he says.
There are local groups with similar intentions. Look at NeighborGoods, based in New York, an online platform that has created more than 100 community-based groups around the country that help neighbors share, give away, or sell household items. People take photos of their goods and connect with prospective borrowers and buyers through a confidential messaging system.
Alan Berger, the organization's executive director, runs one of the neighborhood groups in Brooklyn, whose members have recently posted gardening books, a spade, an ice bucket, and a baby gate as items to share. He laments that these "true" sharing platforms haven't taken off at a greater rate and a larger scale, in part because they don't offer investors much promise of profit. One of his ideas for circumventing this obstacle is for neighborhood-based groups to join with local governments to help people lend or donate items, instead of pouring them into what he calls the "waste stream."
In this niche of the sharing economy, one without capitalism at its core, succeeding is even trickier than it first appears. The Maine Tool Library, for instance, is run entirely by volunteers, an arrangement hard to sustain if jobs and family responsibilities interfere. Nor does everyone feel comfortable borrowing items from strangers. Yerdle has found that people prefer to donate items rather than to lend them.
This suggests another limit to these purer forms of the sharing economy: human nature. Anyone who has reared children knows that sharing isn't a natural behavior—that it often requires incentives or threats. Companies that don't offer either may well emerge and thrive, but they're likely to grow only so much.
This story has been updated.