The Problems of Success
In dynamic Austin, Texas, residents expect more growth—and wonder whether it will improve their quality of life.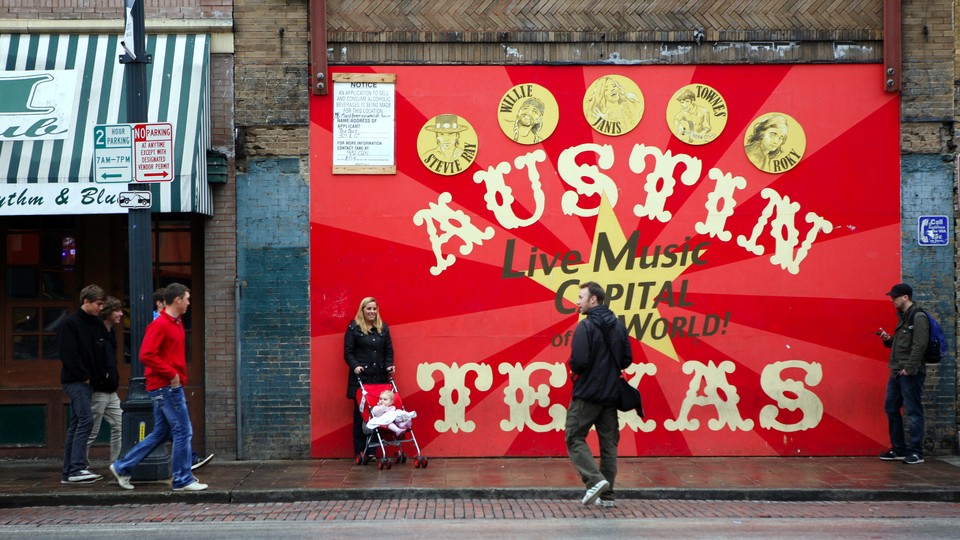 Residents of Austin, Texas, one of the nation's most economically dynamic communities, are optimistic about the region's future growth—and uneasy about its implications, a new Allstate/National Journal Heartland Monitor Poll has found.
Fully 3-in-5 residents of Austin and its surrounding area believe that the region's economy will be stronger in 10 years than it is today. But local residents divide closely on the overall impact of the area's vibrant recent growth. And by a preponderant 2-to-1 margin, those polled said the area is mostly unprepared to handle the challenges posed by continuing growth going forward.
The poll is part of a series of local Heartland Monitor surveys conducted in conjunction with the Renewal Awards, prizes for local innovators that will be announced in January by Atlantic Media, owner of National Journal and The Atlantic, and Allstate.
This survey measured attitudes in Austin, a fast-growing city known both for its high-tech industry and its rich music scene; the city's two sides are symbolized by its annual South by Southwest gathering, which draws thousands each year for festivals focused on both digital innovation and cutting-edge music (as well as a related film festival).
Those twin poles of the city's identity dominated when the survey asked residents to define the driving factors of local life. Asked to identify the most important ingredient in the city's economic growth, 47 percent picked the high-technology industry, with another 11 percent picking the closely related clean-energy industry, and 8 percent identifying the biotechnology and pharmaceutical industries. On this question, just 10 percent identified the "music and arts scene" as the key factor in propelling the city's economic growth.
But when asked what "makes Austin most unique compared to other cities" a resounding 65 percent picked its music and arts scene, compared to just 12 percent that identified its high-technology industry.
Optimism about the local economy rippled through the poll. In the survey, 27 percent of local residents described the area's economy as excellent, with another 47 percent describing it as good. That was a much higher level of optimism than recent Heartland Monitor surveys recorded in Detroit (6 percent excellent, 34 percent good) or even Denver (12 percent excellent, 51 percent good.) In a February national poll, 8 percent of Americans described the economy in their local area as excellent and 35 percent as good. Nearly 3-in-4 Austin residents said they believe their area is headed in the right direction.
And looking at both the near- and long-term horizon, most people in Austin expect the good times to keep coming. Asked to project how the economy will look 12 months from now, 48 percent of respondents said they expected it to improve while 45 percent expected it to stay the same; just 6 percent thought it would lose momentum. Looking longer-term, 20 percent said they expected the economy would be "much improved" ten years from now, while another 40 percent said they expected it to improve somewhat. Another 22 percent thought it would remain about the same; just 15 percent thought it would decline.
Asked why the city has grown so robustly, a plurality of about 2-in-5 identified the growth of the high-tech and biotechnology industries, while 1-in-4 picked the area's "attractive quality of life," and 1-in-6 pointed to Texas's red state model of low taxes and less regulation of business.
Far more clouds intrude, though, when the poll asked residents about the implications of this growth. When asked whether the region's population growth has produced an overall positive or negative effect, those polled divided almost exactly in half: 47 percent viewed it as mostly positive, while 44 percent viewed it as mostly negative. That split decision reflected a stark generation gap: while 55 percent of Austin millennials viewed the growth as mostly positive, 56 percent of baby boomers thought it mostly negative. (Those in between, in Generation X, were split almost exactly.)
The consequences of growth also dominated when the poll asked what local residents considered the region's biggest challenge. A 52 percent majority picked "traffic and other issues relating to growth" while 17 percent picked the cost of housing, another growth-related challenge. Trailing further behind were "the quality of the education system" (at 11 percent), creating enough good jobs (at 7 percent) and "social problems like crime and poverty" (at 5 percent). Whites were much more likely than African-Americans and Hispanics to focus on growth, while minorities were relatively more likely to point toward jobs and social problems such as poverty.
Consensus returned—though in a negative way—when the poll asked if the region was prepared for its future growth. Just 31 percent of respondents said yes, while a resounding 68 percent said no; that included big majorities of whites and minorities, as well as millennials and baby boomers.
Interesting fissures emerged when respondents were asked what choices could most improve the local quality of life. The top two finishers reflected competing liberal and conservative priorities: 34 percent said the region would benefit most from "more local investments by government in areas like education and transportation" while 29 percent said "lower local and property taxes would help most." (More local investments by business, at 14 percent, a reduction in crime and drugs, at 10 percent, and more local volunteering, at 9 percent, trailed.) Local Democrats in this mostly liberal area were about twice as likely to pick investments as tax cuts, while Republicans tilted in the other direction by more than 2-to-1. The generation gap was substantial too, with millennials bending strongly toward investment and a plurality of baby boomers preferring tax cuts. Revealingly, in a region with many white-collar liberals, those earning at least $100,000 annually expressed the strongest preference for more public investments.
Fully 69 percent of Austin area residents said progress on the biggest challenges facing America is more likely to come from local than national institutions—the same number as the surveys found in Denver and Detroit. Respondents in Austin, though, were relatively less likely than people in the other two cities to say more progress on these challenges already is being made at the state and local level, rather than the national level. That probably reflects the extent to which many in this politically liberal city feel alienated from the deeply conservative direction of state politics: while 69 percent of Austin-area Republicans saw the most progress occurring at the state and local level, 60 percent of the larger group of local Democrats pointed to national gains.
One final question captured this distinctive city's dual nature. When the poll asked respondents to identify one or two living people who "represent an Austin success story and "... you are proud to call an Austinite" the top of the list was dominated by cultural figures, with one tech icon squeezed in. Legendary musician Willie Nelson headed the list at 21 percent, followed by actor Matthew McConaughey at 16 percent, computer magnate Michael Dell at 13 percent, actress Sandra Bullock at 11 percent, and the late guitar virtuoso Stevie Ray Vaughn, who helped put Austin on the musical map, at 4 percent.
The Heartland Monitor Poll surveyed 400 adults in the Austin region by cell phone and landline from July 8-12. It has a margin of sampling error of plus or minus 4.9 percentage points. The survey was supervised by Ed Reilly and Jeremy Ruch of FTI Consulting's Strategic Communications practice.