Job Hunting With Schizophrenia
Most Americans with the condition can and want to work. What's standing in their way?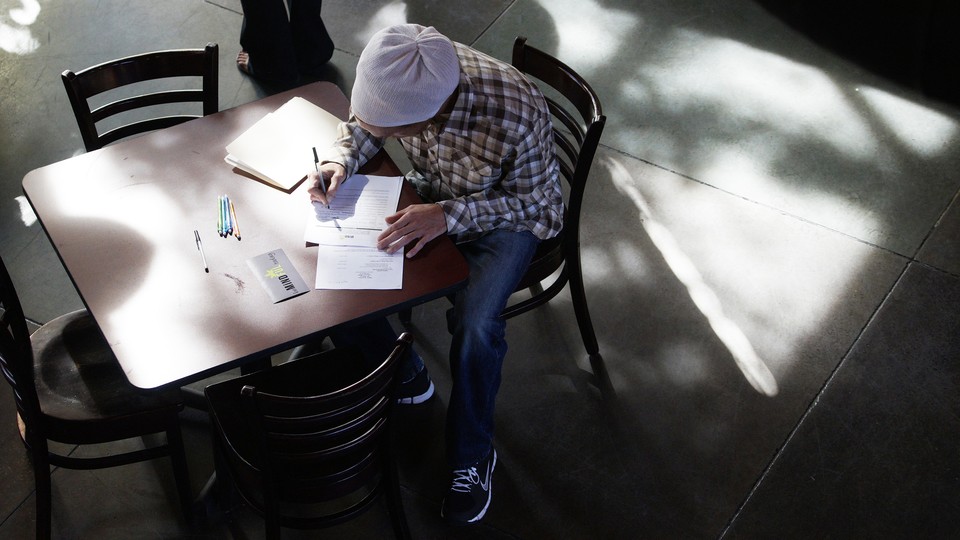 When Abdul-Ali Muhammad returned to Bridgeport, Connecticut, in 1975 after a year of military service, he felt that something had fundamentally changed. He started hearing voices and sounds that other people didn't hear, and severe anxiety kept him from sleeping at night. He desperately wanted to find a job, because as long as he kept his mind occupied, he could contain his delusions and anxieties. "I'm just a workaholic," he told me, shrugging his shoulders. "I need to be busy."
He found work as a security guard at a local hospital, a job he liked and was good at. "I worked as much as I could, always signing up for overtime," Muhammad recalled, "because at work I didn't hear the voices and I didn't need drugs to deal with them." Yet as soon as he got home at night, hash, crack, and cocaine seemed to be the only tools to silence the voices. In 1985, after a decade or so of addiction, Muhammad tried to quit drugs. But the voices grew louder, and their messages darker: They told Muhammad to kill himself. After his third suicide attempt, Muhammad spent a year in a psychiatric hospital. Miserable, isolated, and deeply depressed, he felt that without a job, there was no way he could get back on his feet.
Muhammad is one of the estimated 2 million American adults who suffer from schizophrenia. The mental illness can cause delusions, hallucinations, and social withdrawal, and can make it difficult for people to be coherent and to appropriately sort, interpret, and respond to incoming sensations. In 2006, Fuller Torrey, an American psychiatrist and schizophrenia researcher, argued that, "when the social history of our era is written, the plight of persons with schizophrenia will be recorded as having been a national scandal." Surveys suggest that the majority of Americans with schizophrenia want to be employed, but aren't: Currently around 85 percent are unemployed, while research shows that as many as 70 percent would prefer to work.
"The truth is that the majority of people with schizophrenia are willing and able to thrive in the workplace if they find a job that fits their interests, works with their strengths and talents, and offers them some accommodations," says Sita Diehl, the director of state policy and advocacy for the National Alliance on Mental Illness (NAMI). Currently, only 10 to 15 percent of American adults with schizophrenia are in the workforce, a number that includes many part-time jobs. Yet Diehl says that NAMI's research suggests that the majority of Americans with schizophrenia believe not only that they are capable of working, but that a job would improve their lives. These numbers suggest that, perhaps unsurprisingly, it is profoundly difficult for people with schizophrenia to find jobs.
For Muhammad, a job could be soothing: Being around others hushed the voices he heard, and having a purpose kept his anxiety at bay. But some of his symptoms could get triggered when he was on duty and isolated from others, and finding a job that fit his specific needs turned out to be difficult. After Muhammad was diagnosed, a social worker at the Veteran Administration's Community Care Center set him up with an apartment and found him a compensated work-therapy job in the mailroom of the VA, where he sorted mail a few hours a day.
"He told me I had to give him a phone call whenever things got rough and promised me that he'd come over straight away," said Muhammad. A daily routine, along with the dedication of this unexpected supporter and the access he now had to medication and treatment through his job, helped Muhammad recover. After a few months though, the VA moved him to a full-time job assembling small metal parts in one of its manufacturing operations—a job that paid $10 an hour, but didn't suit him.
Eventually, the VA asked him to work as a security guard outside. Unlike his previous security-guard position at the hospital, however, this position called for monitoring terrain on his own. Though Muhammad started the new job in great spirits, it took less than seven weeks before he was back in the hospital. "I was outside all by myself," he explained, "so I started to see all these shadows walking towards me. It made me sick again."
Neither Muhammad nor his employer truly understood what kind of work environment would suit him best. One struggle in the job search process for those with schizophrenia is that the disorder affects different people in different ways. "Some people may be very distracted by delusions. Others may struggle more with disorganized thinking or social anxieties," says Diehl. What most of them have in common, according to Diehl, is that "work offers them hope, meaning, value, and social connections, which are critical for recovery."
In addition to the challenges of managing symptoms while on duty, Diehl believes that another major stressor for schizophrenic jobseekers is how the condition is perceived, both in the workplace and in the mental-health community. "Many people are told by their doctors that they can't work," says Diehl, "which lowers their self-confidence." It can be anxiety-inducing for employees to disclose their condition, and support is hard to come by. "Less than 2 percent of people with schizophrenia who are able and willing to work get the job support that they need to succeed," says Diehl.
For Muhammad, hiding his schizophrenia often meant risking hospitalization. Once, he was asked to work 80 hours a week on patrol during a nurses' strike at the hospital he worked at.  "If you have schizophrenia," he explained, "such a workload is even more intense because you're seeing things or hearing voices on top of all the real stuff that is going on … I may not hear the voices as much as when I'm working, but it still eats energy," Muhammad said. "If I don't have enough time to unwind and get my rest, I know I will crash."
A big worry for those with schizophrenia is that working might affect their benefits. "One of the greatest fears for job searchers with schizophrenia is that they may jeopardize their health benefits, such as therapy and medication, if they earn too much income," said Frederick Morello a job coach for people with schizophrenia at Fountain House, a community center for mentally ill people in New York City. Moe Armstrong, another war veteran with schizophrenia, was wary of earning more than the VA income thresholds and losing his health benefits. "One day, I found out I had earned too much income for my [Social Security] benefits and had to pay back 10,000 dollars," he said. "You have to be very careful not to cross those lines, because you may lose benefits that your boss won't compensate you for."
Armstrong, who has worked in broadcasting, as a forest ranger, and for the USPS, got the help of a job counselor after his diagnosis. He had a master's in human resources as well as an MBA, and wanted to be a teacher. But he recalls that his counselor didn't think that was the best choice: "If those schools find out they have a teacher with schizophrenia … you'll get into trouble and lose your job straight away."
Morello explains that the importance of a job coach is to figure out the specific stressors for individual job seekers, and help them target jobs that fits his or her needs. "Once we figured out the benefits, which a job coach has to know inside-out, it's really about getting to know the person well … We want to know about their relationships, their weaknesses, their passions, their strengths, and their trigger points. If they get severe anxiety from answering phones, I am not going to look for a reception job," explains Morello.
Over the last six years, Morello has coached hundreds of people with schizophrenia at transitional-employment program that connects job seekers with part-time, six- to nine-month jobs. "We go with them to the workplace, train them on the job, and cover for them when they cannot make it," Morello says of the program. "Being trained by a stranger can be a huge stressor for people, so if they know and trust me, they may feel more at ease if I am the one to train them." The program comes built-in with accommodations for workers with schizophrenia, which takes away a lot of the fear of asking for special accommodations on the job, as Muhammad and Armstrong experienced.
Armstrong believes that the mental-health industry should focus more on people's skills and reach out with practical help. "Routine and work has saved me," he said, "but it took me decades to find out what I need." Armstrong found his perfect job a couple of years ago, and he is not planning to quit anytime soon. As a counselor for the VA, he organizes peer-support meetings and activities for fellow ex-veterans with schizophrenia. Muhammad, for his part, found his calling at Schizophrenics Anonymous and NAMI Connecticut, where he organizes peer support groups and gives lectures about schizophrenia at schools and hospitals. In the past 20 years, he has also written poetry, which has earned him multiple prizes in the VA's annual arts contests and two international awards, including the title of 1995's Poet of the Year from the International Society of Poets.
Armstrong and Muhammad believe that sharing their experiences and techniques is critical to helping others find the jobs and coping mechanisms that fit. "For me, I need to work full time to reach that equilibrium of calmness," says Armstrong, "and I need to be able to show up 10 minutes late when I feel a bit rocky in the morning and need to lie down with my relaxation tapes for a few minutes before I leave the house." Muhammad, on the other hand, has no problems with mornings, and prefers part-time, rather than full-time work. "I just need enough time to unwind and rest, and make sure my work gives me purpose and lets me help other people," Muhammad said.
"My personal belief is that employment is the biggest tool in recovery," said Morello. "When someone is working," he continued, "it gives them self-confidence and makes them part of a team."