Greece Defaults
A day after default, there's no deal in sight—and Greece's defiant prime minister says Sunday's referendum will still happen.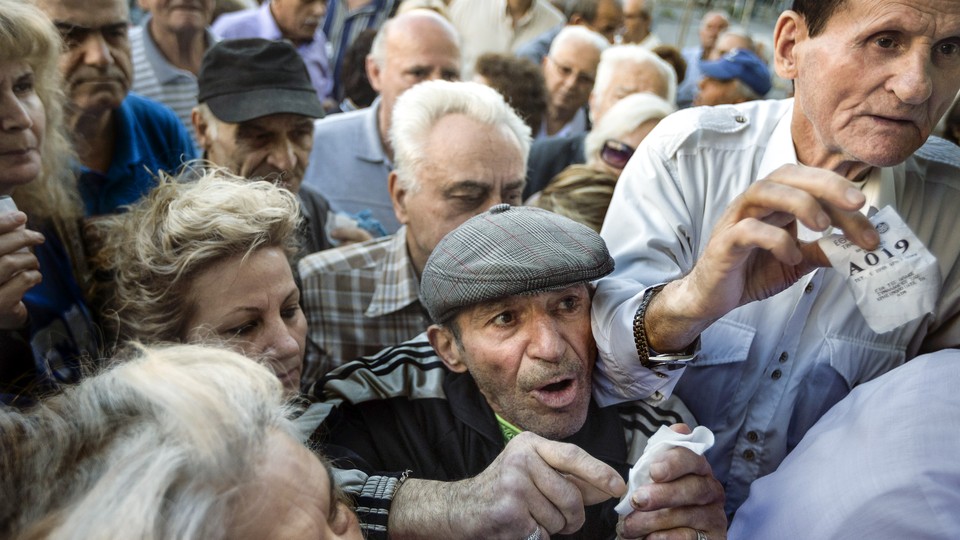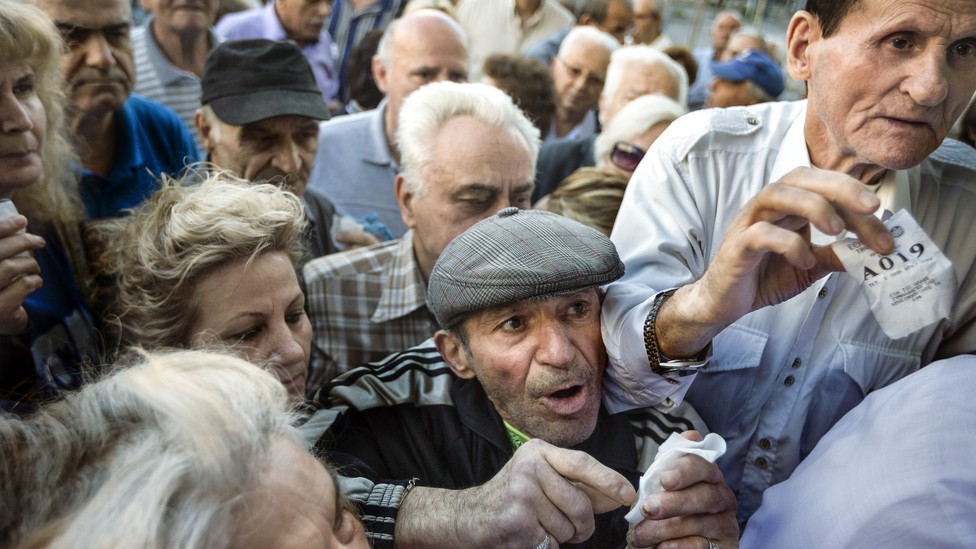 July 1, 2015 11:01 a.m.
The referendum will go on, says Greece's Prime Minister Alexis Tsipras. Yesterday, there was doubt about whether Sunday's referendum—where Greeks would decide whether to accept its creditors conditions—would still happen. If Greece had managed to secure a third bailout, or an extension from the IMF, there would theoretically be no need for the referendum.
Neither of those two things happened, and Tsipras addressed the nation on Greek television an hour ago to confirm that the referendum will take place. He's also not backing down from his original position, strongly urging Greeks to vote "no." Tsipras has since tweeted 18 updates on his position,  including this: "You're being blackmailed & urged to vote Yes to all of institutions' measures without any solution to exiting the crisis."
There was speculation earlier this morning that Tsipras was ready to back down and make a deal. A letter written last night by Tsipras' office to the European Commission was leaked to the Financial Times. In it, Tsipras doesn't mention the referendum and concedes to many of the economic proposals from its creditors. Markets across the world reacted strongly to the leaked letter.
Eurogroup finance ministers were set to talk at 11:30 a.m. BST, but it was pushed back to 4:30 p.m. BST. That call has just wrapped and Jeroen Dijsselbloem, head of the Eurogroup, told reporters he sees "little chance" of progress. From Reuters: "We will talk about the proposals, but with that last speech I see little prospect of progress."
All eyes will be on Greece on Sunday.
—Bourree Lam
---
June 30, 2015 6:15 p.m.
What happens now?
Greece's missed payment to the IMF is a milestone—it's both the first time a developed country has missed such a payment, and the first time a euro zone country has defaulted on its debt. (Or it's "in arrears"—as Bouree Lam explains below, the IMF isn't using consistent terminology.)
But that doesn't mean automatic expulsion from the euro zone. Yanis Varoufakis, the country's finance minister, made the case on his blog three years ago that "a defaulted Greece can easily remain in the euro zone," and that in fact "Europe's optimal strategy is to let Greece default." The Lisbon Treaty, which forms the legal basis of the European Union, actually makes no provision for a member's expulsion. A 2009 legal analysis by the ECB found that, "while perhaps feasible through indirect means, a Member State's expulsion from the EU or EMU [the European Monetary Union], would be legally next to impossible."
In practice, though, Greece still has to pay its bills with some kind of money—and it's running out of euros. At the stroke of midnight, there were still euros in Greek banks, but how long Greece can remain on the currency depends, in part, on how long they can keep euros in their coffers—to wit, whether Greece can scrape together new infusions of euros before it runs out entirely. As CNBC explained:
If the Eurosystem—the European Central Bank and the central banks of euro zone members—refuses to finance Greece by halting the release of more emergency loans ... there could be a rapid withdrawal of deposits from Greek banks. Athens would then need to refinance the banking system by creating a new currency to do so.
That's the "fast exit" option, which Greece could slow down by closing the banks (as it already has) to delay withdrawals. In the "slow exit" option, Greece's creditors don't demand their deposits back immediately, but if Greece fails to secure outside sources of financing as public bills such as pensions and state salaries come due, "Greece could substitute 'IOU's' for euros in some of its payments," per CNBC. In the short term, these would in effect become a parallel currency. As the Wall Street Journal explained, "Over time, euros would disappear from circulation because people would hoard them as a store of value—and people would spend the government IOUs. De facto, the drachma, whether or not it would so be called, would become the main means of exchange."
But there's also the "no exit" option, where the country just keeps the euro. Polls have indicated that this is what Greeks want to do, and it's what Prime Minister Alex Tsipras promised to do. If, say, he manages to secure a post-default bailout deal in negotiations set for tomorrow—allowing it to pay its debts to the IMF a few hours, or a few days late—Greece stays in the euro zone that much longer. But the course of negotiations so far doesn't give much reason for hope.
—Kathy Gilsinan
---
6:00 p.m.
---
5:11 p.m
Fitch Ratings Agency has downgraded Greece one level to 'CC' as the country nears their midnight deadline. In a release, the agency cited ongoing political and economic turmoil that has kept the country from making a deal to avoid defaulting on its debts as the reasoning behind the downgrade.
With less than one hour left until midnight, it is a virtual certainty that the country will not receive an extension on loans owed to its creditors. In an interview, Eurogroup President Jeroen Dijsselbloem said, "The facts are that the program will expire tonight, and Greece will be in default tomorrow. That is something that I don't think we can stop between now and tomorrow morning."
—Gillian White
---
4:28 p.m.
U.S. markets finished the day with the Dow gaining 0.13 percent and the S&P climbing 0.27 percent for the day. Stocks were up more significantly during morning trading but retreated somewhat after news from Europe made it apparent that Greece wouldn't reach a deal with creditors to avoid default.
On Tuesday, European markets unsurprisingly showed the greatest sensitivity to Greece's impending deadline with the Stoxx Europe 600 Index dropping 1.26 percent at close and the FTSE 100 down 1.5 percent.
—Gillian White
---
3:57 p.m.
Eurogroup president Jeroen Dijsselbloem has tweeted the time for tomorrow's meeting:

Meanwhile, Greece's deputy prime minister Yannis Dragasakis is also calling for a resolution despite reports that a third bailout might impose tougher conditions.
—Bourree Lam
---
3:09 p.m.
Greece is now just a few hours from falling into "arrears," unless the IMF agrees to give them more time. This morning, Greece's finance minister Yanis Varoufakis confirmed that the owed payment would not be coming today. Falling into arrears means that Greece will no longer be eligible for IMF aid. It will be the first advanced economy to fall into arrears with the IMF in its history.
Some say it's just semantics, because the inability to pay back a loan is generally known as a "default." But according to Bloomberg: "IMF Managing Director Christine Lagarde said on June 18 that she'd consider Greece in 'default,' spokesman Gerry Rice said last week that the fund wouldn't use the term in official communication and would instead refer to Greece being in 'arrears.'"
—Bourree Lam
---
3:03 p.m.
The German newspaper Bild is reporting that the Greek government has asked the International Monetary Fund (IMF) to delay today's midnight deadline for the repayment it owes. According to Reuters, the IMF has declined to comment on the matter.
—Bourree Lam
---
2:25 p.m.
As expected, an emergency conference call between Eurogroup officials has ended without a deal for Greece, according to tweets from Finland's representative, Alexander Stubb. The BBC reports that Eurogroup chief Jeroen Dijsselbloem said conversations will resume tomorrow after Greece sends a new proposal, there's no extension. That means even if tomorrow's talks are successful, they won't be in time to prevent Greece from defaulting on its debt at midnight. The European Financial Stability Facility tweeted a release about the impending default from their account on Tuesday.
The Prime Minister of Malta has made comments that Greece would suspend Sunday's referendum if an agreement is reached.
—Gillian White and Bourree Lam
---
2:07 p.m.
President Obama made remarks at a press conference today that the Greek debt crisis would create more problems for the Europe than the U.S., though he maintains that it's an issue of "substantial concern."
From Politico, Obama said: "In layman's terms for the American people, this is not something that we believe will have a major shock to the system."
—Bourree Lam
---
2:02 p.m.
With the midnight default deadline swiftly approaching and most official avenues declaring that they wouldn't step in to provide emergency funding (or step up to pay) the people of the Internet tried to come to Greece's aid. In fact, too many people tried, causing the Indiegogo page aimed at using crowd funding to solve the debt default, to crash.
The page, started by a British man named Thom Feeney, asked Europeans to donate "the cost of a feta and olive salad" to the cause, reasoning that together, they could raise the €1.6 billion to prevent default. A noble endeavor.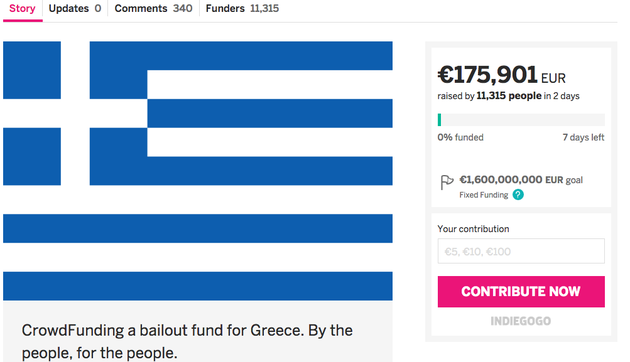 Still, raising over €1 billion is a herculean task. Earlier today, despite numerous donations that topped €175,000, the campaign had yet to even reach 1 percent of its funding goal.
—Gillian White
---
1:06 p.m.
Protesters are gathering in Athens to agitate for a "yes" vote on Sunday's referendum about whether to accept the terms of the deal Greece's creditors offered last Thursday. Greek Prime Minister Alex Tsipras, who effectively shut down negotiations Saturday morning with his surprise announcement he'd put the proposals to voters, has urged a "no" vote. A "yes" vote could mean the end of his government. "If the Greek people want to have a humiliated prime minister, there are a lot of them out there. It won't be me," he said, according to Reuters, which reported "tens of thousands of Greeks" rallying in his favor on Monday.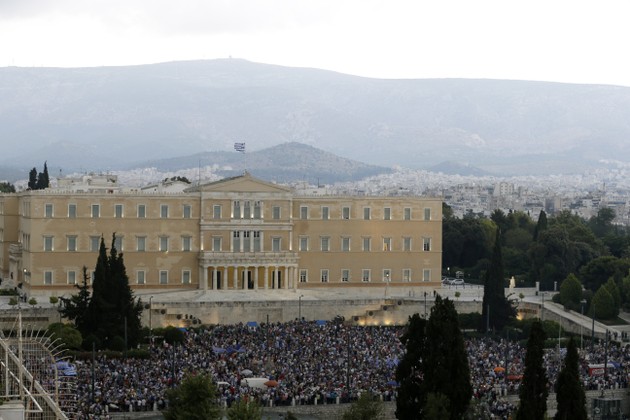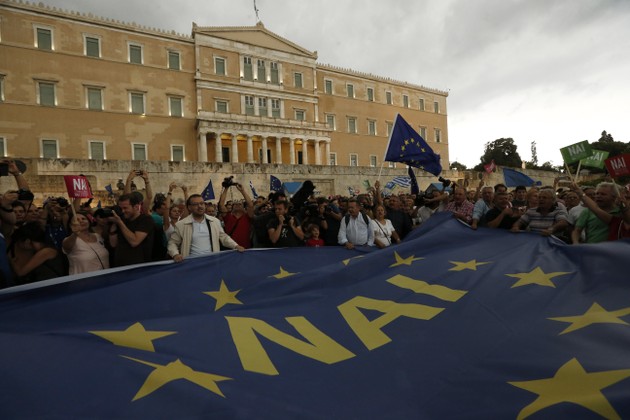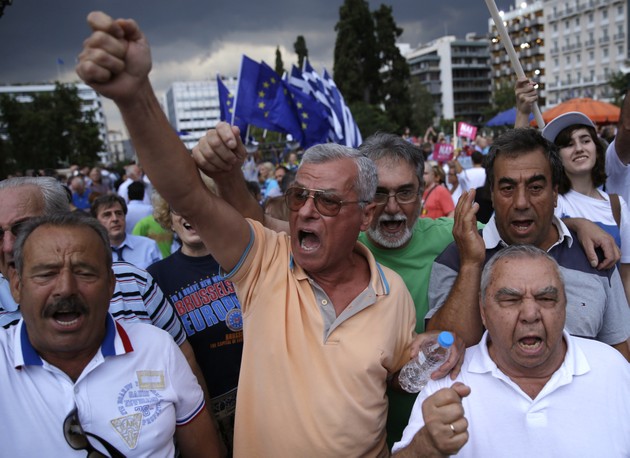 —Kathy Gilsinan
---
1:03 p.m.
At this point, Greece's best (if only) bet for avoiding a default at midnight is emergency funding. With a conference call happening shortly, Reuters asked about the likelihood that finance ministers would provide a lifeline before midnight. A Eurogroup official all but dashed hopes of a last-minute reprieve saying that there was "no way" funds would be released in time to cover the IMF payment.
—Gillian White
---
12:32 p.m.
Stocks in Europe were calmer earlier today on the news that Prime Minister Alexis Tsipras might reach a last minute bailout deal with Greece's creditors. Things took a turn before the markets closed as no deal has been reached yet. The Stoxx Europe 600 Index dropped 1.26 percent at close, the FTSE 100 closed down 1.5 percent, with losses in Germany's Dax index and France's Cac 40 as well.
U.S. stocks were up earlier today as well, rebounding from yesterday's selloff. Though at the moment, it looks like the Dow and S&P have erased much of the gains from this morning—likely on the news that a deal might not be reached tonight.
—Bourree Lam
---
12:13 p.m.
William Antholis, the former director of international economic affairs on the White House National Security Council, writes in Fortune about his experience with the politics and politicians behind the current crisis and reflects on the most important aspect of the debt debacle—how it impacts the people of Greece.
This year the crisis came home directly. The look of real frustration and fear in the faces of hotel clerks, cab drivers, restaurant owners, and politicians remind us that modern, industrial societies can experience true depression.

...

There is still a chance that they can pull a rabbit out of the hat. But for the first time in the last five years, I'm not optimistic.
You can read the entire essay here.
—Gillian White
---
11:54 a.m.
Greece's finance minister Yanis Varoufakis is mobbed by reporters as he leaves his office in Athens on motorbike to meet with Prime Minister Alexis Tsipras at Maximos Mansion.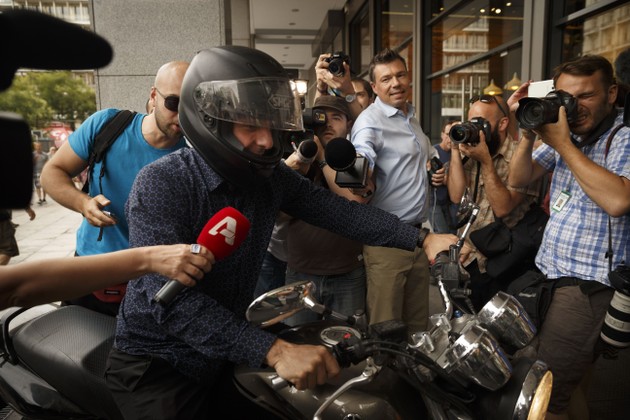 Greece is several hours from the midnight default deadline, and euro zone finance ministers are set to review Tsipras' new bailout proposal using European Stability Mechanism loans in an hour.
—Bourree Lam
---
11:37 a.m.
Deutsche Welle notes that Nobel prize-winning economists are divided on whether or not Greek voters should accept the deal they're being asked to vote on in Sunday's "Greferendum." Joseph Stiglitz and Paul Krugman are in the "no" camp.
Here's Stiglitz, who scolds Greece's creditors in The Guardian for the "abysmal" economics behind the last bailout, and warns that the current proposals will "inevitably result in a deeper downturn":
I can think of no depression, ever, that has been so deliberate and had such catastrophic consequences: Greece's rate of youth unemployment, for example, now exceeds 60%.

It is startling that the troika has refused to accept responsibility for any of this or admit how bad its forecasts and models have been. But what is even more surprising is that Europe's leaders have not even learned. The troika is still demanding that Greece achieve a primary budget surplus (excluding interest payments) of 3.5% of GDP by 2018.

....

[A] no vote would at least open the possibility that Greece, with its strong democratic tradition, might grasp its destiny in its own hands. Greeks might gain the opportunity to shape a future that, though perhaps not as prosperous as the past, is far more hopeful than the unconscionable torture of the present.

I know how I would vote.
Here's Krugman, doubling down on the Greece-related portmanteaus in a blog post titled "Grisis:"
I would vote no, for two reasons. First, much as the prospect of euro exit frightens everyone—me included—the troika is now effectively demanding that the policy regime of the past five years be continued indefinitely. Where is the hope in that? Maybe, just maybe, the willingness to leave will inspire a rethink, although probably not. But even so, devaluation couldn't create that much more chaos than already exists, and would pave the way for eventual recovery, just as it has in many other times and places. Greece is not that different.

Second, the political implications of a yes vote would be deeply troubling. The troika clearly did a reverse Corleone—they made Tsipras an offer he can't accept, and presumably did this knowingly. So the ultimatum was, in effect, a move to replace the Greek government. And even if you don't like Syriza, that has to be disturbing for anyone who believes in European ideals.
Christopher Pissarides, another Nobel-winner who was one of Stiglitz's co-authors in a Financial Times letter to the editor urging debt relief for Greece in exchange for reforms, said Greece should vote yes:
The only thing that could get us moving in a good direction is a Yes vote and a strong government to sit there and renegotiate some parts of the program. I know the suggestions have been withdrawn by the European institutions, but I am sure if there is a Yes vote, especially if there is a good majority, they would come back to the negotiating table and negotiate something on the debt, negotiate some immediate policy needed now to get us into a reform program and move forward from there. I can't see how a No vote would help anything at all now.

I would vote Yes and I would encourage everyone that I can to vote Yes, because a No vote would be a complete dead end which would lead eventually to a Grexit.
FT's Martin Wolf, is "a-pox-on-both-their-houses" noncommittal:
In making my decision, I would bemoan both the idiotic leftism of my own government and the self-righteousness of the rest of the euro zone. Nobody comes out of this saga with credit.

The Syriza government has failed to put forward a credible program of reform that might solve the multiple problems of the Greek economy and polity. It has instead made populist gestures. It is, in brief, a dreadful government produced by desperate times.

Yet the euro zone, too, deserves substantial blame for the outcome. One would never guess from its rhetoric that Germany was a serial defaulter in the 20th century. Moreover, there is no democracy, including the UK, whose politics would survive such a huge depression unscathed. Remember, when Germany last suffered a depression of this magnitude, Hitler came to power. Yes, Syriza is the outcome of infantile and irresponsible Greek politics. But it is also the result of blunders committed by the creditors since 2010 and, above all, insistence on bailing out Greece's foolish private creditors at the expense of the Greek people.
As for what Greek voters themselves are facing, the text of the referendum itself, which my colleagues posted below, is confusing. It refers to "the plan of agreement" submitted June 25, 2015—which, given Greece's apparent new offer, and the imminent threat of Greece not paying the IMF by today's deadline, may not even still be on offer by the time Greeks are expected to cast ballots on Sunday. (Though, who knows, the referendum itself might be called off.) As the BBC notes, "there is still a question over when and how voters will be presented with those documents, and whether world-class economists will be on hand at polling stations to explain them."
—Kathy Gilsinan
---
11:35  a.m.
The BBC reports that German Chancellor Angela Merkel has said no new aid proposals will be discussed until after Sunday's Greek referendum. If true, that would mean that Greece's decision to not pay creditors on Tuesday will result in default.
—Gillian White
---
10:47 a.m.
Politico has posted Greek Prime Minister Alex Tsipras' letter to Eurogroup president Jeroen Dijsselbloem for rescue funds as well as an extension for the current bailout which expires midnight tonight (6 p.m. ET). Should the extension be granted, the question remains on whether Sunday's Greek referendum will still happen. The Guardian is reporting that the proposal has just arrived in Brussels, and Dijsselbloem tweeted that euro zone finance ministers will hold a teleconference in 2 hours to discuss how to move forward.
—Bourree Lam
---
10: 32  a.m.
The future of Greece's currency is not as black and white as it might seem. A "no" vote on Sunday's referendum doesn't mean that Greece will automatically leave the euro zone, a fact that Germany's finance minister, Wolfgang Schaeuble, was keen to remind lawmakers of on Tuesday, according to reports from Bloomberg. The Wall Street Journal has put together a roundup of five possible options for the country's currency, which include keeping the euro, having both euro and drachma circulation, and pegging drachmas to euros.
—Gillian White
---
9:54 a.m.
Reuters is reporting a new rescue proposal from Prime Minister Alexis Tsipras' office has just been submitted to Greece's creditors. A statement from Tsipras says that the Greek government wants a new two-year deal under the European Stability Mechanism (ESM) program, a move some are calling a third bailout. The late-breaking request asks for debt restructuring and would tap into the ESM—which has a €500 billion lending capacity. It's unclear how Greece's creditors will react, although Germany's chancellor Angela Merkel hasn't yet given any reason for hope on the matter.
—Bourree Lam
---
9:45   a.m
After the largest decline of 2015, U.S. stocks pushed higher on Tuesday with both the Dow and S&P up by about 0.50 percent  just after the market's opening. The optimistic performance follows a strong rebound in Asian markets overnight.
—Gillian White
---
9:22 a.m.
Markets across Asia rebounded strongly with the Tokyo Nikkei closing up 0.63 percent, Hong Kong's Hang Sang Index up 1.09 percent, Seoul up 0.67 percent, and the Shanghai Composite up 5.6 percent. The euro is down, but some investors and traders say the experts will wait to see how the debt crisis pans out before making big moves.
—Bourree Lam
---
8:59 a.m.
According to the Wall Street Journal, Greece's finance minister has said that some bank branches may reopen on Wednesday to service those who don't have access to debt or credit cards, including many pension recipients. Withdrawals will be limited to €120 ($134). The finance minister, Yanis Varoufakis, has also said that Greece has no intention of paying the IMF by the end of Tuesday's deadline, and that he instead hopes that a last-minute deal is reached.
—Gillian White
---
8:42 a.m.
World markets are still on edge as Greece nears its deadline. News of the a last-minute deal have given European stocks a boost and U.S. futures are also looking up.
Tom Metcalf and Robert Lafranco over at Bloomberg tallied how much the world's 400 richest people lost yesterday and arrived at a combined $70 billion, or an average of $175 million each.
—Bourree Lam
---
8:04 a.m.
Last-minute talks are reportedly happening in Athens. One of Greece's creditors, the European Commission, has reached out to make a deal—though it remains unclear what the details of the deal are and whether this is the same deal from last week.
The new offer will likely involve Prime Minister Alexis Tsipras trying to encourage Greeks to vote "yes" in Sunday's referendum. Yesterday, Tsipras appeared on television to appeal to Greeks to vote "no."  Tsipras has been hinting that he would resign if the outcome of the vote is a "yes."
—Bourree Lam
---
7:51 a.m.
On Tuesday, markets in Asia recouped the losses sustained during Monday's sell off on the news of an impending Greek default. In China, stocks gained about 5.6 percent.
—Gillian White
---
Greece is officially out of time.
A decision on whether or not the deeply indebted country will work out a plan with its creditors or default on the €1.54 billion ($1.69 billion) it owes to the IMF and EU—a move that could serve as the prelude to the country exiting the euro zone, the much feared "Grexit"— has come down to the wire, with the country's future still uncertain today, the deadline for payments or extension. Notable economists have called for Greece to sign a deal immediately, and for its creditors to abandon austerity.
On Monday, the English text of the Greece's referendum ballot question was posted to Twitter.
Should the agreement plan submitted by the European Commission, European Central Bank and the International Monetary Fund to the June 25 eurogroup and consisting of two parts, which form their single proposal, be accepted? The first document is titled 'Reforms for the completion of the Current Program and Beyond' and the second 'Preliminary Debt sustainability Analysis'.
On July 5 Greek citizens will vote yes or no to the proposal.
The situation is already bleak. According to one estimate, Greece owes its lenders a total of €242.8 billion ($271 billion). In Greece, banks are closed, capital controls have been imposed, and the stock market shuttered. The rest of the world doesn't have much faith in the ability for a deal to get done either. On Monday, stocks in the U.S. had their worst showing in 2015, as the Dow tumbled 350 points and the S&P had its worst day of the year Monday.
The post will be continually updated above.