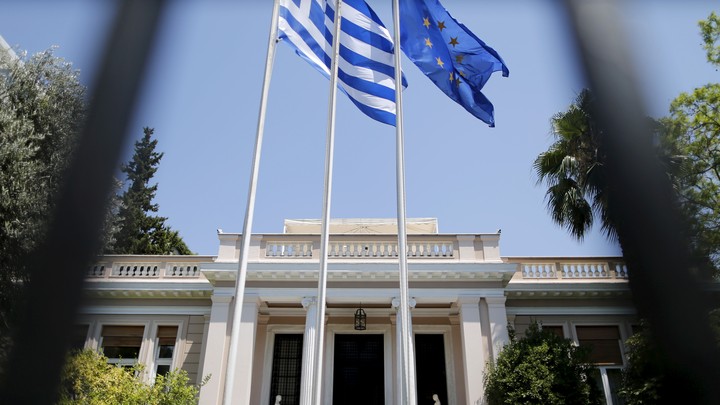 The final countdown is finally over—for now. After a grueling 17-hour all-nighter with 19 European leaders, the EuroSummit produced what it sought: a tentative agreement for a third bailout for Greece between the country and its creditors. Or as Donald Tusk, the president of the European Council calls it, an "agreekment."
The deal states that Greece will get its bailout—an €86 billion loan—from the European Stability Mechanism (ESM), but, prior to approval by the European Commission, Greece must implement a series of reforms by Wednesday including measures to increase tax revenue, streamline its pension program, and "monetize" €50 billion of public Greek assets in a private fund to make ESM repayments and recapitalize banks. Under the new agreement, Greece will also have to make a request for continued support from the IMF to be considered for the ESM loan.
The three-year rescue plan for Greece consists of the €86 billion loan package, which will allow Greece to make its scheduled debt repayments (the country is currently in arrears with the IMF) and, perhaps more urgently, to replenish its banks which are running out of cash. It also includes a €35 billion stimulus package to boost the overall economy and encourage employment.
The agreement is still pending approval from the Greek government, as well as several other European parliaments. Tusk noted in a statement that the "strict conditions" of the agreement must be met in order for negotiations of the ESM loan to even begin.
Greek Prime Minister Alexis Tsipras acknowledges in a statement that the new deal includes "tough measures," but points to what he was able to bring back to his people: debt restructuring and financing. "Today's decision will maintain Greece's financial stability and provide recovery potential. However, as we knew beforehand, the agreement will be difficult to implement. The measures include those that Parliament has voted on. Measures that will inevitably create recessionary trends," says Tsipras. But, he adds, he's hoping that erasing fears of a Grexit will fuel investment.
The deal has many wondering what the point of the recent Greek referendum was. Tsipras ostensibly rejected a previous deal offered by the European Commission by calling for the referendum and strongly encouraging Greeks to vote "no" to their terms—which included severe austerity measures. After the "no" vote, Tsipras moved to keep Greece on the euro and conceded to austerity, leading many Greeks to feel betrayed.
It's yet to be seen whether Tsipras will be able to push the reforms through. News from Athens seems to indicate that some Syriza members are not too happy with the concessions he made over the weekend. Last Friday, Tsipras overwhelmingly won a vote in Greek parliament for the proposals he presented to the EU—yet some MPs already expressed concern over the austerity measures in that proposal. Things went awry on Saturday when a document prepared by Germany's finance minister contained the idea of a temporary, five-year Grexit (the shorthand for forcing Greece off the euro). Social media and economists lashed out using the hashtag #ThisIsACoup and accused the European Council of being unfair to Greece.
"In this compromise, there are no winners and no losers," said Jean-Claude Juncker, the president of the European Commission, at a news conference. It seems that concessions have been made on all sides. After all, German Chancellor Angela Merkel arrived at the summit saying "there won't be an agreement at all costs." There's indeed no Grexit, but cries that European austerity has won abound in Greece. And yet, perhaps it's really true: There are really no clear winners and no clear losers in this deal. Not yet anyway. Should the measures pull Greece out of recession (so they can start making repayments), then everyone wins. If not, Greece will likely need further bailouts. For now, at least it seems the possibility of introducing a devalued drachma has been averted. But in the words of Jimmy Carter, "Unless both sides win, no agreement can be permanent."
We want to hear what you think about this article. Submit a letter to the editor or write to letters@theatlantic.com.
Bourree Lam
is a former staff writer at
The Atlantic
. She was previously the editor of Freakonomics.com.