Greece's Austerity Dilemma
The outcome of Sunday's referendum was as much a rejection of an ongoing policy as it was disapproval of the Eurogroup's bailout proposals.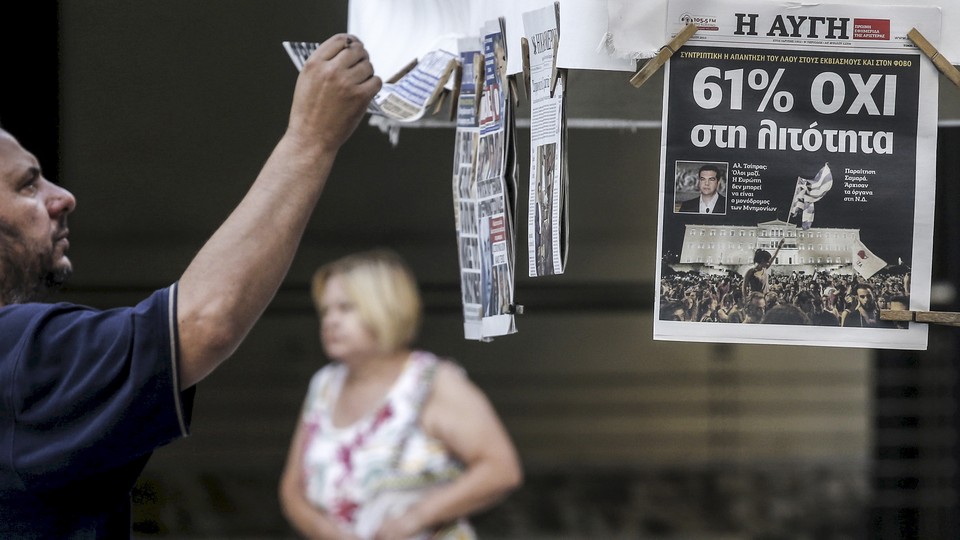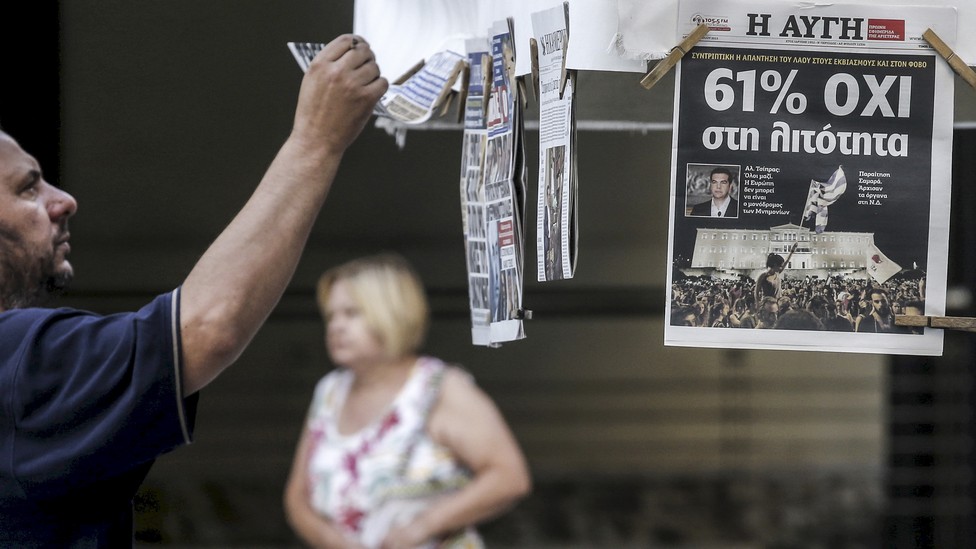 Greece is now in uncharted territory. The final tally of Sunday's referendum had 61 percent of Greeks voting"no" and 39 percent "yes" on whether or not to approve the current bailout plan from Eurogroup leaders. The outcome was a victory for Prime Minister Alexis Tsipras, who had strongly urged citizens to reject the deal—but now Greece must return to the negotiating table to discuss a new plan with its creditors.
On Monday, Greece's finance minister Yanis Varoufakis quit, believing that negotiations might proceed more smoothly if he was absent. He will be succeeded by Euclid Tsakalotos, Greece's deputy foreign minister who also served as the coordinator of the negotiations between Athens and its creditors. Varoufakis posted a statement on his blog that makes clear what Greece is looking for from its creditors: "It is, therefore, essential that the great capital bestowed upon our government by the splendid NO vote be invested immediately into a YES to a proper resolution—to an agreement that involves debt restructuring, less austerity, redistribution in favor of the needy, and real reforms."
German Chancellor Angela Merkel had
an emergency dinner meeting
with French President Francois Hollande ahead of Tuesday's
Eurogroup meeting
. The two countries have been divided on how to proceed, with France arguing for debt relief while Germany insists on repayment. In
a press conference
following the meeting, Merkel and Hollande both emphasized that the door is still open, but Merkel also made her feelings clear, saying that the last bailout plan was already "a very generous offer."
The
Eurogroup statement
from Jeroen Dijsselbloem after the referendum was more blunt: "This result is very regrettable for the future of Greece. For recovery of the Greek economy, difficult measures and reforms are inevitable." The
Financial Times
reports that
legality of a Grexit
is also being debated.
According to Reuters
,
Tsipras has been in touch with Vladimir Putin about Sunday's referendum. A statement from the Kremlin earlier today said Putin "expressed support for the Greek people in overcoming the difficulties facing the country," but no plans for financial support from Russia were mentioned. Even before the country went into default, there's been speculation that
Greece has been looking to strengthen geopolitical ties
with Russia, which might prove to be important should there be a Grexit.
The final referendum vote was largely a rejection of austerity and the measures at the heart of the debate on the current Greek debt crisis. The country's unemployment rate is currently 25.6 percent, and GDP has been plummeting since the first bailout, despite optimistic forecasts that predicted the bailout deals would bring the Greek economy back to life.
Even before the referendum, economists have been calling for an end to austerity in Greece. Among them: Joseph Stiglitz, Paul Krugman (who's been at the forefront of arguing against austerity), and Jeffrey Sachs. Though economists were divided on how Greeks should have voted in the referendum, even the ones in the "yes" camp agreed that cuts have gone too far.
Austerity has been called a dangerous idea precisely because it doesn't seem to reduce debt. However, the European Central Bank published a paper earlier this year which argues the opposite. The debate over whether austerity actually works was reignited two years ago when a group of researchers found flawed data in one of the proofs that suggested its efficacy—Reinhart-Rogoff's "Growth in a Time of Debt."
What struck me while I was writing is that Germany is really the single best example of a country that, throughout its history, has never repaid its external debt. Neither after the First nor the Second World War. However, it has frequently made other nations pay up, such as after the Franco-Prussian War of 1870, when it demanded massive reparations from France and indeed received them. The French state suffered for decades under this debt. The history of public debt is full of irony. It rarely follows our ideas of order and justice.
Banks in Greece will remain closed until Wednesday, and withdrawals are still limited to 60 euros a day. The European Central Bank has just
added extra pressure
to Greek banks by raising
haircuts
(the discount on Greek collateral posted in order to access emergency funding), which affects the amount of emergency liquidity assistance—which is
the only source of financing
for Greek banks at the moment. On Tuesday, Greece will be expected to put forth a plan for new negotiations. It seems that Greece is now on another deadline: making a deal before their banks collapse.