Is Running for President Donald Trump's Worst Business Decision Yet?
The Republican hopeful's comments about Hispanics have been disastrous for his brand and reputation, which he values at an outlandish $3.3 billion.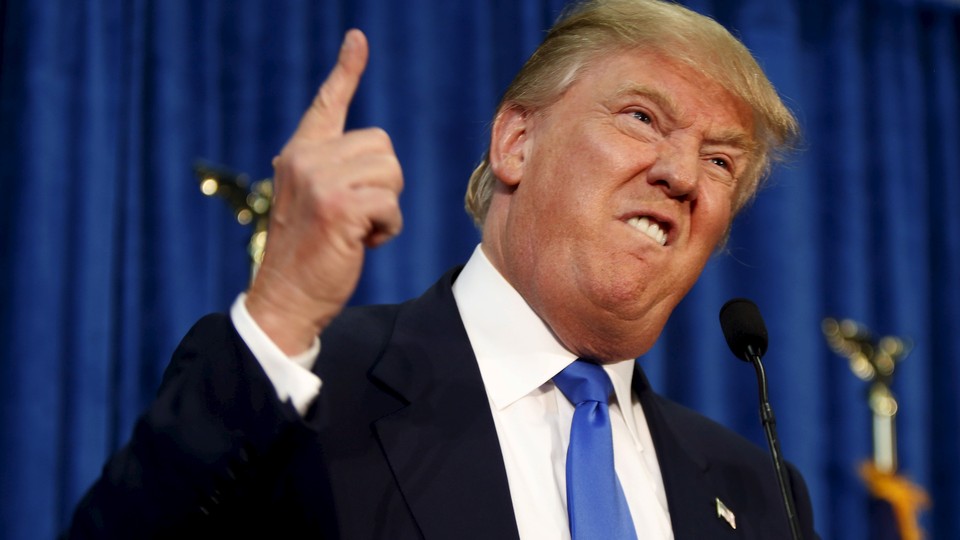 Donald Trump's run for the presidency is premised on one fact above all: He's a fabulously successful businessman. And yet, paradoxically, running for president may be the most disastrous business decision he's made—or, at the very least, his worst in a while.
The trouble started with Trump's rambling announcement speech on June 16. "When Mexico sends its people, they're not sending the best," Trump said of immigrants to the United States. "They're sending people that have lots of problems and they're bringing those problems. They're bringing drugs, they're bringing crime. They're rapists and some, I assume, are good people, but I speak to border guards and they're telling us what we're getting."
Those comments have proved costly. On June 25, Univision announced it would not air the Miss USA pageant, which Trump partly owns, due to his remarks. The network's five-year contract was reportedly worth $13 million. Trump, in typical fashion, sued Univision for $500 million.
On June 29, NBC followed suit. In a statement that launched a thousand bad "You're fired!" headlines, the network that once aired Trump's Apprentice and also Miss USA and Miss Universe said it was cutting ties and ending those programs. Trump says he'll sue.
On Wednesday, Macy's also announced it was dropping the Trump-branded line of clothing. "We are disappointed and distressed by recent remarks about immigrants from Mexico. We do not believe the disparaging characterizations portray an accurate picture of the many Mexicans, Mexican Americans and Latinos who have made so many valuable contributions to the success of our nation," Macy's said. (Trump claimed the decision was his own.)
Late Wednesday, Serta announced it would no longer sell the Trump Home mattress, a product no one even knew existed. The city of New York is also reviewing its dealings with the magnate related to a $230 million golf course in the Bronx.
It's unclear what the value of Trump's NBC, Macy's, and Serta deals were, but it's a safe bet that altogether they're a bigger deal to Trump than they are to any one of those corporations. Macy's made $10 billion last year; NBC made more than a billion. Taking into account the value of the Univision contract, the total numbers seem likely to be somewhere in the tens of millions—hardly chump change, but not a serious hit for someone who claims to be worth $9 billion, as Trump does.
Of course, Trump's $9 billion claim isn't taken very seriously by very many people. In 2005, New York Times reporter Timothy O'Brien dug deep into Trump's finances and estimated his actual value in the low hundreds of millions—enough to qualify him as "really rich," in his words, but far, far short of billionaire territory. (Trump sued, naturally; he lost.) Trump also has a history of business troubles, to go along with some notable successes; he has filed for corporate bankruptcy four times and according to O'Brien had to ask his siblings to float him loans in the 1990s. They didn't believe he'd repay them.
How did Trump get from $250 million, the upper end of O'Brien's range, in 2005 to $9 billion today? It's been 10 years, and an already-wealthy person can make a lot of money in 10 years, but that decade also included a massive economic slump, a crisis in real estate (putatively Trump's core business), and a 2009 declaration of Chapter 11 bankruptcy by his casino group. One way to get to the $9 billion figure is that, as Jordan Weissmann highlighted, Trump estimates that the value of his name alone is worth more than a third of that:
The braying reality show host makes a decent amount of money licensing his brand for use on an array of different merchandise—think ties at Macy's—as well as to developers around the world, who pay for the right to plaster the Trump logo on their condos and hotels. Trump does not actually build or own these properties, though his company does have contracts to manage some of the hotels that bear his name. On his financial statement, this line of business shows up as "Real Estate Licensing Deals, Brand and Branded Developments" at a precise value of $3,320,020,000, more precious supposedly than all of the golf clubs and resorts he actually owns in full, or his portfolio of commercial properties.
The thing about Trump's comments about Mexicans and his clumsy attempts at clean-up since is that they don't just hurt him directly, in the loss of earnings from the Miss USA contest or any of those ties and shirts; they also degrade the value of his brand and reputation. So even if you take Trump's self-valuation at face value, you can see how his comments about Mexican immigrants have been costly.
"Everybody feels I'm doing this just to have fun or because it's good for the brand," Trump told The Washington Post in February. "Well, it's not fun. I'm not doing this for enjoyment."
And now he has validated his own point in an unfortunate way: By any measure, the campaign has been terrible for his brand.