Contractor Versus Employee
Not every company in the sharing economy treats its workers as Uber-ish freelancers.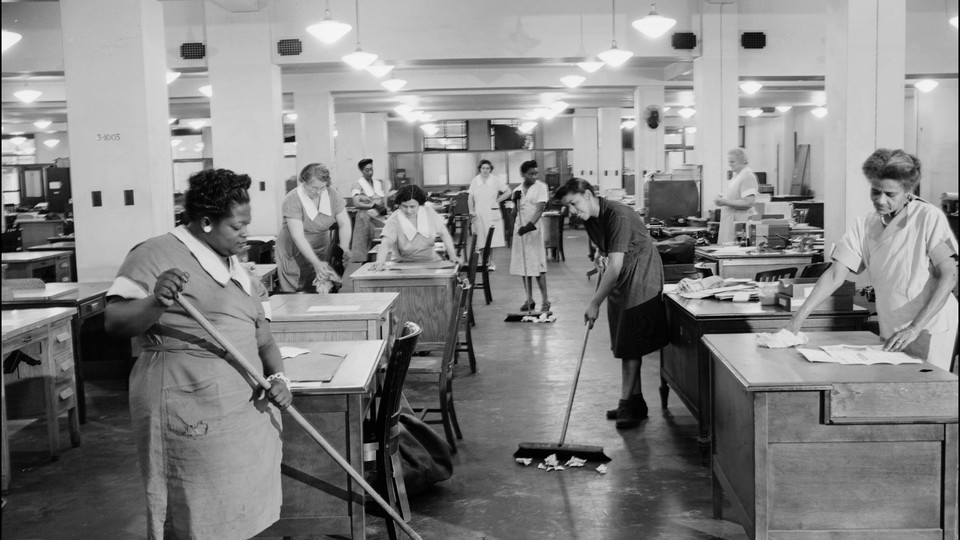 The "sharing" economy, as it's called, got a nasty shock this week when Homejoy, a national home-cleaning company, announced it was shutting down at month's end. The cause? Because it faced four lawsuits over classifying its cleaners as contract workers instead of as employees, CEO Adora Cheung explained, the company could no longer raise money from investors.
Uber faces a similar existential threat. In June, the California Labor Commission ruled that an Uber taxi driver is really an employee not a freelance driver. This has contributed to pressure within the sharing economy, which relies heavily on contract employees, to think differently about its workforce. CEO Ron Johnson of the startup Enjoy, a website that sells high-tech gadgets, recently told The New York Times he thought it most sensible for his company's bottom line to consider all workers to be employees not contractors. "I'd rather be taking the high road from day one," the former Apple and J.C. Penney executive said, "and not be subject to that business risk" associated with the possibility of regulation.
A company that's already an expert in this debate is an office-cleaning startup called Managed by Q. Launched just 15 months ago, the company decided early on to hire its janitorial employees as salaried workers, with the same access to benefits as the company's engineers, who keep office-cleaners ("operators," in the company's parlance) in touch with building managers. Currently, Managed by Q—named for the character in the James Bond adventures who helps spy missions from behind the scenes—employs roughly 200 workers. It has raised more than $17 million in startup funding and offers cleaning and other building-maintenance services in New York, Chicago, and San Francisco.
National Journal recently spoke with Managed by Q co-founder Dan Teran, a former Baltimore community organizer and product designer, about the company's decision to hire all of its workers as employees and the implications for this growing sector of the U.S. economy. Edited excerpts:
NJ: How did you decide to make your workers employees instead of contractors, like so many companies in the sharing economy?
Teran: It was a decision made in the fall of last year. We realized that the Uber model would not be the right one for us, so I started looking at companies like Starbucks and Trader Joe's—places that historically have been good employers. It became clear that, to be successful in the long run, we needed to not have a division between people who work in the field and people who work in the office, and to be able to create career paths and opportunities to fuse the two. That boils down to how we recruit, train, and think about people's careers. It is a huge priority, especially now as we start to scale, to make it an enduring and sustainable company.
NJ: Why would the Uber model not work for Managed by Q?
Teran: When you're dealing with contractors, you can't schedule them for reoccurring work. And, for us, it is so much about the relationship between the operator and the output. The operator really becomes the caretaker of the space. There is a constant flow of information back and forth between the [office-cleaner] and the people who are there during the day, which historically has not existed.
NJ: What is the average starting wage for an office-cleaner?
Teran: In New York City, it is $12.50 an hour. Assuming someone works more than 30 hours a week, they are considered full-time. They have full health benefits, 100 percent covered by the company, and access to the company 401(k). The plans that are available to the cleaners are identical to the ones the engineers get.
NJ: How do cleaners move up in the company? It seems like there would be a big divide between being a cleaner and being an engineer.
Teran: It is one thing we are working on now. People come into the company as a trainee, and then they become an operator and have their own accounts. From there, they can become a senior operator. Then we have mentors, who have their own accounts, but they're sent trainees as part of the training system, so it is the next level of responsibility. Then, you get promoted to being a supervisor, where you're doing quality-assurance checks throughout the night—essentially moving into a management role. No one wants to walk into a dead-end job that is labeled as a dead-end job. So creating opportunities for advancement is huge.
We are doing leadership training and conflict-resolution training for people who have very low education levels, empirically speaking. But, they have huge potential, so it is on us to be able to bring out the best in everyone. It is a lot easier to train and to hire internally than it is to try to find people to come in from the outside who don't understand the culture.
NJ: Some executives within the sharing economy argue that hiring workers as employees would impede the companies' growth. Is that your experience?
Teran: We're having an easier time attracting talent than people who do not do this. What you essentially do when you hire contract workers is that you externalize the complexity of the workers, and so you're not responsible for anything for them except for a rate [of pay]. When you take them on as true employees, you're responsible for a lot more—whether it is health insurance or unemployment or disability, your contribution to taxes. And so, building the infrastructure to be able to handle all of that is definitely a lift. It's not insurmountable.
NJ: As the founder of a sharing-economy company, what do you see as the future of that sector—especially for its workers?
Teran: Because the on-demand economy was born in the worst economy in anyone's memory, now we are reaching much higher employment levels, and it is just harder to get good people. You have to get competitive. On-demand employers can claim to be competitive because of flexibility, but we also allow flexibility. So, my hope is that—fingers crossed—as employment rises, that employers will have to be more competitive, and it will end up benefiting workers.
Also, peppered in there is some regulatory stuff. The California Labor Commission ruling about Uber was kind of like the shot heard around the world, and so, since then, numerous other companies have made the shift.
NJ: And what do you want to do next with Managed by Q?
Teran: Saman [Rahmanian, the company's other co-founder] and I are both product designers by background, and we're both very focused on building the best products in the world, and that includes our workforce. The trick isn't to do it with 50 people. The trick is to do it with 5,000 people. Can we be the best employer and then scale it to new markets?