Citigroup's Investment in Soon-to-Be Citizens
By supporting a microloan program to cover citizenship fees, the megabank tries to appeal to immigrants.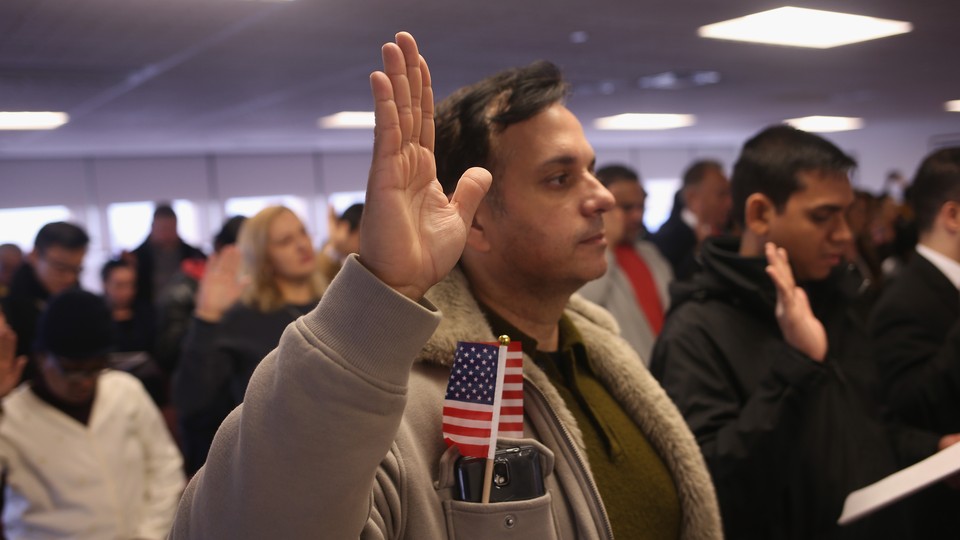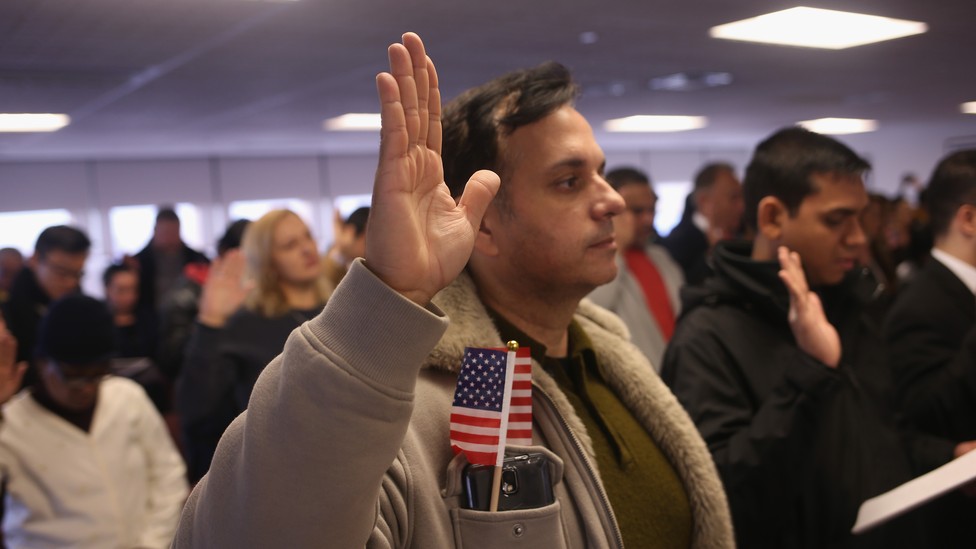 After living in the United States for nearly a decade and a half, Juan de la Rosa Martinez knew he was ready to become a citizen. The 49-year-old general contractor—originally from Argentina but now living in a Maryland suburb of Washington—was seeking more stability in his adopted homeland. He and his wife also wanted to be certain their two teenage children would have access to any government benefits they might need someday.
The citizenship application fees, however, presented a challenge. Although he earned roughly $44,000 a year as a contractor, renovating bathrooms and kitchens, the fees for himself and his wife amounted to $1,360.
"I have income, but it's not liquid because I have expenses, like building materials," he says. "I didn't have the money available."
He found a solution through CASA de Maryland, an established nonprofit organization that serves immigrants throughout the state. The program squared with CASA's mission; since 1985, the group has advocated for Latino immigrants, such as by offering English classes and by finding sites for day laborers to gather. In 2011, CASA started a partnership with Citigroup to offer microloans to cover the fees for immigrants who apply for U.S. citizenship.
In recent years, the banking company has given more than $1 million to CASA for its immigration work, including a $100,000 grant this year for the group's efforts to promote citizenship. For Citigroup, the program is a farsighted effort to curry favor with new Americans who might well become financial customers. One of every seven Marylanders is foreign-born; in New York, where Citi also sponsors citizenship programs, the proportion is one-in-three. Among immigrants who aren't citizens, 23 percent don't use a bank, according to a 2013 report by the Federal Deposit Insurance Corp., but the figure shrinks for naturalized citizens to just 5 percent. For a bank, more citizens means more business.
It's surprising, in fact, that so few immigrants bother to seek citizenship, a status that confers immunity from deportation, the right to vote, and the possibility of federal aid for college. Only about 60 percent of eligible immigrants were naturalized in 2011, according to the Pew Research Center's latest statistics. Roughly 10 million people passed up the opportunity to apply, more than half of them from Latin America or the Caribbean.
Many immigrants are deterred by language barriers or simply a lack of interest. But for some, an obstacle is the cost of applying. Of the 3,300 people CASA has helped with citizenship applications since Citi got involved, about 400 applicants have asked for a six- or nine-month loan to cover the $680 application fee.
The program's bigger success is that it helps explain the value of citizenship to immigrants and demystifies the application process, according to Bob Annibale, global director of Citi Community Development. Some of the immigrants who ask about microloans find they're eligible for a waiver in fees or can borrow the money from their family. But even if the loan isn't necessary in the end, Annibale points out, its availability makes citizenship seem more attainable.
And Citi wants to be there to help. For immigrants who go through the emotional process of changing their citizenship, "it's clearly not just building a national identity and becoming an American," Annibale explains. "They're building a financial identity."
George Escobar, senior director of health and human services for CASA de Maryland, acknowledges Citi's business interest in helping immigrants gain access to credit. But, he adds, "they ultimately want to see a program that just helps generate citizens."
While the loans themselves are underwritten by two community development financial institutions, funds from Citi have been used to administer the program, including staffing for financial education, coordinating the loan program, and monitoring payments. The bank gets a branding boost, too: some program materials clearly state Citi's involvement as one of the backers, according to Escobar. Citi doesn't have branches in Maryland, but it has credit cards and other financial products available to consumers across the country.
"Yes, there's an interest that a financial institution might see from folks that now have a more stable credit rating and they're able to apply for more products," Escobar said. "That's what this economy is built on."
For immigrants who take advantage of the Citi-supported microloan program, the benefits can exceed the obvious. Martinez and his wife took out a loan for their fees last summer and paid it back within six months. Better than the interest rate of 9 percent, in Martinez's mind, was the chance to improve his credit rating, bringing him one step closer to his goal of purchasing a home.
Millions more may find themselves in search of a bank and a credit rating if President Obama succeeds in his attempt, so far stymied by the courts, to let a roughly 4 million undocumented immigrants apply for work permits and avoid deportation. "The biggest bang for the buck comes from the population that has been in the shadows until this point," CASA's Escobar says. "Their access to credit resources is zero. Their ability to create a credit history is zero. ... We're very happy to connect them."
Consider the business possibilities posed by the likes of Maria Faciolince, a 62-year-old grandmother from Colombia who took out a citizenship loan. She works at a U.S. naval facility in Bethesda, Maryland, which prefers its workers to be citizens. Even more important to her is exercising the right to vote—"to participate in the political process" so that her daughter and grandchildren, who live with her, will thrive. She paid off the loan in March; her citizenship interview is scheduled for July.
She has told friends who might be eligible for citizenship of her success in obtaining a microloan. "I've already recommended it to two people," she says. "They're in the process, too."
This story has been updated.
Clarification: This piece has been updated to clarify that Citigroup does not service the actual microloans but instead provides financial support for the program. The microloans are serviced by the Latino Economic Development Corporation and the Ethiopian Community Development Council/ Enterprise Development Group.