How Chicago Is Trying to Integrate Its Suburbs
The city, long divided into black and white neighborhoods, is asking affluent counties to pitch in.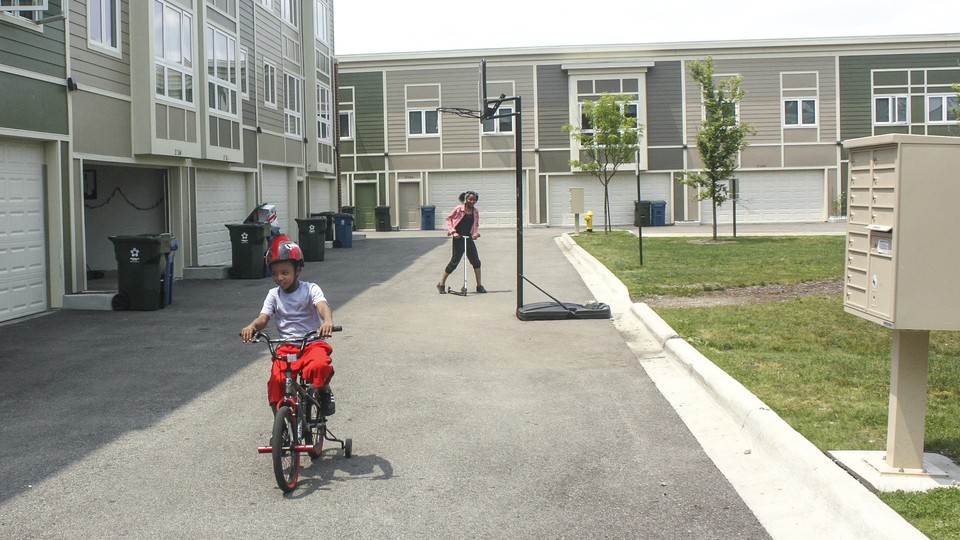 GLENVIEW, Ill.—This town boasts stellar schools, two golf courses, a children's museum, and the corporate offices of a handful of big companies, including Kraft Foods. Many wealthy, white communities like this one would not welcome an affordable housing development. Perhaps residents wouldn't say so outright, but instead they might pass laws prohibiting apartment buildings or deny permits to units targeted at low-income people.
But that's not the case here. A 20-unit development called Greenleaf Manor, with most of the units set aside for low-income people, was completed early last year. Some of the units can only be rented to people who hold Section 8 vouchers, a class of people that landlords in the suburbs often avoid. And the building, which looks like new condo construction, was completed without a peep of objection from the wealthy town where it is located.
How did this happen? Why is an affluent suburb like Glenview open to the sort of development other similar places have shut down?
The answer is a novel collaboration among Cook County and a group of other counties in the Chicago region, including suburban DuPage, McHenry, Lake, and Waukegan. These counties have created a mechanism for pooling their resources so that low-income people who would normally live in the urban core of Chicago can move to more rural and suburban areas. As housing advocates criticize the Housing Choice Voucher program, colloquially known as Section 8, for segregating poor residents in high-poverty neighborhoods, the Chicago collaboration could provide a model for how to make Section 8 work.
The collaboration began in 2002, when the Chicago Housing Authority and the housing authorities of Lake and Cook Counties created a collaboration called the Regional Housing Initiative (RHI). Its goal was to spearhead the construction of affordable housing in "opportunity areas," which are essentially middle- or upper-income neighborhoods with good schools and safe streets. Today there are nine public housing authorities that participate in the collaborative.
Here's how it works: Through the Regional Housing Initiative, the housing authorities pool a portion of their Section 8-voucher funds and use that money to subsidize the construction of affordable developments in areas with a low poverty rate, a high homeownership rate, good schools, and access to jobs. The Section 8 units in those developments are then accessible to voucher-holders from all of the participating counties, and many of the other units are set aside for low-income people.
Developments Built Through the Regional Housing Initiative
Typically, small counties and towns don't have enough voucher funds to underwrite projects like these developments—before the collaboration, no suburban housing authority in Chicago had built affordable housing with voucher funds. Chicago, on the other hand, has the most vouchers in the region by far, but does not have many options for new housing in safe, high-opportunity neighborhoods. By pooling resources and allowing voucher-holders to move across the entire area, the Regional Housing Initiative has given poorer people access to towns and communities they would have otherwise been excluded from.
This has a number of benefits. It guarantees that voucher-holders will be able to find units in good neighborhoods. It helps finance construction of mixed-income units in the suburbs, where the price of land often makes it tough to do affordable developments. When the state of Illinois distributes low-income housing tax credits, which are essential for developers who want to build affordable housing without losing money, it favors projects that have Section 8 units, so these units are also more likely to get funded than, for example, affordable units in struggling neighborhoods with no Section 8 units.
The project has been responsible for building 2,047 new apartment units in 30 developments since then. About 467 of those units are reserved for residents making less than half of the area median income. The units are all over the area, including in tony suburbs like Glenview.
"It's really in some ways a workaround that we've created in the Chicago area to create more affordable and mixed-income housing in suburban opportunity areas," Breann Gala, a project manager at the Metropolitan Planning Council, which helps run the RHI, told me. "We see this as a tool for both de-concentrating poverty and promoting access to opportunity."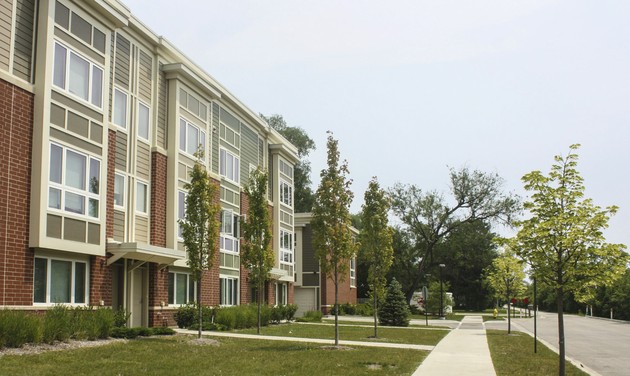 The program has helped people like Denise Boyd, who lived in the North Side of Chicago, in an apartment building that she said got a little too busy at night. When she got off the Section 8 waiting list two years, ago, she says, she was skeptical about the idea of moving to Glenview.
Her kids liked the Chicago school they were in and had friends there, and Boyd goes to church frequently and didn't like the idea of a 45-minute drive, or more, just to get to church.
But then she visited Glenview and loved the trees and flowers in the Glenview building, which has a community garden and a big lawn. The stores are nicer in Glenview, she said, and the schools are excellent, too.
"Adults have to realize, when you have kids, it's all about your children now," she told me. "You have to make sure your children are happy and safe."
While RHI has been effective at convincing both suburban and urban housing authorities to participate in the program, other factors helped too. For example, the recession of 2008 meant that developers had parcels of land that they couldn't offload, and were amenable to selling them to people interested in building affordable housing for fair prices. The recession also meant that many municipalities were looking for ways to encourage building on land that had once been zoned for manufacturing or business. The town of Crystal Lake, for instance, changed some zoning laws during the recession to allow the construction of certain apartment units, and the town now has a 60-unit development—many of which are affordable—complete with a pool, volleyball courts, and an exercise center.
"Local towns are now more open to non-traditional uses of suburban land," Julie Biel Claussen, the head of the McHenry County Housing Authority, told me.
Before the Crystal Lake project was built, suburban residents worried that affordable housing would look like Cabrini Green, Claussen said. But now that affordable units have been built through the Regional Housing Initiative, residents have been complimenting the townhouses going up, not even knowing the units are for low-income residents.
"It's a great way to show that affordable housing isn't just a warehouse of poor people," she said.
Housing advocates have long debated the merits of moving low-income families from high-poverty urban areas to suburbs like Glenview. The move can be challenging for families, who leave behind family and friends and enter a new, affluent world. But the research is increasingly conclusive: Living in a "good" zip code dramatically improves kids' chances of going to college, getting a good job, and escaping poverty.
And yet, it can be hard to convince voucher-holders to move to the suburbs. Boyd worried that she would face racism, and that her children wouldn't like being among only a handful of black kids at their school. Boyd says the move was difficult—her kids miss their friends, and Boyd's own friends who use public transit never come out to visit, because it's so difficult to get to Glenview. She still hasn't found a church she likes—the ones in Glenview are "Catholic or Matholic or who knows what," she joked. (To help with these sorts of difficulties, the Regional Housing Initiative is testing a program that will give voucher-holders money to move to high opportunity areas, and should have some results by the fall.)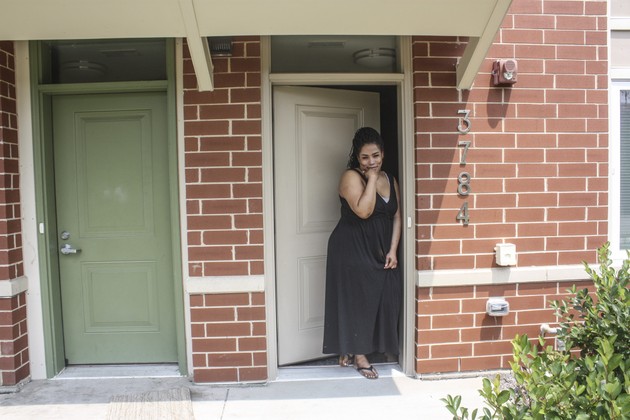 But Boyd, who has a disabled son, says all of those obstacles are nothing compared to the piece of mind she's gotten living in a quiet area with good schools. The move might have been difficult, but it will lead to better life outcomes for her children, she said.
Boyd now joins the ranks of hundreds of low-income Chicago families who have helped test new housing strategies. For half a century, Chicago was a prime example of how housing policy could perpetuate segregation. Its public-housing authority built new complexes in predominantly black areas as white areas refused to approve new public housing, a practice that led to a lawsuit in 1969. As part of a settlement, the Gautreaux program moved more than 3,000 black families to the suburbs. Later, a program known as Moving to Opportunity sought to do the same thing. But when studies raised questions about the effectiveness of these programs, they ended. Instead, the majority of families lived in complexes not all too different from the infamous Cabrini Green, and when that was dismantled, they moved to other majority-black, low-income neighborhoods.
But by 2002, business leaders and suburban mayors were recognizing that the segregation of low-income residents in the urban core was holding back the region's economy. Companies located in the suburbs couldn't find entry-level service workers, and when they did, those workers would have hours-long commutes through heavy traffic, and would have problems getting to work in inclement weather. The Regional Housing Initiative was founded with the goal of creating more affordable housing for low-income workers in the suburbs.
"We're increasingly seeing this as a strategy that's not just about individual gains, but really about the aggregate economic impact of the whole region," said Marisa Novara, with the Metropolitan Planning Council. "Knowing that we need low- and high-skilled labor to be able to converge around jobs, we need people of different incomes to be able to live around the region."