America's $300 Million Salad Industry
"There's a lot of good regional brands, but there's no national player. So the race is who's going to be the national player for salads."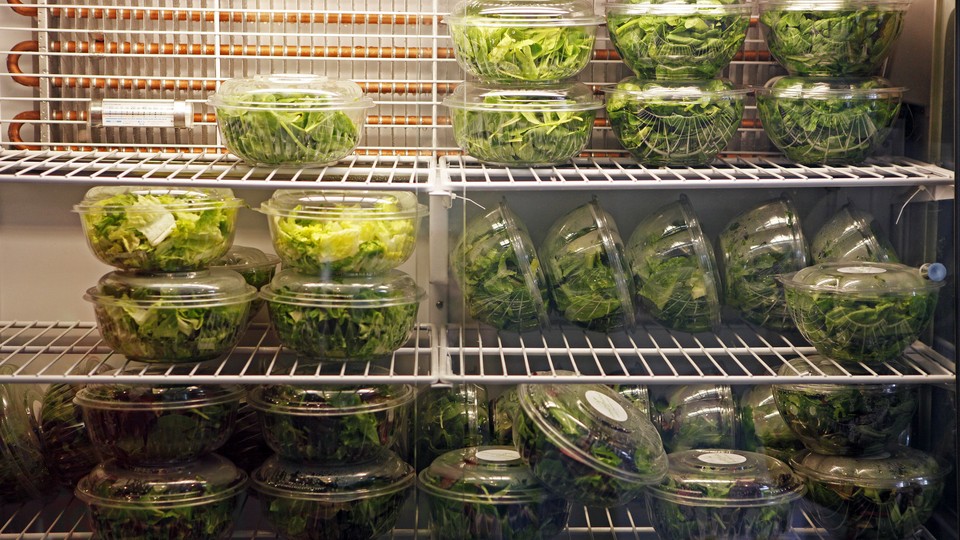 Salad is hardly new. According to historians, ancient Greeks and Romans had oil-based dressing on raw vegetable. The poet Virgil describes a rustic salad made of herbs, vinegar, and cheese. Oregano-flavored olive oil—suspected to be for salad dressing—was discovered in a 2,400 year old shipwreck in the Aegean Sea.
But despite its ancient roots, America's salad sector wasn't always so vibrant. Paul Steck, President and CEO of Saladworks, remembers when people weren't so excited about greens. The chain started in 1986 and has more than 100 franchise stores in 15 states; the company emerged from bankruptcy earlier this year.
"We were founded 28 years ago," said Steck. "At the time, salads were essentially a side dish ... the old-school knock was that salad is rabbit food. The modern salad is anything but."
In recent years, salads have become big business in the booming fast-casual restaurant category. "The made-to-order salad market is overall doing very well," says Nick Kenner, Founder and CEO of the chain Just Salad.
One industry report found that salad shops were earning more than $300 million in 2014, with some salad chains in the country experiencing double digit percentage growth in sales. Saladworks reported $75 million in sales in 2014, and the chain Chop't reportedly averages $2-3 million in revenue per location, annually.
"We've tripled the number of our stores in the last two years, that tells you two things: First that our stores are profitable … and number two is the sheer demand," says Alex Perez of Fresh & Co., a salad and prepared-foods chain in Manhattan.
Investors also seem confident. The salad chain Sweetgreen surprised the tech industry when it announced it raised $18.5 million in venture-capital financing. This week, the company announced another $35 million of funding, taking their fundraising to a grand total of  $95 million.
Jon Neman, Sweetgreen's co-CEO and co-founder, attributes this to a growing customer base. "When we started it was much more of a niche way of eating, it was definitely on the fringe," he says. "Even when you look at the customers, it was a very specific group of people who were very health minded. Almost eight years later, it has really moved into the mainstream."
Made-to-order salads have become especially in-demand during lunch (a fact that's obvious to anyone who has stood in line for a salad recently). But stores are also seeing more business at dinner time. Kenner, of Just Salad, says that sales during dinner hours have been growing rapidly, especially on weeknights when consumers want lighter meals.
But why are salad chains the only restaurants cashing in on consumer desire for healthier meals? It seems that they have an edge on traditional stores. A few years ago, McDonald's disclosed to investors that salads made up only 2 to 3 percent of total sales. A leaked internal memo urged staff not to promote side salads.
"Doing salad right is much more difficult than a lot other food cuisines," says Kenner.
Perez on the other hand, says that displaying salads correctly is key: "When you go to a traditional fast-food restaurant, their salads do not look attractive or appealing. They don't catch your eye … and consumers purchase with their eyes," he says. "Whether it's a pre-packaged [or customized] salad, it has to be in a spot where consumers can touch it and experience it."
Success means that competition is ramping up in the industry, with shops expanding their base both locally and regionally. Steck says the growth of made-to-order salad shops, as well as competition, has been on the rise for more than a decade: "There has been a real boom, we didn't have a single competitor that we could identify in the country [in the early 2000s] and now I could probably identify 50," says Steck.
Steck believes that the next phase is seeing if a brand can surpass local and regional success: "There's a lot of  good regional brands, but there's no national player. So the race is who's going to be the national player for salads."
Salad chains have already started to differentiate through both branding and offerings: premium items such as free-range chicken or sustainable seafood, or Sweetgreen offers a music festival. Another competitor on the horizon is upscale grocery shops such as Whole Foods, which offers prepackaged salads but have yet to branch into customized ones beyond the make-your-own at the salad bar. Saladworks, Sweetgreen, Just Salad, and Fresh & Co. are all planning on multiple store expansions in the upcoming year.
But whether new competition crops up from the big players or more local ones, the salad industry seems optimistic that sales will stay high as long as customers still care about healthy living. Across the board, salad CEOs agree that interest in having a healthy lunch is only growing, which will expand their customer base.
"I definitely think there's room for growth. I think there are going to be many places to get healthy food but I don't think that's an issue for us," says Neman of Sweetgreen. "More people offering salads and healthy food might actually help us. It would generally promote the idea of healthy eating and living."