The ideal age to retire falls somewhere between the ages of 60 to 65, according to a new Allstate/National Journal Heartland Monitor Poll. Retiring then works best, poll respondents say, because it's the sweet spot for both age and finances. People are young, healthy, and financially secure enough then to enjoy their time.
"You've got at least 20 good years after that to pursue whatever else would make you happy," says Barbara Arganbright, 60, of Parma, New York, who plans to retire within the next five years.
But poll respondents split on the question of whether they'll be able to get to a secure retirement. Only 29 percent of those surveyed expect to retire within that ideal 60-65 age range, and those differing expectations fall mostly along class lines, especially when it comes to education and income. Half of those who describe themselves as middle class and two-thirds of those in the upper class expect to retire at their ideal retirement age. About a third of those who identify in the lower or lower-middle class expect the same.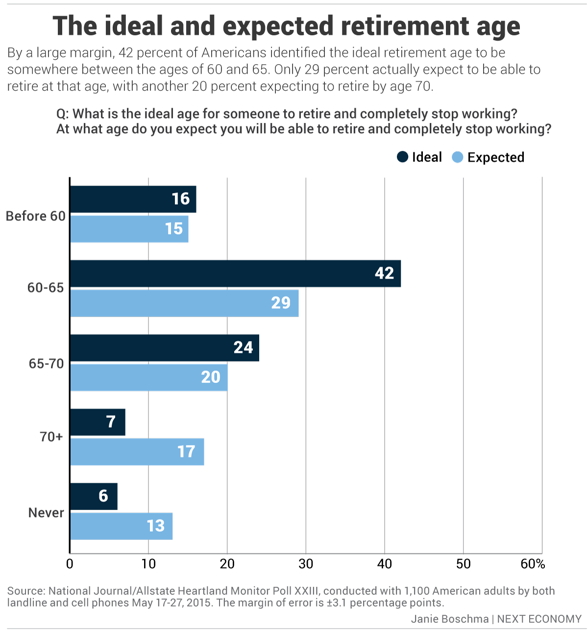 Respondents making at least $100,000 a year were the biggest group who expected to retire in that 60-65 age range, while those making $30,000 or less were most likely to say that they might never retire. Similarly, 22 percent of those who describe themselves as lower class don't expect to retire, a six- to 12- point gap among those who identified themselves in higher class groups.