Obama's Stalled Recovery
Though the president has revived from his second-term nadir, he shows little momentum in new Heartland Poll.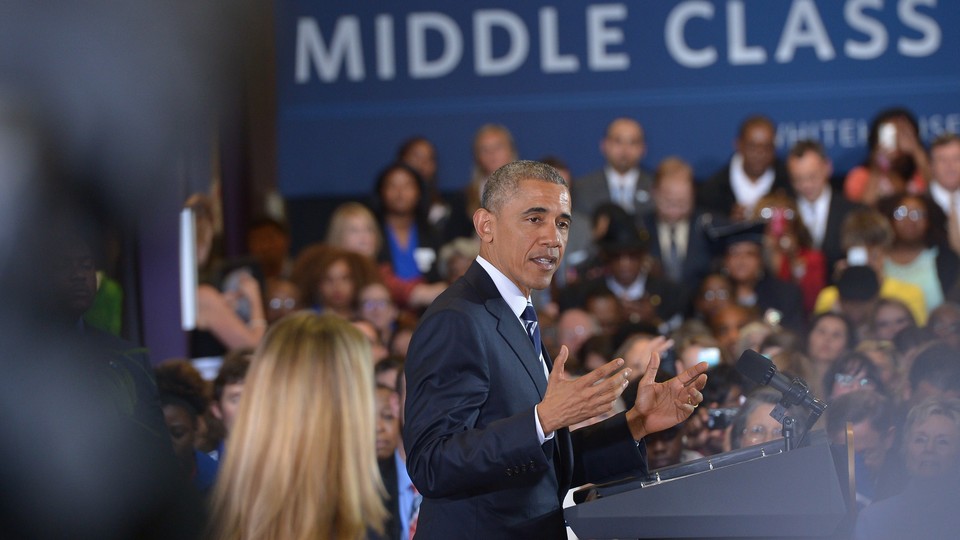 Stuck in second gear.
That might be the best description of American attitudes toward President Obama's performance and the economy's direction in the latest Allstate/National Journal Heartland Monitor Poll.
Compared with earlier in Obama's second term, more Americans now approve of his job performance. More also expect their personal financial situation to improve over the next year. But, even so, less than half of Americans express positive views on either question in the new survey, and neither shows significant improvement since the most recent Heartland Poll in February. The overall picture from the survey is that while Obama has clearly emerged from the lowest point of his second term, his climb to recovery remains labored, with no evidence of momentum or acceleration.
The best news for the White House in the new survey is the slow but continuing brightening of Americans' expectations for their personal finances. In the October 2014 Heartland Monitor, just 38 percent of adults said they expected their finances to improve over the next year. That rose to 44 percent in the February 2015 poll, and inched up further to 47 percent in the latest survey. Since October 2014, the share of adults who expect their finances to deteriorate over the next year has remained statistically unchanged—11 percent then, 10 percent now—while the percentage that expect no change has dropped from 47 percent then to 42 percent now.
This change reflects modest but broad-based gains across a diverse range of groups. Since the October 2014 poll, the share of adults expecting their finances to improve over the next year has increased 7 percentage points among whites, 10 points among nonwhites, 10 points among Republicans, 6 points among independents, and 8 points among Democrats. Overall, the 39 percent of whites who expect their finances to improve over the next 12 months ties the result in June 2013 as the best of Obama's second term; among nonwhites, the 64 percent who expect improvement in the latest survey trails only the 67 percent in June 2013 as his best second-term result.
Tenise Brown, a 25-year-old African-American single mother in Cleveland, is one of the optimistic. Brown recently left her job in customer service for a bank to care for a sick daughter, but she's confident she will find a new job once her child's health stabilizes. "He's creating more jobs and creating opportunities to get another job and not increasing taxes," she said. "In Cleveland, we have a bunch of jobs downtown that I didn't know about that are just coming about. He's giving me the opportunity to get ahead."
On most other relevant measures, though, the poll found Obama either essentially idling in place or drifting downhill. His approval rating in the survey stood at 46 percent, unchanged since February (though higher than his 41 percent last October). His disapproval rating inched down to 46 percent in the new survey, a statistically insignificant gain of 2 points since his 48 percent showing in February. Modest as those gains may be, Obama's showing in the new poll of 46 percent approving and 46 percent disapproving marked the first time since June 2013 that the share of Americans who disapproved of his performance did not exceed the share that approved.
Obama's performance continues to sharply divide Americans across racial, class, and generational lines. While 66 percent of minorities gave him positive marks, only 37 percent of whites concurred. That showing among whites was unchanged since February; Obama's approval among whites has not surpassed 37 percent in any Heartland Poll during his second term except June 2013.
And while Obama received positive marks from 46 percent of whites holding at least a four-year college degree—which marked continued slight progress for him—only 28 percent of noncollege whites approved of his performance. (No more than about one-third of noncollege whites have approved of his performance at any point during his second term.) The generation gap around Obama is stark, too. While 55 percent of millennials approved of his performance and just 35 percent disapproved, the numbers were almost reversed among baby boomers: Only 40 percent approved while 55 percent disapproved.
Tim Renshaw, a 63-year-old retired teacher in New Palestine, Indiana, who says he was "eased out" of his job and is now living "paycheck to paycheck, penny to penny," is one of the older whites disillusioned with Obama. "He hasn't lived up to very many of his promises," Renshaw said. "I've never felt comfortable that he has the country's best interests in mind; he seems to be more attuned to what he wants to create as his legacy. I'm a gun owner, and I have felt the pinch a number of times during his administration, that he's not too fond of us, either."
By contrast, Monica Berry-Dibb, a mental-health-care worker in Massachusetts, reflects Obama's stronger standing among college-educated white women. She gives the president high marks, particularly for the Affordable Care Act, which she says has produced "a lot of improvement" in the care available to those with mental disabilities. Still, her outlook on the economy remains guarded. "There's not improvement across the board," she said. "There's been some improvement for the lower class, and there's been some improvement for the upper class, but everybody in the middle is still having a hard time. There doesn't seem to be a lot of movement there. The economy still needs more help overall."
Obama remained largely stuck in place as well on the question asking Americans to assess his agenda's impact on their economic prospects. Just 28 percent of those surveyed said they believed Obama's agenda would "increase opportunity for people like you to get ahead," while 29 percent said his approach would diminish their opportunities; another 38 percent said they would have no impact. That represented a statistically insignificant deterioration since February when 32 percent thought Obama's agenda would increase their opportunities and an equal number thought he would set them back.
Among whites, just 17 percent say Obama's agenda is increasing their opportunities; that's down from 25 percent in February. Other than that February showing, no Heartland poll in Obama's second term has found more than 22 percent of whites indicating that Obama is expanding their opportunities. In the new poll, 22 percent of college-educated whites and just 13 percent of those without such degrees said he is improving their opportunities. By contrast, 52 percent of nonwhites surveyed said Obama's agenda is expanding their opportunities, the highest rating of his second term.
The generational contrast is striking, too. Among millennials, nearly twice as many say Obama is increasing rather than decreasing their opportunities; among baby boomers, the results run nearly two-to-one in the opposite direction.
Other soundings produced the same lackluster verdict. Only 27 percent of adults say the country is moving in the right direction, down from 33 percent in February. The share that said the country is on the wrong track reached 59 percent in the new survey, up from 54 percent last winter. (Only 20 percent of whites, compared with 42 percent of nonwhites, now say the United States is moving in the right direction.)
Asked to rate the national economy, only 17 percent described it as excellent or good, while 82 percent described it as fair or poor. That represented a chill in the attitude since last winter when 25 percent gave the economy mostly good marks and 73 percent mostly poor ones. Americans showed little change in their verdict on their personal financial situation, with 43 percent describing it as excellent or good, and 56 percent as fair or poor. Except for the June 2013 poll, when 49 percent delivered a positive judgment on their finances, the share rating their condition as excellent or good has varied only between 41 and 46 percent in every Heartland survey since December 2011.
"Things are pretty stagnant," said Kurt Schweinler, a federal farm-loan officer in Emporia, Kansas, who responded to the poll. "I'm one of the lucky ones, I feel like I have a good job and my wife has a good job, we're comfortable. We do have a couple of sons who are struggling, it's hard for them to get ahead and get a good education that's gotten so expensive. It's hard for them to make any progress."
And while that slowly growing 47 percent of those surveyed expected their own financial situation to improve over the next year, just 32 percent are equally optimistic about the national economy. That's unchanged since last February. These expectations divide the generations as sharply as anything in the survey. Millennials (at 36 percent) are slightly more likely than baby boomers (25 percent) to expect the national economy to improve over the next year. But the younger generation is vastly more likely to expect improvement in their personal situation: 67 percent of millennials, compared with just 32 percent of baby boomers, expect to be better off one year from now.
These expectations cast a heavy shadow over Obama's overall standing—which itself will loom large over the 2016 election to replace him. Looking at all adults, Obama's approval rating stood at 59 percent with those who expect their finances to improve over the next year, 38 percent who expect no change, and just 22 percent with those who expect to lose ground. That close correlation underscores how tightly assessments of Obama's performance are bound to expectations about the economy—and how heavily both judgments will weigh on the race to pick his successor.
The latest Allstate/National Journal Heartland Monitor Poll is the 23rd in a series examining how Americans are experiencing the changing economy. This poll explored what Americans consider the best choices in career, family, and community to achieve success in life and how the perspective on those choices of those just starting out compares with older generations. The poll surveyed 900 adults by landline and cell phones from May 17 through 27, 2015, as well as an over-sample of 200 adults aged 18 to 24, also by landline and cell phone. These interviews were then weighted by age, gender, and race/ethnicity to produce a nationally representative sample of 1,000. A national survey of 1,000 respondents has a margin of error of plus or minus 3.1 percentage points.
The survey was supervised by Ed Reilly and Jeremy Ruch of FTI Consulting's Strategic Communications practice.
---
Janie Boschma contributed to this article