A Short History of Rupert Murdoch's Heirs Apparent
Reports say James Murdoch will take a new position that sets him up to assume his father's role. It's not the first time the world has heard that, as any student of Fox's zig-zagging history of succession rumors knows.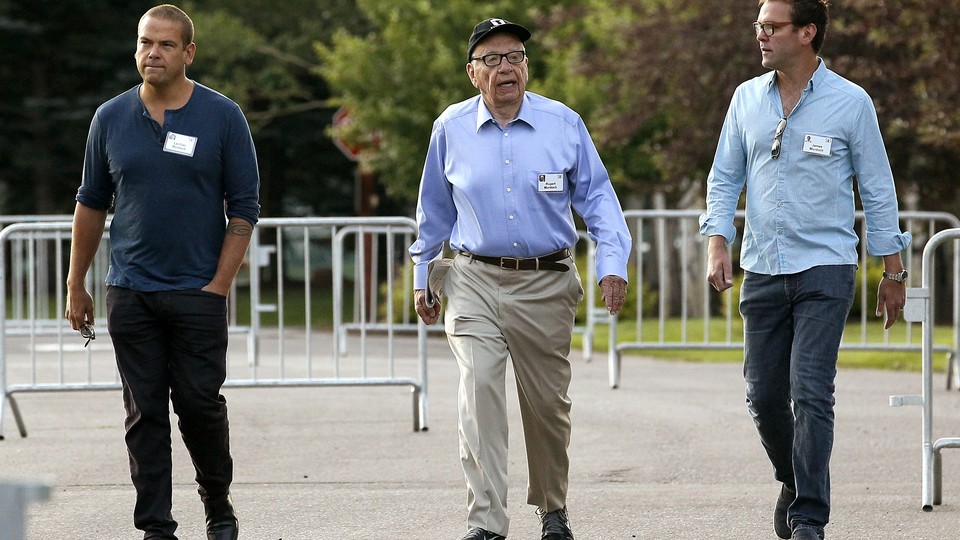 In every empire with an aging monarch, the hint of a new crown price is enough to whip courtiers into a frenzy. So it was Thursday, when CNBC reported, based on inside sources, that James Murdoch, Rupert's son, is being tapped to take his father's chair as CEO of 21st Century Fox.
There's a great deal that's still unclear about the change—for example, when it will happen and exactly what role James Murdoch will play. His older brother Lachlan is also getting a new role, as co-chairman. There's also some questions about how serious a role change this is. The 84-year-old Australian mogul doesn't seem ready to fade off into retirement anytime soon. CNBC cautioned that "no one doubts the elder Murdoch will still have the final say on whatever goes on at Fox." (Markets, apparently not so sure, battered Fox's stock after the news.)
James Murdoch, 42, seems to have survived a near-death experience as head of News International, the British division of the company. (Lachlan is 43.) When the company was investigated in a massive phone-hacking scandal, he was forced to testify before Parliament, was repeatedly accused of being a liar, and eventually resigned. In contrast to the prevailing politics at the company, he is said to be "steadfastly liberal."
But obscure palace intrigue in the Murdoch empire is nothing new. In fact, it's the norm, as a quick trip through old news headlines makes very clear. Let's look back.
That brings us up to the present—though it doesn't even take in every one of the tortuous turns in Fox's drama. Why is there so much controversy? First, as any aging dynast knows, it's wise not to let any successor get too powerful, lest he eclipse the ruler. Second, it's just how Rupert Murdoch rolls, according to veteran Fox-tracker Gabriel Sherman.
"Rupert long ago established a family dynamic where the children fought for his affections. As the brothers ascended the ranks of his empire, they remained intensely competitive with each other," Sherman wrote Thursday. "And now the patriarch is elevating both sons."
In other words, this may not be the last time a new heir apparent takes up his mantle. Don't get too comfortable, James—but then, you knew that.