GE's First Steps Away From Banking
In a move to go back to its industrial roots, the company sells $12 billion in assets to the Canada Pension Plan Investment Board.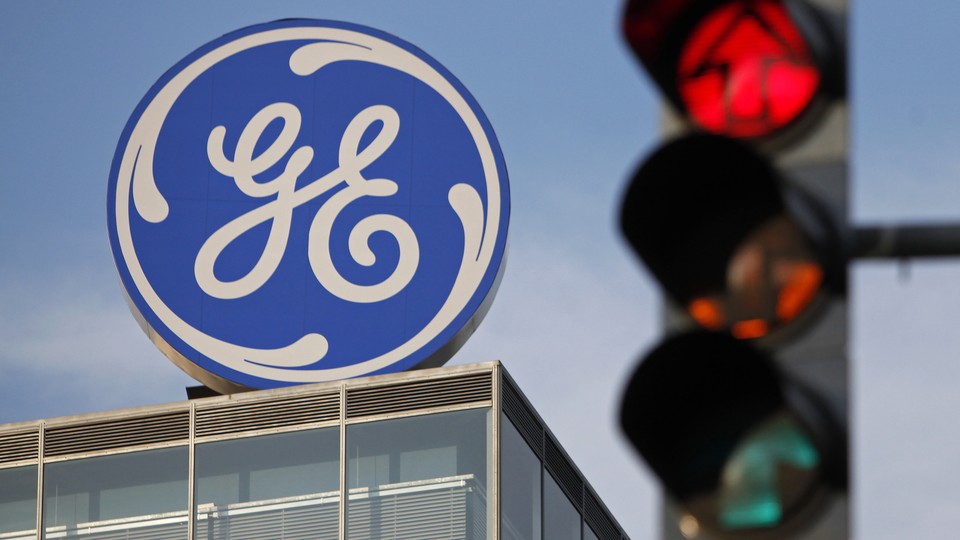 General Electric (GE) will sell its private-equity lending unit to the Canadian Pension Plan Investment Board (CPPIB) in a deal valued at $12 billion. This deal is the first in the company's effort, announced in April, to unload $100 billion of assets from GE Capital by the end of the year. The total assets of GE's finance arm is a number that's currently up for debate, but it's estimated to be in the $300 to $500 billion range.
GE's decision to sell of GE Capital was born of a desire to concentrate on the company's roots: the business of manufacturing equipment for various industries. Jeff Immelt, GE's CEO, says the company expects to generate 90 percent of its earnings from "high-value industries" such as aviation, energy, and healthcare equipment by 2018.
GE was formed in 1892 in a merger between Thomas Edison's Edison General Electric Company and its competitor Thomas-Houston Company. The company's name brings to mind washing machines and jokes on 30 Rock. GE Capital, GE's "shadow bank," started in the 1980s, and at one point contributed significantly to GE—some years as much as half of the company's profits. However, this dependence on GE Capital became a problem following the financial crisis. Immelt's decision to sell off GE Capital's assets has been seen as "exorcising the financial demons" of his predecessor Jack Welch, who started GE Capital and has been criticized for GE's dependence on GE Capital.
CPPIB is the investment arm of the Canada Pension Plan. Nearly every worker over 18 in Canada contributes to this fund; it covers retirement pensions and benefits, disability benefits, and after-death benefits for Canadians. The CPPIB manages the assets of 18 million Canadians contributing to the pension plan, about $265 billion. Investing in private equity has been a trend for pension funds in recent years, the Canadian style of pension fund investing has been praised for operating like an asset-management business and paying its officials like bankers. The fund just had its best year on record with an 18 percent return for the fiscal year ending March 31. Last year, CCPIB bought the U.S. insurance company Wilton Re Holdings for $1.8 billion.
The lending business in America isn't what it used to be, and as Paul Krugman writes, selling off GE Capital might mean that financial reform and greater oversight is working. But it's not only that: As people living in developing countries get richer, they're starting to want the kind of products GE is expert at. Perhaps there is a second life yet to come for American manufacturing, but it'll look very different: Higher tech products, purchased by consumers all over the world.