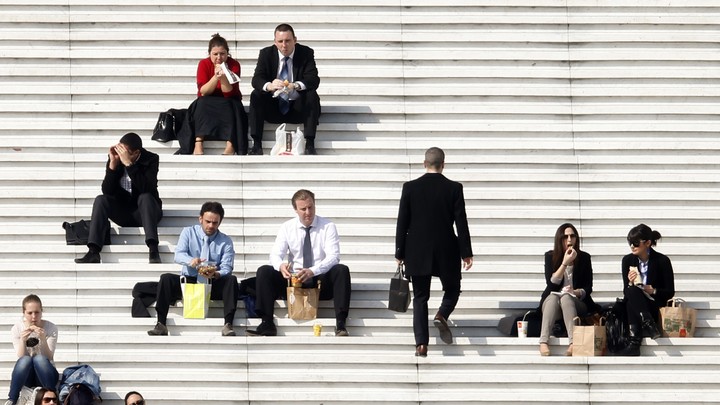 Earlier this year, Deborah Rhode, a professor at Stanford Law School, lamented the state of diversity in the legal profession. Rhode wrote that despite what it looks like from the outside, statistics show that there are few lawyers who aren't white. Data from the U.S. Census supports this claim, showing that 81 percent of lawyers are white, down from 89 percent in 2000. Further, only 7 percent of partners at law firms are blacks, Hispanics, Asians, or Native Americans. Rhode attributes the problem partly to the lack of diversity at law schools, but also to unconscious bias and lack of access to networks.
These days, criticisms about the lack of racial diversity are perhaps most focused on the tech sector. But usually, these criticisms of diversity at top tech companies exclude Asians and focus on the low percentage of blacks and Hispanics in the tech industry. Data from the Census bureau shows that while blacks and Hispanics are underrepresented in the computer workers category, Asians are overrepresented (Asians make up 5.3 percent of the U.S. population). In the spirit of transparency, companies such as Google, Microsoft, and Facebook have all revealed internal data about the racial makeup of their employees, but in general information about the racial composition of many companies can be difficult to come by, and is often incomplete. The best guess is data compiled by the Census and the Bureau of Labor Statistics.
---
Who Holds Which Jobs in America: An Interactive Chart
---
BLS data has a more detailed dive into which professions are the whitest. Overall, 81 percent of the workforce is white, but there are 33 occupations in America that are more than 90 percent white. When it comes to professions with outsized shares of minorities, blacks are overrepresented in community and social-service occupations (as well as barbers and postal-service clerks). Asians make up a large share of computer workers, medical scientists, and personal appearance workers—a category that includes manicurists, makeup artists, and facialists. Hispanics are overrepresented in construction, maintenance, and agriculture work.
Another important question is whether these statistics include undocumented workers. BLS data states that it's likely that at least some undocumented immigrants are included, but it's impossible to say how many because the survey is not designed to identify the legal status of workers. One report by Pew found that the majority of undocumented workers work in low-skill, though not necessarily low-paid, jobs. In fact, the share of unauthorized immigrants holding white-collar jobs has risen significantly in recent years.
The racial transparency trend at America's private companies is a good thing, even if the numbers can be depressing. It highlights the fact that the American workforce has been divided by race for decades. While the occupational gap seems to have improved between whites and blacks—Brookings reports that the percent of blacks in high-paying technical professions quintupled between 1968 and 2014—the racial income gap still persists. One report found that for black and Hispanic families, their median family income levels are 40 percent lower than that of white families. Furthermore, Pew found that the wealth inequality racial gap has widened since the recession. Occupational diversity is no doubt one part of this story, and pressure for employers of high-paid professions to increase diversity is one way minorities can close the gap.
We want to hear what you think about this article. Submit a letter to the editor or write to letters@theatlantic.com.
Bourree Lam
is a former staff writer at
The Atlantic
. She was previously the editor of Freakonomics.com.