Closing the Gap
The retailer will shutter a quarter of its North American stores, which raises the question: Who wants American style?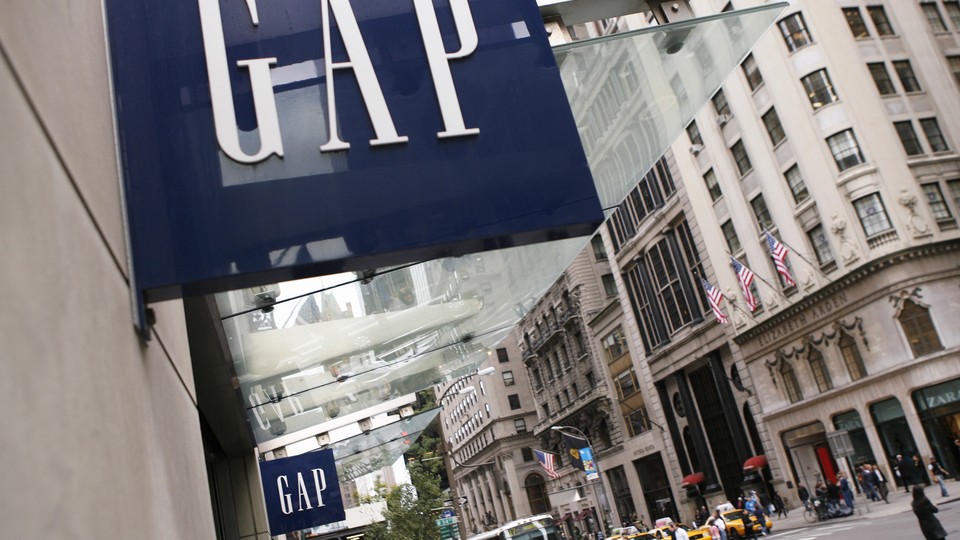 The heyday of the American mall is over, and retail is increasingly moving online. Perhaps nothing is more emblematic of the closing of the American mall than Gap's announcement Tuesday that it will be closing a quarter—175—of its brick-and-mortar stores in North America. Gone are the days when working at the Gap meant selling out to stability a la Reality Bites. Most of the closings are planned to happen before the end of January, and layoffs—at both stores and 250 positions at the corporate level—are expected.
Critics say that the Gap has both been falling behind in terms of keeping the right number of physical stores as well as missing the mark on making clothing that Americans like. As a result, the company has experienced lackluster sales: In the first quarter of 2015, Gap saw 10 percent dip. (Sister brand Banana Republic suffered 8 percent, while Old Navy was up 3 percent.)
The criticism that Gap's style is simply not keeping up is a hard one to test. The brand thrived in the '80s and '90s on "classic" American fashion: denim, simple white shirts, khakis for work. But that formula no longer seems to be working.
Zara and, to some extent, Everlane have been reinventing "new basics" and appealing to their customers with designer-like clothes at retail prices. Target and H&M's designer collaborations are sold out within hours—proving that both retailers are savvy at creating shopping crazes. The Japanese retailer Uniqlo, which has made its founder Tadashi Yanai the richest man in Japan, has thrived by appealing to men and charging low prices for high-quality basics. Compared with its competitors, the Gap seems to be stuck in the past: It's the opposite of high fashion, and too bland to be priced so high. Some say that Gap style identity problem is more serious than the threat of e-commerce. And for whatever reason, Gap hasn't enjoyed the fruits of normcore the way Birkenstock has.
It seems that there are people who want Gap's classic American style. They're just not in the U.S.: In the last five years, Gap has expanded its reach into foreign markets while closing stores at home. Gap has more than 100 stores in China, and it's looking to open 40 stores in India (with local partner Arvind Lifestyle) this year.
Perhaps Gap does know what its core audience wants, as none of its North American outlets will be closing. Customers are willing to buy Gap's styles, outdated though they may be, but only at lower prices. Only if Gap can once again find the pulse for what young Americans want to wear in 2015 will it be able to sell its clothes at its regular-store prices once again.