Will Baby Boomers Change the Meaning of Retirement?
Many older Americans want and need to keep working, but that requires a major shift in the way the country thinks about the elderly.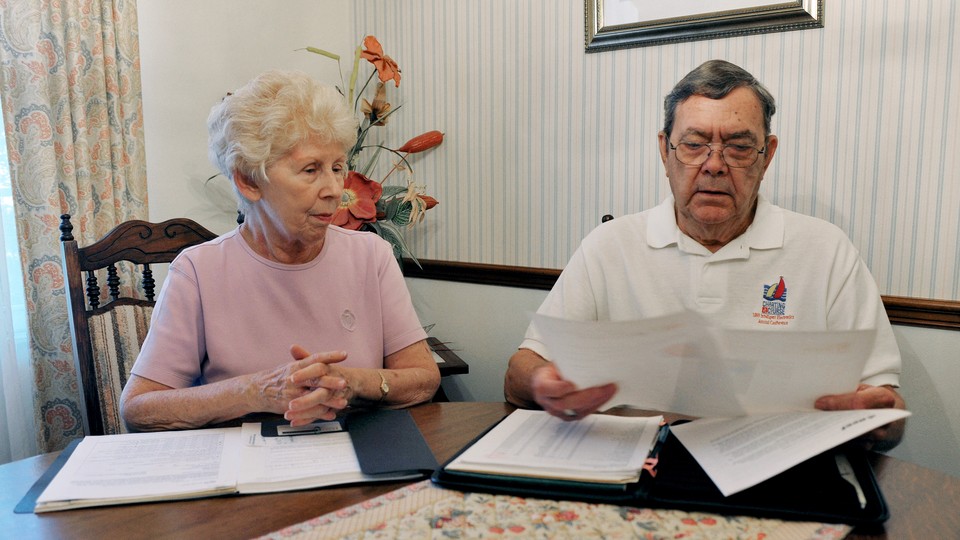 Roughly 44 million people in the United States are now 65 years or older. By 2050, the Census Bureau expects that figure to double, as the largest generation in American history lives longer than any before it.
The generation of Baby Boomers has drawn criticism—from themselves, among others—for holding overly high expectations for their lives and for pushing too hard to meet them. These are qualities, however, that could serve them nicely as they strive to grow older with some comfort and purpose. Americans who were born between 1946 and 1964 aren't as likely to settle for simply retiring to Florida to play mahjong. "They recognize that the current systems in place are not only inadequate to meet the demands of aging, but woefully inadequate to meet their expectations," says Joseph Coughlin, the director of the Massachusetts Institute of Technology's AgeLab, which studies this fast-coming demographic upheaval. "Now that we're living so much longer, we do not know what we will be doing with all that time."
Happily filling their time, while continuing to contribute to the economy, will be one major challenge for these new senior citizens. Here's another: money. Having enough of it to remain solvent past retirement is especially worrisome for low-income workers and for anyone without substantial savings or pensions.
But for anyone lucky enough not to worry about money, the challenge involves rethinking the way retirement looks. Do Baby Boomers want to give up their jobs entirely, or shift to part-time or flexible work, as some companies allow? They may prefer to reinvent themselves and embark on a second, "encore" career in the nonprofit sector. Others may want to become entrepreneurs and small-business owners or to involve themselves in a volunteer project so intensively that it amounts to a part-time job.
So far, however, no comprehensive national policy or consensus among experts has emerged on how to regard employment past the traditional age of retirement. "We have not done a good job of … figuring out what work looks like to people in the latter part of their lives," says Andrew Scharlach, a professor of aging at the University of California (Berkeley) School of Social Welfare. "We have this image of 40 hours a week or nothing."
That may not suit older workers who want to slow down without opting out entirely. "People don't want to signal that they want to retire because it can suggest that they are somehow disengaging," says Jacquelyn James, a co-director of Boston College's Center on Aging and Work. "But we know people of all ages want these kinds of choices."
Even without a national consensus, programs that encourage these choices exist from coast to coast. A handful of companies and institutions, such the National Institutes of Health, offer ways of letting older workers, once they've retired, return on a contract or part-time basis; this takes advantage of their expertise while easing them into their post-employment lives. CVS offers flexibility for older pharmacists in cold climes by letting them spend the winter in a southern state. Even so, programs of phased retirement are still pretty rare, says James. "Flexibility is still seen as an employee perk as opposed to a business strategy."
Work isn't the only aspect of aging in need of a makeover. Housing is another. Right now, there's not much middle ground between aging in one's own home and moving into an assisted-living facility or a nursing home. A group of senior citizens in Boston tried to change this in 2002 by developing a nonprofit network, called the Beacon Hill Village, which allows the elderly to keep living at home while paying an annual fee for a concierge-like service to arrange for rides, household help, and reputable contractors.
Innovations have proved less impressive, however, at the level of community planning. Cities and towns, experts in aging say, have largely been lax in thinking through the details of how to meet the needs of older Americans—in transportation and the walkability of communities, for instance. Both the AARP, the influential group that lobbies for older Americans, and the Milken Institute's Center for the Future of Aging have ranked the most livable communities for senior citizens, taking into account health care, parks, higher education, and the like. Much rarer is any evaluation of how communities are reshaping themselves to suit the needs of the elderly. "What we are lacking is not just social services for an aging society but infrastructure for an aging society," MIT's Coughlin notes.
Yet, for all of the dire talk about the need to rethink economic security, work, housing, and communities for older people, there's one reason for hope that people often overlook: the money-making possibilities. "For the private sector and entrepreneurs, serving the needs of over 100 million people is an opportunity," says Jody Holtzman, AARP's senior vice president of thought leadership. "There needs to be more conversation about the opportunity instead of the costs of older people." This is rarely noticed in Washington, where the discussion about aging centers on the merits and troubles of Social Security and Medicare, the federal government's major social programs for the elderly.
Berkeley's Scharlach is confident that Baby Boomers can gild their golden years and offer a model for future generations. "The leading edge of the boomers grew up in the post-World War II years, when everything was possible," he says. Some of them now have enough money to live as they wish. "I'm actually optimistic," Scharlach adds. "A lot of people don't want to grow old the way their parents did."