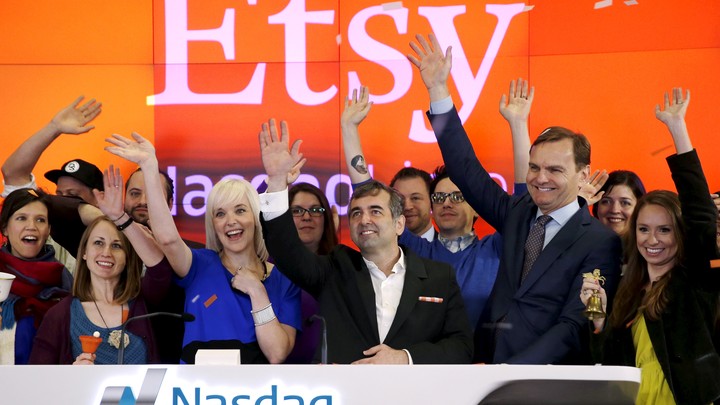 Any company can stock its office vending machines with free bottles of organic coconut water and profess to care about its workers and the environment, but one non-profit is trying to make sure that these companies make good on those claims. B Lab is based in Wayne, Pennsylvania, and it's the organization behind B Corp certification, an award issued to companies that meet certain standards of social and environmental responsibility (the B stands for benefit). More than 1,200 companies now belong to this club, among them Patagonia, Warby Parker, and Etsy, whose celebrated initial public offering in April brought renewed attention to the growing B Corp movement.
B Lab often holds companies accountable by requiring them to become benefit corporations, a legal status currently conferred by 30 states. Such companies are obligated by law to factor the interests of the environment, employees, and the broader community into their business decisions.
I recently spoke with Jay Coen Gilbert, one of the founders of B Lab, and a founder and former owner of sneaker brand AND 1, about why he believes this system could transform capitalism. The interview has been edited for length and clarity.    
---
Saki Knafo: More and more companies seem to care deeply about being perceived as committed to the goal of sustainability, and this is true even for companies that don't leap to mind when you think about environmentalism or progressive values—Walmart, for example. Is this a real shift?
Jay Coen Gilbert: I think what you've described as a shift towards a culture of sustainability is actually part of a much more profound shift—one toward meaningful work. We see this reflected not only in the frequently-reported research on the Millennial cohort of workers who want to both make money and make a difference, but also in longstanding multigenerational family-owned business that are saying, "We need to go back to the core values of what made American business great, which is caring for the people with whom you worked and the communities where you work." That's not a new thought as much as a return to an old thought that we lost along the way. "Sustainability" and "green business" and frames like that are important, but it's part of a much bigger picture. People are seeking to integrate their values in their work.
Knafo: How do you account for this change?
Gilbert: I'm not a social scientist so I don't have any data, but my perception is that there are earlier threads of this that stretch back for a long time: the responsible business movement, or responsible investing, fair trade and green building. A lot of those forces are causing ripples and joining into a bigger wave.
Some of those things may be accelerated by external events like the financial crisis, which shook everyone to their core and created a psychological opening where people maybe said, with more conviction than before, "Maybe it's the system itself that is need of evolution." It has also become clear that you can make money operating your business this way, or, even more poignantly, you might be able to make more money operating this business this way. I know the tipping point is supposed to be a point, but I think we're at the very beginning of a tipping point in the evolution of capitalism.
Knafo: I want to believe, but I can't help feeling skeptical.
Gilbert: We feel like we've been manipulated at various times, whether it's because of ads or Power Points or nifty mission statement on the wall. That's part of why we created B Corps—as a response to the understandable skepticism or even cynicism. Performance matters a lot more than promises, and performance is a lot more believable when it is verified by an independent third party. Those 1,250 certified B Corps have voluntarily submitted themselves to the most rigorous process of validation of their overall performance of corporate social and environmental transparency and responsibility. "Green" and "sustainable" are words that can mean anything to anybody who uses them. There's no standard definition of the term. There is a standard definition of the B Corp.
Knafo: You started out selling basketball sneakers. What did you learn from that experience that carries over to what you're doing now?
Gilbert: On one hand, we learned how powerful it was to build a business that our parents and kids would be proud of. We had incredibly low turnover. We had loyal suppliers that we had relationships with, and customers who gave us second shots because they believed not only in what business we were in but in how we were running our business. We didn't have a Googleplex with free food, but we did have a basketball court. And we had dogs, and kids running around the office, and all kinds of stuff. Everyone who had been at the company for more than 12 months owned stock, so when we sold the company there were a bunch of employees for whom that was a big day. We gave away 5 percent of our profits to charity and funded a charter school in Philadelphia. We tried to run our business by the golden rule.
On the other hand, when we sold our business, pretty much all that stuff was stripped out within 90 days by the new owner. It's not that we were naive, but it certainly didn't feel good. So part of the thinking was, "There's got to be a better way to manage the succession." While B Corp isn't a panacea, it makes it more likely that the mission is going to survive succession in ownership. At the point of sale, the existing shareholders can decide to whom they want to sell the company based on more than just who is paying the most cash. That's a fundamental shift in the power dynamics of these negotiations.
Knafo: Change can be threatening. I would imagine there's been some opposition to the B Corp movement?
Gilbert: There really hasn't been. 30 states and D.C. have passed the legislation [that allows companies to become benefit corporations], and there have been at least 25 unanimous votes in what are obviously pretty divisive political times right now. There are super conservative Republican governors and super liberal governors who have signed this into law. This has been passed in the buckle of the Bible Belt and the "People's Republic" of Vermont. If you're more conservative ideologically and you're looking for market-based solutions to your problems, then this looks good to you. And if you're more liberally ideological then you're excited about businesses that are voluntarily meeting higher standards of accountability. As with any new idea, it takes time for people to understand what you're trying to do. For some people, that's one meeting. For others, it takes a couple years. Eventually, it goes from, "Why?" to "Wow."
We want to hear what you think about this article. Submit a letter to the editor or write to letters@theatlantic.com.
Saki Knafo is a writer
based
in
New York
. His work has appeared in
The
New York Times Magazine
and
GQ
.