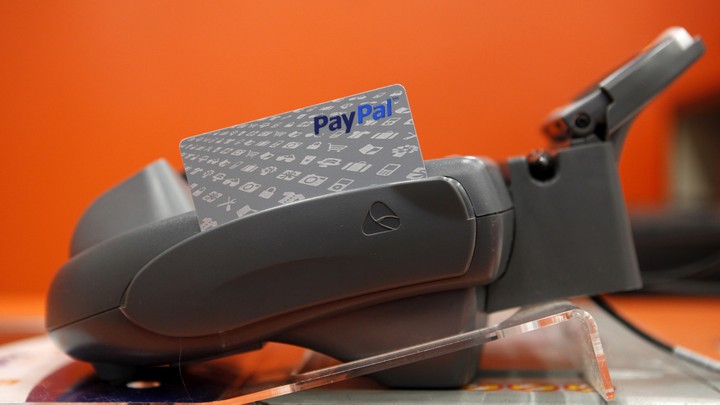 According to the Department of Commerce, Americans spent $80 billion on online retail during the first quarter of 2015. Paying for something on the Internet is commonplace now, but rewind back to the first official retail e-commerce report—it's from the fourth quarter of 1999—that number was just $5 billion.
A major innovator in 1999's money-transfer landscape was PayPal, which started its money transfer service that year (Back then, websites looked like this.) Currently, PayPal reports that it has 165 million users around the world, and that it moved $46 billion in 2014. PayPal, once a small arm of its parent company, eBay, is soon going to be spun off, after which it plans to go public on Nasdaq.
Given those stakes, it's curious that the company started a program that would eventually be fined for what some are calling "shady business practices." Last week, the Consumer Financial Protection Bureau announced that it has filed a complaint against PayPal, alleging that it had illegally signed its customers up for for a credit program. The program, PayPal Credit (previously named Bill me Later), is a small box customers who use PayPal can click when checking out on another site. It's subject to credit approval and offers "$10 back on your first purchase and more time to pay." Some who were enrolled in the program weren't even told they were signed up for a credit line, but were simply trying to use PayPal for a transaction.
"Tens of thousands of consumers who were attempting to enroll in a regular PayPal account, or make an online purchase, were signed up for the credit product without realizing it," said Richard Cordray, director of the CFPB in a statement. "Many people ended up enrolled without knowing how or why, only to discover unexpectedly that they actually had an account when they learned of a credit-report inquiry, or when they received emails welcoming them to PayPal Credit, billing statements, or debt-collection calls."
Under the proposed order filed in federal court, PayPal has agreed to pay out $15 million to its customers as well as a $10 million penalty. Statements from PayPal on the subject have only promised improved services and a concern for consumer protection. Some say that this is a sign from the Obama administration that tech companies deceiving users will be fined.
But why was PayPal, ostensibly a digital money-transfer service, trying to get its customers to use it as a credit-card company in the first place? Even though their transferring service, which makes money by charging vendors transaction fees, appears profitable from the outside, the company grew interested in other revenue streams over the years. The Bill Me Later program was started in 2008 in an effort to get into the credit business and boost sales, and it's reminiscent of retail in-house credit cards—the ones with high APRs but perks at stores such as The Gap or Victoria's Secret. Those programs remain immensely popular, with an estimated 20 million store credit cards issued each year—nearly as many as bank-issued credit cards.
Even if it got cleaned up, PayPal's version of that model might still bring in money. But when experts advise against a certain consumer behavior, it generally means a company is making money from it at buyers' expense. From that perspective, it's not entirely clear that the CFPB has punished every "shady business practice" that's in play.
We want to hear what you think about this article. Submit a letter to the editor or write to letters@theatlantic.com.
Bourree Lam
is a former staff writer at
The Atlantic
. She was previously the editor of Freakonomics.com.