The Curse of Segregation
Some cities and neighborhoods are stuck in vicious cycles of poverty while others have a proven track record of turning poorer children into economic success stories.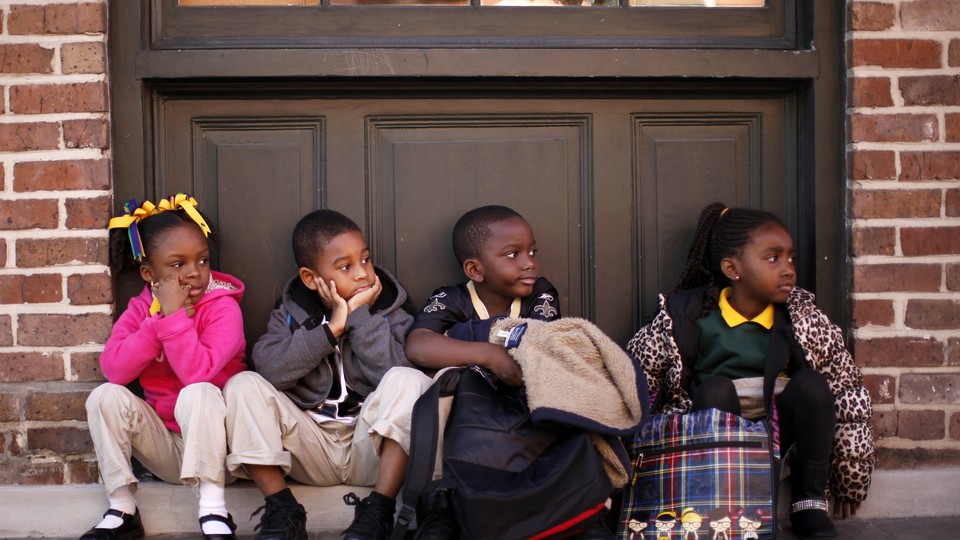 Baltimore did not need more negative publicity this week. But in a bit of fateful timing, the Equality of Opportunity Project of Harvard University has released two papers concluding that the income mobility for poor children in Baltimore City is worse than in any large county in America. Every year spent in Baltimore "reduces a child's earnings by 0.7 percent per year, generating a total earnings penalty of approximately 14 percent for children who grow up there from birth," Raj Chetty and Nathaniel Hendren write.
Geography is not quite destiny. But neighborhoods can dramatically shape the economic prospects of those who grow up there. One hour south on the I-95 of Baltimore is Fairfax, Virginia, one of the 10 best large counties for low-income children. Growing up in Fairfax for 18 years raises a typical low-income child's household earnings by 11 percent by the time he's in early adulthood. All else equal, the difference between growing up in Fairfax rather than Baltimore, these studies say, amounts to hundreds of thousands of dollars of lifetime earnings.
The two new studies, beautifully summarized in a portfolio of articles in the The New York Times, arrive at one unmistakable conclusion: Some cities and neighborhoods keep their residents stuck in vicious cycles of poverty while others have a proven track record of turning poorer children into economic success stories. One study looked at low-income families who took vouchers from the government in a randomized 1990s study, which moved thousands of families from housing projects to counties with less poverty. A new analysis of the experiment shows that "every year spent in a better area during childhood increases a child's earnings in adulthood."
In other words, the value of moving to a county with high upward mobility is not just a matter of where, but also when: The earlier the move, the better the outcome.
And what are the elements of a good county or city? Chetty and Hendren name five: less income inequality, less violent crime, more two-parent households, less segregation by income, and less segregation by race.
The latter two factors stand out for the size of their impact, deepening our understanding of segregation's long-term effects on young people. About 20 percent of the black-white income gap is explained solely by the differences in the counties in which black and white children grow up, Chetty and Hendren write. But segregation is also bad for rich residents, they said, since "areas with higher degrees of segregation and inequality have negative impacts on children's earnings from above-median income families."
Segregation, in other words, is a devil's bargain that takes from the poor without giving to the rich.
In February this year, Alana Semuels reported on a successful voucher program in Chicago that is helping black families move to typically white suburbs. Chicago is one of the country's most diverse cities in terms of its share of non-white residents. But its black population is so concentrated that on a neighborhood-by-neighborhood level, it is the single most segregated city in the country, according to Brown University's American Communities Project. Many of these residents would benefit from moving to a local jewel of income mobility: DuPage County, a higher-income and lilly-white suburb to the west of downtown Chicago, was named the single best large county for poor children in this week's study.
But despite the strategy's success in Chicago, there are only a few programs today "that focus on helping African American families move from racially segregated, high-poverty neighborhoods to areas where their children will have access to good schools and less exposure to crime," Semuels wrote. "Those that do exist are all results of lawsuits."
Calculating the benefit of moving from the city's worst neighborhoods to its best, Chetty and Hendren write that "twenty years of exposure to Bucks County, Pennsylvania, as opposed to Baltimore for males in below-median income families would increase their income by 44.7 percent." But here again the scars of segregation show. Blacks account for more than 60 percent of the population of Baltimore City. The national average is about 13 percent. Bucks County, however, is just 4 percent black.